Entrepreneurs roundtable discussion focuses on communication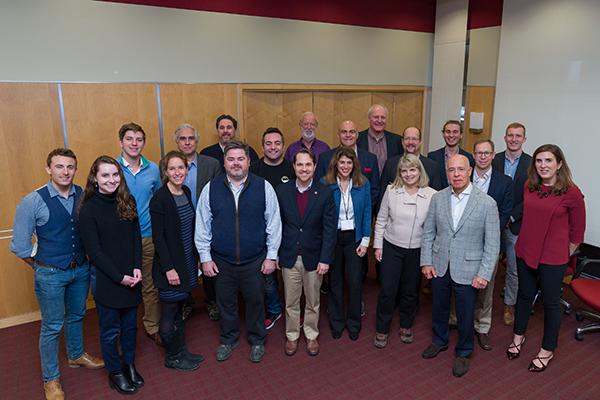 Business startups would do well to focus on communications and establish relationships, both external and internal, by including the right people at the right time in the right way. That was the message delivered during a Communication for Entrepreneurs Roundtable discussion held in November at Statler Hall.
The event, sponsored by the Pillsbury Institute for Hospitality Entrepreneurship, featured CEOs, academics, students, and others well-versed in working with new businesses. It kicked off with a session on effective customer discovery practices and also included an examination of establishing and making the best use of corporate boards.
Interacting with potential customers early and often is critical to future success, roundtable participants said, because such communications inform decisions on product development, marketing, and other basic tasks. In fact, for many entrepreneurs, this is the first step in building a business.
"You have to determine what you are selling by getting the buyer's perspective. That means doing due diligence to get a feeling for potential problems between the buyer and seller," said Jules Sieburgh '72, MBA '74, principal of Jules A. Sieburgh LLC, a technology consulting firm for the hospitality industry.
For Barry Palmer '01, MMH '18, who is forming a hospitality management group, customer discovery means both observation and communication. It's important to survey customers and interact with them directly to learn about their interests, and how to meet their needs, before launching a new product or service, he said.
Marco Benvenuti, MMH '05, co-founder and chief marketing officer of a revenue strategy technology company targeting the hospitality industry, described a different approach. "I followed my gut in creating a visionary product and then framed the steps needed to involve and attract customers. There was a need to see it, to use it, before getting feedback," he said.
Greg Levow '04, president and CEO of Agronomic Technology Corp., offered a similar take. "You need to go beyond talking with customers and quickly develop a product for them to observe and react to," he said
Roundtable chair Andrew Quagliata, a lecturer in management communication at the School of Hotel Administration, noted that customer discovery is an ongoing process. "It never really ends," he said. "You have to make sure calls and messages are returned, and learn to talk with customers without using a sales pitch."
One way to effectively interact with customers is through social media, said Joe Tagliente '89, CEO and partner at Lenrock Management Group, LP. "New technologies can provide information about customers—who they are and what their interests are," he said. "You can gauge customer interest in a product easily at little or no cost."
Casey Doherty '20 agreed, but noted that while websites and social media help draw attention, that attraction may be fleeting. "You still need to hold direct conversations with customers in addition to using a social media campaign," he said.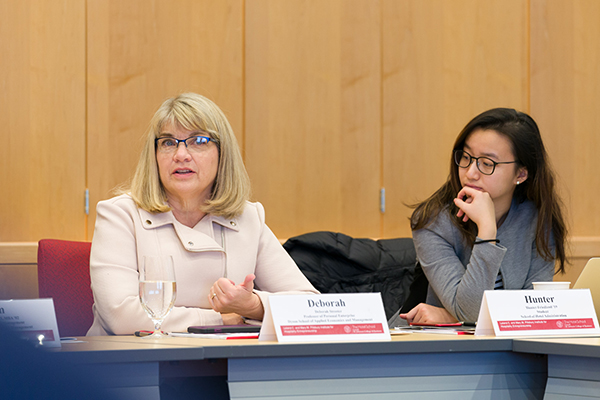 Discussion facilitator Neil Tarallo, senior lecturer of entrepreneurship at the Hotel School, concluded the session by stating, "We need to be smarter about starting companies. One reason why restaurants fail at a high rate is they have not used customer discovery. We need to develop it and interact with the market at the right time, in the right fashion."
The discussion then turned to internal relationships, with a focus on how entrepreneurs can form, and communicate with, formal and informal advisory boards.
"My advice is to put together an advisory board early, but be sure you have the right people on it and determine compensation for members," said Tom Shattan, a private equity financing professional and adviser to emerging market companies. He recommended that entrepreneurs get board members who represent various fields of expertise, such as technology, finance, and marketing, and who will hold the business leaders accountable.
The relationship with advisers is informal initially for entrepreneurs, said Zach Shulman '87, JD '90, director of Entrepreneurship at Cornell, then becomes more formal, often with a board of directors, after the company is established.
It's important that company owners understand this distinction, roundtable participants said, pointing out that directors often have a financial interest in the company, and exert more influence than advisers. They also stressed that all board members should receive compensation, which may include small shares of the business.
Board members who are investors need regular reports on performance and constant communication with CEOs, said Jennifer Tegan, MBA '01, a partner with Cayuga Venture Fund. "They need transparency, and the ability to share ideas and strategy, which requires trust and honesty from the company leadership," she said.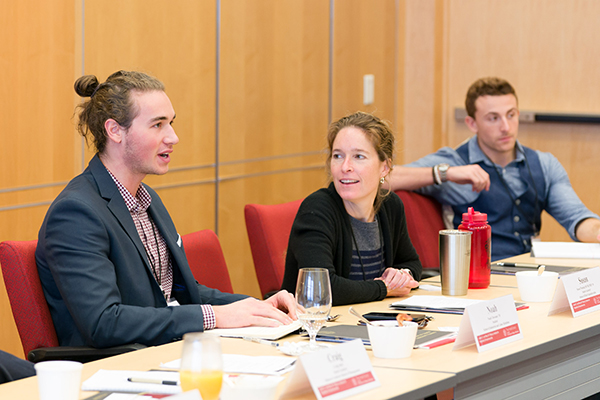 Shulman said that directors, unlike advisers, have a corporate governance function, with the ability to hire and fire the CEO, and also help formulate company strategy. Benvenuti concurred, but advised that giving directors too much power can enable them to wrest control of the company.
To have an effective board of directors, it is critical to establish lines of communication early, set goals, and clearly define roles and expectations, said discussion facilitator Susan Fleming, senior lecturer at the Hotel School. "Entrepreneurs need genuine support, not just cheerleaders," she said. "Constructive criticism is valuable. Listen to several of your advisers, and if they all agree on an issue it's indicative of a problem."