Business Minor co-founder discusses what he "didn't learn in medical school"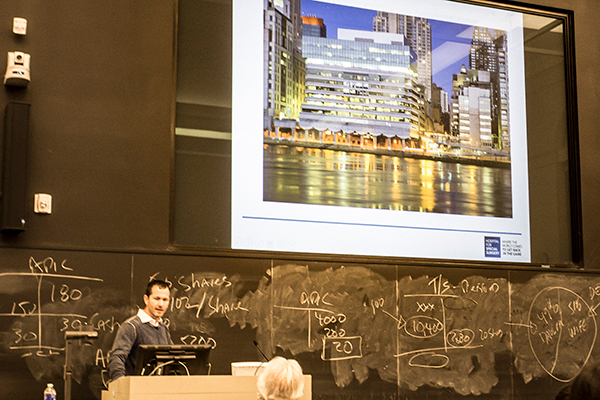 When Dr. David Levine '88, MD '92, opened his orthopedic surgery practice in New York 20 years ago, he knew everything he needed to know about the musculoskeletal system and the latest techniques for repairing a foot or ankle fracture. What he didn't know were the fine details of running a medical practice—how many employees he needed, how he should evaluate them, when he should give them a raise, and what would happen to his income when he took a vacation.
"To me, this was the college of hard knocks," Dr. Levine told a group of students at his talk, "What I should have learned in medical school," in Warren Hall on Nov. 15. "Everything else I had training for. This I did not."
An orthopedic surgeon at the Hospital for Special Surgery in New York, Dr. Levine eventually learned that healthcare is about not only treating patients, but also operating a business that involves supervising and paying employees.
"Being a surgeon was one thing, but my practice was way bigger than myself as a surgeon," he said. "It was its own living and breathing thing, and it needed to be cared for. If cared for properly it would grow—not only grow for my own financial benefit but it would give me the opportunity to help more of those ankle-fracture-dislocation patients."
Developing the Dyson Business Minor for Life Sciences Majors
Because of his interest in preparing students for careers that straddle science and business, Dr. Levine helped establish the Dyson Business Minor for Life Sciences Majors. He became involved in the initiative through another alumnus who had supported the development of the business minor, Dr. Jonathan Levine '76, a dentist and entrepreneur in New York.
The Dyson Business Minor for Life Sciences Majors now serves 319 students, and that number is expected to rise this year. "Students are realizing that business and life sciences are so intertwined, that to excel in their future careers, they must gain knowledge and skills in both disciplines," said Robert Karpman, director of the Dyson Business Minor for Life Sciences Majors.
While Dr. Levine has built a successful orthopedic practice, he has branched out into several new ventures that relate to his work as a surgeon over the past five years. These initiatives all have one thing in common—improving the practice of healthcare.
"I certainly do think that a goal in what we do in healthcare is trying to make things better," Dr. Levine said. That may mean inventing new medical devices or new ways to deliver healthcare that are less expensive, last longer, or are less intrusive, he said.
Improving the practice of healthcare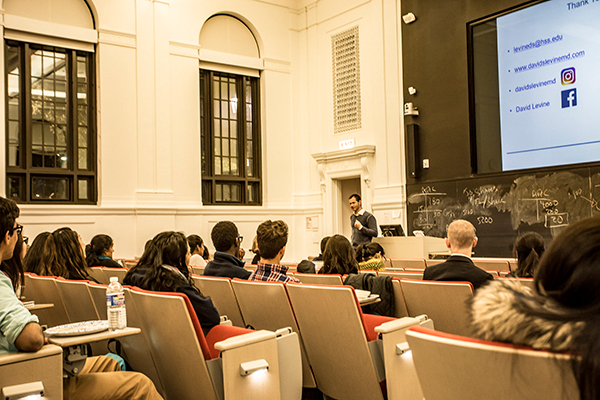 Last June, Dr. Levine was appointed medical director of Ambulatory Surgery of Manhattan, a new surgical center of the Hospital for Special Surgery. Located just 10 blocks from the hospital, the new center will allow both facilities to treat more patients and provide better access to surgical care.
"It's a win-win," Dr. Levine said. "It's cheaper from an insurance company perspective to have a patient operated on in a lighter, lower-cost, freestanding center than in a hospital, which has different costs centers."
Dr. Levine is also working on a startup called Imagen, which allows x-rays to be read by computers with a high degree of specificity. The technology will be available in communities that don't have access to radiology staff, such as areas of Sub-Saharan Africa, and will provide images to doctors treating patients.
Imagen employs 30 physicians, including Dr. Levine, who are reading hundreds of x-rays and feeding them to a computer so that it can start recognizing medical images. The company is now in the process of seeking approval from the U.S. Food and Drug Administration.
Another project Dr. Levine is involved in is HS2, a joint venture between the Hospital for Special Surgery and a group of doctors associated with the hospital. The venture is exploring the possibility of licensing new surgical hospitals in countries around the world and allowing them to use the brand of the Hospital for Special Surgery, which is ranked as the top medical center in the country for orthopedic and musculoskeletal procedures.
Dr. Levine said the Dyson Business Minor for Life Sciences Majors will help students learn more about how innovative business ideas are changing the world of healthcare. "These students will have the insight to say, 'This is a good thing,' " he said. "It's okay to talk about the business side of healthcare and try to make the two appropriate partners in caring for patients."