Quick Q & A: Miguel Gómez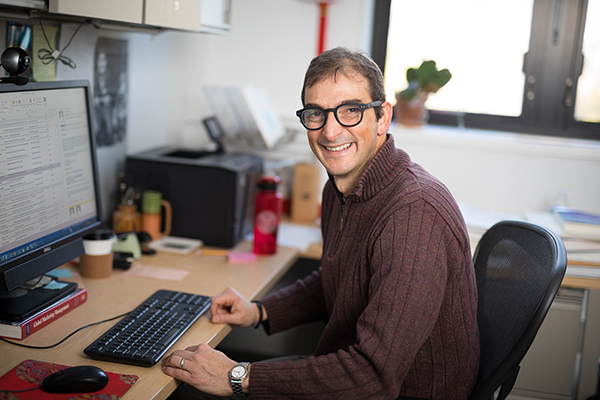 Agricultural economics researcher, Dustin Hoffman fan, and a true believer in Cornell's free-spirited teaching model—learn a little more about Miguel Gómez, associate professor at the Dyson School.
Q: How would your best friend describe you?
A: As loyal and quiet, but funny. And a good listener. And a bit impatient.
Q: If you were an animated character, who would you be and why?
A: I would like to be Spiderman because I like how he flies from one building to the other—he's very agile.
Q: When did you know you wanted to be a professor?
A: I knew since college when I was an undergrad studying in my home country. One time, the professor didn't come to class, and I had to take over teaching. I was a junior in college and I loved it. Since then I have loved teaching.
Q: Name one thing you would make compulsory in the office and one thing you would ban in the office if you were CEO of a company.
A: When everybody comes in the morning, they would have to say: "good morning, how are you doing," and smile. When everybody leaves in the evening, they would have to say: "goodbye, have a good night," and smile. Something I would ban from my office would be using too much perfume or cologne.
Q: If you were on an island and could only bring three things, what would you bring?
A: I would bring my goggles, fishing rod, and matches—because I don't know how to start a fire.
Q: If there was a movie produced about your life, who would play you and why?
A: Dustin Hoffman, because I think he is the best actor that there is.
Q: What do you like best about teaching at Cornell?
A: The best thing about teaching at Cornell is that the university and the students allow you to do crazy things in class that aren't conventional, as long as it is an interesting learning experience—it's a very free environment.
Q: Who is your idol?
A: My idol is Pablo Picasso. I think he was a complete genius and completely original. No one can do what he did.
Q: What is your favorite experience from growing up?
A: My favorite experience was to be able to work on a farm since I was very little. I went in the summers to a family coffee farm. I would pick up coffee and take care of the plantations. That's how I came to study agricultural economics.
Q: If you could teach anything other than economics, what would you teach?
A: I would teach the history of how economics were developed from the beginning of humanity—how did we come up with money? Or why is silver valuable and not wood? It's very fascinating.
Q: What is your go-to Collegetown Bagels order?
A: Tuscan Verde sandwich and salt and vinegar potato chips. Always. Easiest question I've been asked.
Miguel I. Gómez is an associate professor at the Charles H. Dyson School of Applied Economics and Management and a fellow of the David R. Atkinson Center for a Sustainable Future at Cornell University. Miguel's research is concentrated on two interrelated areas under the umbrella of food marketing and distribution: 1) supply chains competitiveness and sustainability and 2) retailing and channel relationships.
The scope of his research program is domestic and international, the latter emphasizing food value chains in Latin America and the Caribbean. In addition, his applied research efforts aim at enhancing market opportunities for horticultural products (fruits, vegetables, and ornamentals) to benefit producers, food processors/distributors, and consumers in New York State.