Stanley Bergman speaks on current business ethics with a message for millennials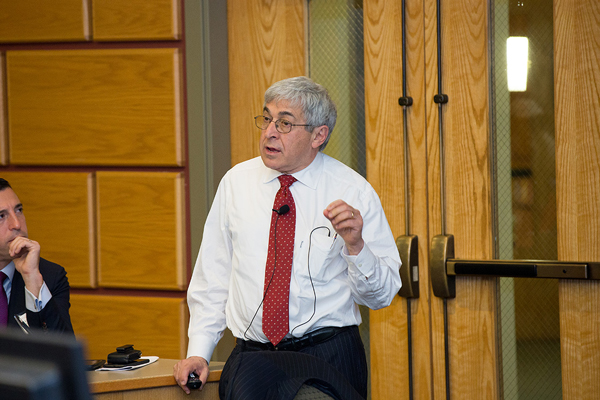 In early November, members of the Cornell community gathered at Sage Hall for the annual David J. BenDaniel Lecture in Business Ethics. This year, Johnson welcomed guest speaker Stanley M. Bergman, chairman of the board and chief executive officer of Henry Schein, a top worldwide distributor of medical, dental, and veterinary supplies. Henry Schein is a Fortune 500 company revered as one of their "Most Admired Companies" in the wholesale healthcare industry for 15 consecutive years. Bergman kicked off his talk by relaying one of Henry Schein's trademark mottos of "doing well because it is doing good."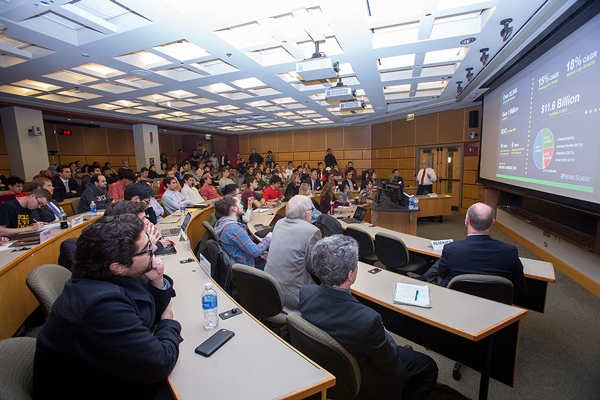 While Bergman discussed the feats and achievements of a renowned company such as Henry Schein, he was also adamant on sharing with the audience how it operates as more than just a business. With a presence in 33 countries, Henry Schein prioritizes its team of suppliers and its customers, encouraging them to work as a cohesive unit to ensure there is trust in the company.
"We consider ourselves, all 22,000 of us, to be in a consensus management business," Bergman explained as he discussed Henry Schein's active engagement in social responsibility.
The company strives to make an impact in the world that extends and lasts beyond the business and industry. Bergman stressed that they are able to achieve this by responding and continuously adapting to dynamic changes in the social landscape.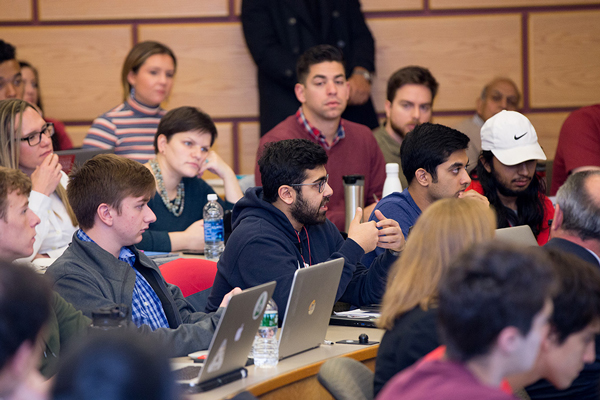 Henry Schein became known as the company that reinvented itself for its consumers. In his talk, Bergman diverged into a historical overview of the numerous transformations the company has undergone. Specifically, in the last 7 to 8 years, Henry Schein focused on the digitalization of the company in response to the emergence of the Fourth Industrial Revolution. Despite the chaotic nature of change, Bergman revealed the company's key to maintaining success is its unwavering value of trust. Henry Schein uniquely balances its constituencies in the midst of change in order to create relationships built on trust and fueled by higher ambition.
As Bergman neared the end of his presentation, his tone changed as he directly addressed the eager faces of MBA candidates in the room with his call to action: "Business has the key responsibility to ensure that civility is a concern for society, and the divisiveness of society will inevitably rest on the shoulders of the millennials." Bergman reminds the students that it is vital to remain loyal to business ethics in order to become future influential leaders that can affect social change.
"When history is written 20 to 30 years from now, it will be said that it was, in fact, the millennials that drove that prospect."
About the BenDaniel Speaker Series in Business Ethics
The BenDaniel Speaker Series in Business Ethics was established to instill in the Cornell community Johnson's strong commitment to ethical business and desire to inspire future moral leaders in the business world. The series was created in honor of Johnson's esteemed colleague David BenDaniel, a professor of management at Johnson and the Don & Margi Berens Professor of Entrepreneurship.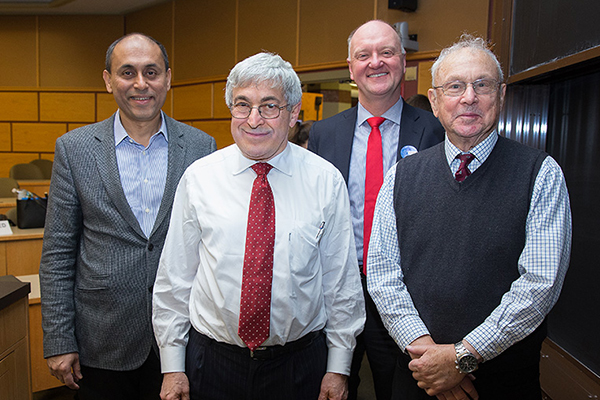 In Memoriam
We were deeply saddened to learn of the passing of David BenDaniel on November 22, 2017 after a short illness. Professor BenDaniel served on Johnson's faculty since 1985 and worked tirelessly to bring entrepreneurship education at Cornell to the next level. He mentored a large number of students each year as faculty advisor for Big Red Ventures and taught courses in entrepreneurship and private equity for both MBA and non-Johnson students. He was honored in April 2017 with Entrepreneurship at Cornell's first Lifetime Achievement in Entrepreneurship Education Award in recognition of his more than 30 years of achievements in the field, including co-founding the Entrepreneurship at Cornell Program and starting many entrepreneurship courses at Johnson.
You can read about David BenDaniel's legacy in the Cornell Chronicle.
—Written by Ashley Win, a student writer intern for the Cornell SC Johnson College of Business