A bridge from Ithaca to Roosevelt Island

By Mukti Khaire, the Girish and Jaidev Reddy Professor of Practice at Cornell Tech
and Faculty Director of the Johnson Cornell Tech MBA program
This semester, Johnson introduced a new weekend course curriculum at Cornell Tech. Over three weekends in October, November, and December, Johnson MBA students traveled by bus from Ithaca to New York City to participate in unique, focused courses at Cornell Tech's new Roosevelt Island campus. In the process, they engaged with their Johnson Cornell Tech peers, many of whom they had gotten to know this past summer in Ithaca.
Given Cornell Tech's proximity to the Manhattan tech and business ecosystems, students had the opportunity to learn from local practitioners like Tracy Dolgin '81, senior adviser at the Raine Group. I had the privilege of co-teaching the Digital Leadership in Cultural Markets course with Dolgin, a graduate of Cornell's School of Industrial and Labor Relations. The course explored the role of entrepreneurial leadership in cultural markets transformed by digital technologies, taking advantage of New York City's role as the commercial and cultural center of art, fashion, media, and entertainment. Dolgin leveraged his experience as the former president and CEO of the YES Network to facilitate a module on digital leadership in sports.
A second weekend course, Designing Data Products, tackled how entrepreneurs can best obtain value from the enormous volume of data available today. Taught by Lutz Finger, Cornell Tech's data scientist in residence, who ran data science teams at Snap, Inc. and LinkedIn, the course provided students with the critical skills needed to guide an organization to become data-centric and potentially even develop data products. This course will also be offered in Ithaca in the spring.
Design Thinking was a hands-on course that taught the human-centered design methodology pioneered by IDEO and Stanford d.school founder, David Kelley. Students were placed on multidisciplinary teams and designed innovative solutions to a real business challenge.
Wes Sine taught an interdisciplinary course called Leading Agile Innovation. Sine is the faculty director of the Entrepreneurship and Innovation Institute and professor of management and organizations at Johnson. Sine taught the course at Cornell Tech this fall, and it will be offered in Ithaca in the spring. Leading Agile Innovation is designed as a hackathon course, with specific business challenges that change from semester to semester. This fall's challenge was focused on the healthcare sector.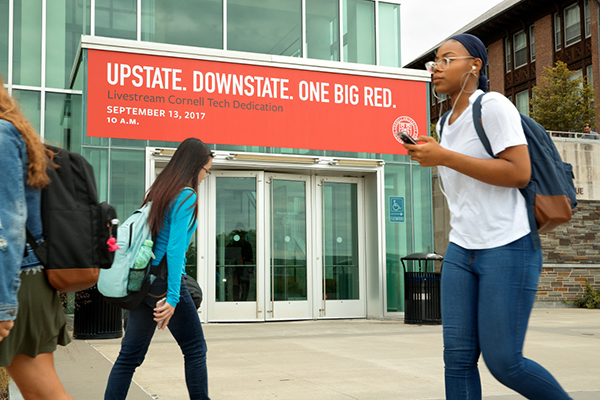 According to Vishal Gaur, associate dean of MBA programs at Johnson, the weekend courses meet several strategic goals. For one, they help make both Cornell Tech and New York City more accessible to Ithaca-based Johnson students. By offering courses not available on the Ithaca campus and leveraging interaction with Manhattan-based Cornell alumni and industry practitioners, students can experience all the City has to offer beyond the usual recruitment visits.
The weekend course curriculum also helps Johnson progress toward our vision of two campuses, one school. The fall courses on Roosevelt Island reinforced the idea of a united Johnson community, by removing the geographic barrier.
Gaur sees the weekend course pilot as the first leg of three initiatives designed to integrate the two campuses. The second leg will be offering half- or full-semester courses at Cornell Tech to Johnson's Ithaca students, similar in concept to an "exchange abroad" program. We are also developing plans to introduce virtual classrooms at both campuses in the future, allowing Johnson Cornell Tech MBA students to participate live via video link in Ithaca-based courses alongside their Ithaca MBA colleagues, and vice-versa.
Eliza Harkins, Johnson Cornell Tech MBA '18, enrolled in both the Digital Leadership and Designing Data Products weekend courses this semester. She appreciated the opportunity to reconnect with colleagues she met in Ithaca this past summer, and enjoyed collaborating with MBA students with a breadth of experiences and interests beyond digital technology, pinpointing the precise objective—cross-campus integration—of these pilot courses.
We plan to offer the weekend course option again next fall, with some changes based on student feedback, and with an eye toward adding some new courses and additional sections to allow more participants.