How does virtual reality impact the consumer experience?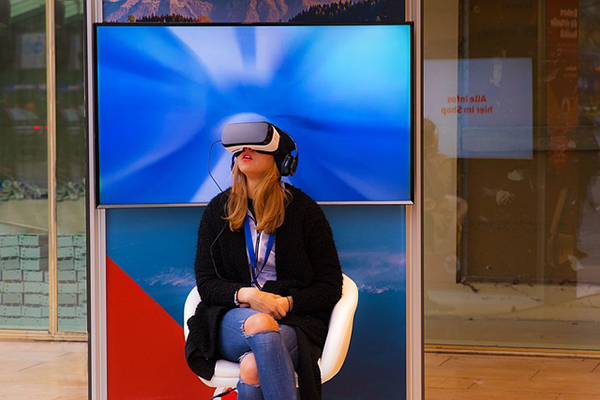 By Helen Chun, Associate Professor of Services Marketing
If you've been to Walt Disney World recently, you know the experience starts well before you set foot in the park. In the months leading up to your visit, you likely received a series of emails preparing you for your stay. Then, your MagicBands arrive in the mail, further fueling the anticipation you feel leading up to the trip. By the time you touch down in Orlando, you can hardly contain your excitement.
Disney is an expert example of how to manage all aspects of the customer experience, from pre-consumption all the way to post-consumption. My research examines how companies in the service industry can similarly engage customers before their visit even begins, generating positive emotions that lead to a more favorable overall experience.
Introducing virtual reality in the service industry
Recently, I've been focusing on technology-based consumer insights research. Specifically, I'm exploring the impacts of newer technologies such as virtual reality and 360-degree video on the consumer experience.
It wasn't until recently that companies in the hospitality industry really started paying attention to how these technologies can be used to improve the customer journey. For example, Hilton Worldwide incorporated a 360-degree mobile video ad campaign featuring shots of their exotic Barbados location. The immersive and engaging video culminated with a call to action urging viewers to "book now."
While Hilton uses technology to boost reservations, Lufthansa uses VR/360-degree video as an upselling opportunity. The airline offers customers at the gate the opportunity to experience firsthand how much better the premium economy class experience is. The hope is that by allowing customers to "try before they buy," they'll feel more inclined to upgrade.
Exploring the potential impacts on the customer experience
Although many companies have begun experimenting with VR in a business setting, there is minimal academic research that examines its potential impacts. The result is that many companies are creating 360-degree video content without realizing, that in certain cases, it may actually backfire and hurt the consumption experience or decrease visit intention.
For one particular hotel chain I studied, high-tech VR video clips performed worse than regular photos in encouraging guests to book a stay. Those who look at the VR video of the hotel (the content made available online by the hotel) reported notably lower visit intention than those who had viewed photos of the exact same hotel. In this particular case, a more traditional communication tool would have been more effective in engaging consumers in the pre-consumption stage rather than incorporating technology without assessing the potential risks.
However, in a high-sensory environment, like the Nike flagship store in New York City, experiencing it through VR goggles enhanced visit intention much more than viewing it through 360-degree content or regular photos. In this instance, the VR content enhanced customers' mental stimulation and increased their desire to visit the store. The lesson? A one-size-fits-all approach won't cut it when it comes to implementing technology to enhance the consumer experience across industries.
Striking the perfect balance
There is a fine line between using virtual reality as an effective tool to engage consumers and trigger their curiosity for further exploration versus providing them a vicarious tool that will dampen their visit intention. There are a number of factors that could potentially impact the effectiveness of the VR experience, including the transformative nature of the content, the number of modalities involved, the perspectives captured, and importantly the motivation of consumers.
In my current research, I'm trying to better understand exactly where those boundaries lie. When can VR be used to trigger excitement and the desire to explore further, and when does it become a substitute or hinderance to the experience itself? Although I do not yet have all of the answers, it has been a very exciting and challenging journey thus far to study such a new topic. My hope is that by studying the impacts of technology on the consumer experience, we can strive to make more informed decisions as an industry about when to implement VR and when our resources would be better utilized elsewhere.
---
About Helen Chun, Associate Professor of Services Marketing

Helen's research focuses on managing and enhancing consumer experience in the service setting. Her broad domains of interests include service experience design, the role of emotions in consumer experience, sustainability-related services marketing issues, and branding. Her research papers have been published in leading marketing and services journals such as Journal of Marketing, Journal of Consumer Psychology, Journal of Service Research, and Service Science.
Helen teaches Consumer Behavior, Marketing Management for Services, and Marketing Principles. She has been honored with the Hotel School's Teacher of the Year Award (at both undergraduate and graduate levels), the Ted Teng '79 Dean's Teaching Excellence Award, and the Merrill Presidential Scholar Outstanding Educator Award at Cornell University.