Americas Class of 2018: Why not give back?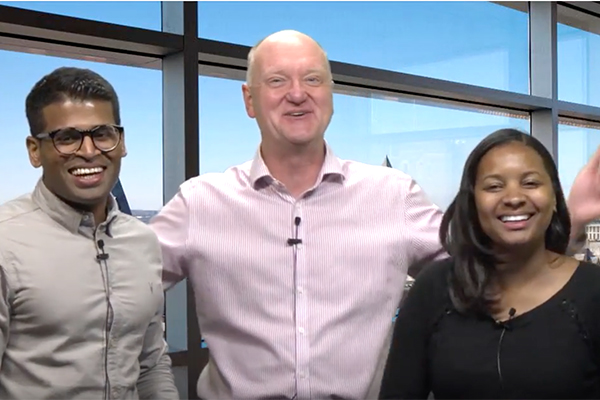 By Lavan Kalaichelvam, Executive MBA Americas '18
The new year is here, and while most of us counted down to the beginning of 2018, the Executive MBA Americas Class of 2018 is now counting down their final days in their life-changing MBA program. As we near the finish line with final group meetings, final assignments, and the final global business project, I have reflected on my role as the class agent and class president. It is a true honor to act as a representative to my amazing class—the best and brightest group of future business trailblazers. To keep up the momentum of upstanding education and experiences, it is important to give back to our MBA and emphasize philanthropy and benevolence as key tenets that we will carry with us into our future careers and life paths.
Giving to the 2018 Class Campaign is an excellent way to dig roots that Americas alumni can feel good about.
What is the class campaign?
The annual Class Campaign is an Executive MBA Americas tradition. Every year the Executive MBA class works as a team to fundraise for the worthy cause of the educational institutions that have bestowed a leading education and enriching experience upon their students. The Class Campaign is deeply entrenched in tradition as a cheque to the deans of Johnson and the Smith School of Business at Queen's University is presented at both of the school's graduations. The Americas Class of 2017 raised over $23,000 and I know we can do better than that! Any amount, large or small, will help make a difference. You can check out the class campaign here for more information and to donate. Or you can donate directly to Queen's here.
Remember, your investment is a continuity in the giving cycle, as our class has been able to benefit from previous years of fundraising. Just as we went from prospective students, to in-class students, and now to alumni, we need to remember that it is us as a collective that can build the community, enhance our brand, and allow the next generation of students to succeed. Our participation is that first step of engagement.
What are the funds raised used for?
The support raised by MBA alumni is invested in top faculty, used to ensure top-notch services for students, and utilized to stay competitive as a top-tier business school. The funds are also designated to career services for students and alumni, which is a key component of the lifelong support that your donation ensures for you and your fellow alumni. The prestige of our MBA program is corroborated by numerous alumni that have taken the time and effort to give back to the MBA community.
Why give back?
The answer is time, talent, and treasure.
Philanthropy is important because a vital part of life is learning to give. Additionally, giving back to your community always proves time and time again to be the foundation of any successful business. Giving back is timeless and the joy it provides stays with you for your whole life. We have all faced hardships and challenges, and giving back ensures that we lend a hand to others to equip them with the tools for success and pass on our prosperity to continue the wonderful cycle of altruism. It is imperative that we invest in talent and future inventiveness that will change the world and create new business frontiers. It is a treasure to give. This is because making a donation is not only a happy moment for yourself, but it acts as a future gift for students, alumni, and faculty to look forward to. Imagine the class campaign is a chest of prosperity that our whole community can benefit from and that reaching the goal is much like finding treasure. I encourage you to make a difference and donate to your class campaign to make a lasting impression by the Executive MBA Americas Class of 2018.
Best of luck to my fellow classmates in all of their future endeavors. See you at graduation!