Present Value: Creating a podcast to spread Johnson's ideas and values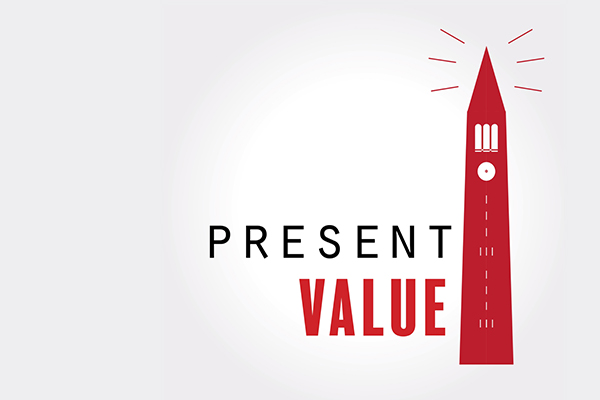 By Michael Brady, Two-Year MBA '19, and Harrison Jobe, Two-Year MBA '19
Present Value is an independent editorial podcast created and produced by MBA students at Johnson with the goal of sharing ideas and insights with curious minds everywhere. Episodes are released monthly. For more information and to check out past episodes, visit the Present Value website. Previous guests include Johnson faculty members Bob Frank and Risa Mish.
---
The genesis of Present Value is a simple story and perhaps a familiar one. In September 2017, less than two months into the Two-Year MBA program at Cornell, Harrison and Michael were discussing their love for podcasts over beers at Ithaca Brewing Company. They both were impressed with their professors and felt there was a missed opportunity to share these faculty members' ideas and insights with a broader community outside the walls of Sage Hall. With Harrison's editorial experience from his time at NPR and Michael's naturally inquisitive nature (and perfect public radio voice), the idea to create a podcast was born.
From inception to execution
We formed a small, but effective, team by bringing on two additional first-year MBA students, Caroline Wright, MBA '19, and Chris Alberico, MBA '19, to form the Johnson Podcast Club. The goal: to create a professional quality podcast that appeals to a wide range of listeners in order to share Cornell University's intellectual capital with the world.
Neither of us had prior experience in startups, but that's exactly what this venture turned out to be. We quickly determined that momentum was our biggest asset so we decided to sprint. We set an aggressive target of fully producing and releasing two episodes before the start of the second semester.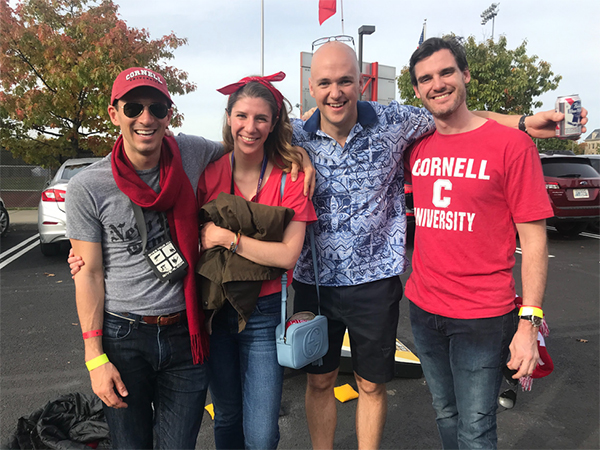 In early November, we had our first formal brainstorming meeting. We needed to create a clear vision for the podcast, define the intended audience, and determine production standards. Perhaps most importantly, we needed a name—we literally thumbed through our first semester economics, marketing, and accounting notes for some inspiration. "Present value" was blurted out jokingly at first, but had a nice ring to it and stuck. We also needed a visual identity. Caroline Wright had the idea of leveraging student talent across Cornell and reached out to the College of Architecture, Art, and Planning. Undergraduate student Kelechi Mpamaugo '20 created a beautiful logo that was both simple and iconic: the McGraw Tower, with sound from the Cornell Chimes "broadcasting" out from the top.
Finally, we needed a place to record. After exploring many options and coming to several dead ends, we discovered that the basement of Stimson Hall was recently renovated and featured a professional grade recording studio. We coordinated with the Cornell Language Resource Center and Sam Lupowitz agreed to be our engineer.
Our production process
Much of what makes a podcast great will go unnoticed by the listener. A well-produced podcast allows the listener to simply enjoy the conversation and focus on the ideas. Behind every podcast is a dedicated team of producers, researchers, engineers, and editors that devote hours to a produce a single episode.
For Present Value, this is generally our process:
Ask a faculty member to be a guest
Read up on the professor's scholarly work and research interests in order to become conversant about their areas of expertise
Conduct a pre-interview with the guest to ensure that we understand their work and interests
Create a loose script that flows from one segment to the next
Record with our guest at Cornell's Language Resource Center and re-record "pickups" (flubbed lines from the live recording), to be spliced into the final production
Edit carefully
Upload to the internet for distribution and publicize
Editing is more of an art than a science. Because most people listen on their headphones, listening to a podcast is a very intimate experience. Listeners give us nearly an hour of their precious time, and that time requires care. We scrub breaths and correct stutters to create the best listening experience possible.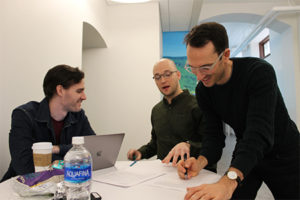 Support and excitement across the Johnson community
Professors within the Cornell SC Johnson College of Business and in other departments at Cornell have been extremely responsive and eager to be guests on Present Value. We've found that our vision for the podcast registers very well with faculty. Moreover, the SC Johnson College of Business administration, from marketing to admissions to alumni affairs, have played a critical part in helping us launch and spread the world about Present Value.
The Johnson community is well known for an engaged student body full of self-starters. The development of this podcast is a testament to that entrepreneurial spirit and the administration's support for new student clubs and ventures. At Johnson, the mentality is very much "yes and…"—we have been impressed to see the degree to which this holds true across all of Cornell.
As we get deeper into the first season, we have begun to realize that an entirely student-run project is as equally exciting as it is time consuming. Everything we do for Present Value has a startup feeling to it, from the mundane (like creating production guidelines for an episode) to the exciting (like discussing what guests we should feature on the podcast).
Present Value around the world and in the future
Already, we have listeners in six continents (come on Antarctica!) and more than 30 countries including Zimbabwe, South Africa, China, India, Brazil, Switzerland, and Israel. The amazingly broad base of listeners we have achieved is a strong testament to the Cornell brand and the quality of conversations on Present Value. We're honored that people around the world have made Present Value a part of their podcasting and media diet.
The Johnson community has played a critical role in helping us shape how we will pass the responsibilities on to incoming students next year. For Present Value to continue after we leave, we'll need to get the support and involvement from incoming students next fall. We're all extremely excited to get to that phase of the Present Value project.
The best part of Present Value has been working in a small team to execute something entirely new. From conception, to development, to actually releasing a downloadable episode, we have been motivated by the special opportunity to share Cornell's intellectual capital with the world.
---
About Harrison Jobe, Two-Year MBA '19


Harrison studied political science at The University of North Carolina at Chapel Hill and spent seven years in New York City before starting grad school. He has experience in broadcast audio production at WAMU and NPR, followed by a career in marketing and corporate sponsorship at NPR, and licensing and syndication at The New York Times. He co-founded the Johnson Podcast Club with Michael, serves as Johnson's 2018 Student Council co-president and is interested in politics, media, and technology.
About Michael Brady, Two-Year MBA '19

Michael (most people call him Brady) grew up in the desert of Southern Arizona, went east to study mathematics at Bucknell University, and spent the last five years in Boston before coming to Cornell. While in Boston, he worked for InterSystems, a technology company based in Cambridge, MA. His job took him around the U.S. and the world while teaching technology classes to clients building software solutions with InterSystems technology. He co-founded the Johnson Podcast Club with Harrison, is a contributing author for the Cornell Business Journal, and is known to play a sing-along whenever there is a piano at a party.