Noteworthy: Nolan School's Michael Paz featured in YesCollege.com accounting podcast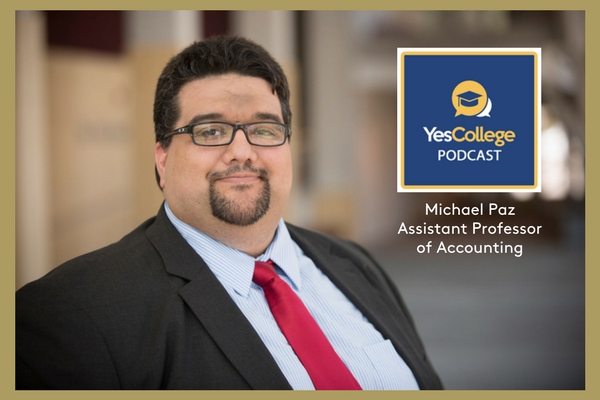 Overview
In a recent podcast with YesCollege.com, Michael Paz, assistant professor of accounting at Nolan School of Hotel Administration, paints a picture of what the field of accounting is all about and what a student can expect to learn in accounting courses offered by the SC Johnson College of Business, whether on the undergraduate level or in a graduate program.
As a professor, Paz resides in the world-renowned Nolan School of Hotel Administration, where he teaches accounting courses to Hotelies on the undergraduate and graduate level. Beyond the Hotel School, Paz's role as an instructor extends to all corners of the College of Business. This semester, he teaches a financial accounting course offered by the Dyson School of Applied Economics and Management, a class that's one component of the university-wide business minor that appeals to a broad swath of students across Cornell. Paz also teaches courses in the Samuel Curtis Johnson Graduate School of Management, which recently began offering a master's of professional studies program in management (MPS in Management), complete with its own specialization in accounting.
Paz's academic research focuses on issues related to cost management, compensation contracts, and performance feedback. Before joining the world of academia, Paz spent the early parts of his career working in bank operations and underwriting for Bank of America, followed by GE Corporation. He received his BA in music from Rhode Island College, his master's degree in accounting from the University of Rhode Island, and his PhD in accounting from Drexel University.
Key Takeaways from Michael Paz's podcast interview:
When it comes to accounting at Cornell, there's a lot students can choose from.
All accounting programs at Cornell live within the SC Johnson College of Business.
The Hotel School offers courses at the graduate and undergraduate level. Students interested in delving deeper can pursue a concentration in accounting.
The Dyson School offers a degree in accounting as well as financial accounting courses as part of the university-wide business minor program.
The Johnson School's new Master's of Professional Studies in Management – Accounting Specialization provides students the opportunity to train as a CPA or follow other career tracks in corporate reporting or financial analysis.
"Accounting, at its core, is a language."
Accounting teaches students how to properly describe economic events within a company and how to communicate that information to internal and external audiences.
Financial accounting provides investors, regulators, and creditors with information on the economic position and the financial performance of a company. Managerial accounting, on the other hand, focuses on a company's internal audiences and the information and reports involved tend to be proprietary.
A career in accounting can mean a number of different roles, including tax services and bookkeeping, financial planning and wealth management, consulting, finance, and even law enforcement.
"The forensic functions that are performed by accountants in places like the FBI, the CIA, or drug enforcement … track a lot of drug money. Banking crimes, a lot of white collar crimes, in particular — that's accountants performing forensic functions within law enforcement."
For any student who is interested in majoring in accounting, there's no better way to prepare for college coursework than by following the financial press.
"A good way way to get your feet wet… is to simply read about business. Following… The Wall Street Journal or The Economist or other kinds of financial magazines, I think that's one way to get some exposure to how people speak," Paz suggests. He adds that exploring online resources can serve as a healthy supplement, notably accounting blogs and the AICPA website.
Listen to the podcast to hear more about what Michael Paz had to say about the study of accounting and the accounting programs offered at Cornell.