An inside look at winter residence week with the Metro program

By Melissa Kung, Executive MBA Metro NY '19
While it had only been a short month of break between my first and second semester, I couldn't help but notice how excited I truly was for residence week. That's right…I was genuinely excited to be back at school. Residence weeks are an opportunity to bond with fellow classmates, experience the campus, and kick off the semester. This being a January residence week means you get to experience Ithaca in the midst of its full winter charm while you take your elective courses.
Electives, electives, electives
As part of the program curriculum, you take elective courses during this week-long session, prior to starting your spring semester classes. During each winter residence week (you have two in the Executive MBA Metro NY program), you complete three elective courses in five days. The benefit is that you can take advantage of learning something new in a classroom environment. Out of the various choices of electives, I went with Supply Chain Management, Negotiations, and Building Leadership Influence.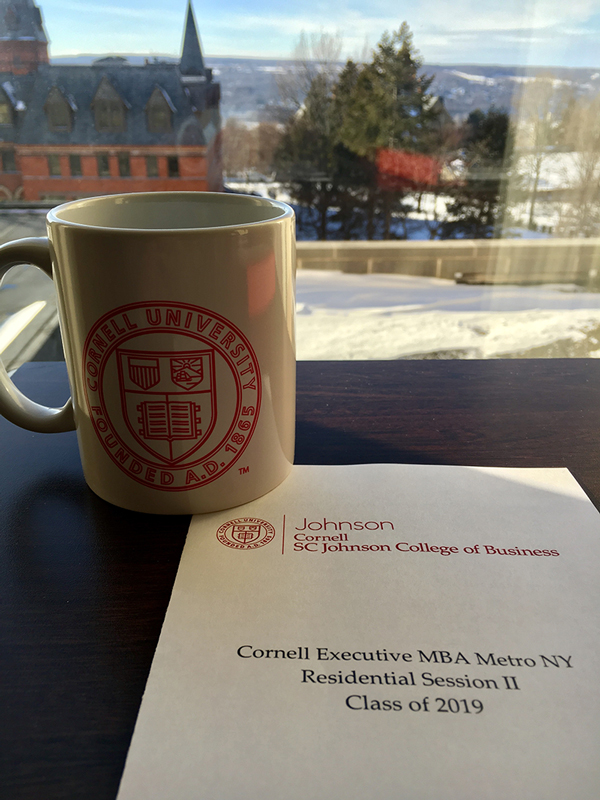 Not having too much personal experience with supply chain directly, I chose this course knowing I had a lot to gain in this area. Professor Li Chen taught the materials in an engaging and relatable way. In fact, one of my favorite classes was when he taught us about the bullwhip effect, as demonstrated with an actual bullwhip!
As for the other two electives, I was excited to choose two courses that focused on necessary traits of being a leader. Inside and outside the office, we are faced with everyday situations where you need to influence and negotiate. Professor Risa Mish's course, Building Leadership Influence, featured in-depth material that went beyond just influence. It was a culmination of managing organizations, motivation, and critical thinking all working alongside the actual "influence" overtone. What made this concise course so impactful for me was that you ended the course with an actionable and robust toolkit, one that I would end up putting into application a few weeks later in a professional setting.
New year, new teams
Heading into the session, you're notified about new team assignments that you'll be working with during the second semester. For many teams, including my new team, residence week is an opportunity learn about each other and socialize outside of the classroom. By the end of the week, each team must submit their team contracts, which is a short document of team goals and operating policies.
Don't forget the FUN!
Even with the challenges that come with an intense week of class, winter residence week can be a lot of fun. Since both the Metro NY classes of 2018 and 2019 cohorts are in class together, it's a fantastic opportunity to meet other Cornell executive MBAs. For me, I truly enjoyed getting to meet more students from the Class of 2018 and hearing about their experiences as they head into their final semester.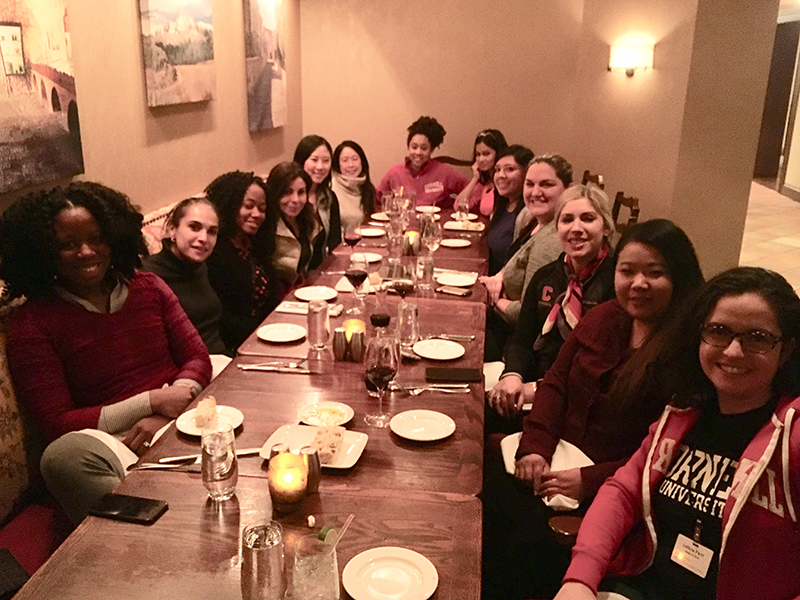 Outside of class, you have the evenings to meet with your new team, hang out with your fellow executive MBAs, and work through any homework with your elective teams. The Executive MBA Metro staff hosted a night of trivia and karaoke—a great event to close out the five days of electives before starting our new semester courses.
One of the key reasons I chose to pursue my MBA at Cornell is the sense of community that is built amongst the classes. These weeks are such a critical component to building that community. Not only that, but residence weeks are the perfect way to start the semester.

---
About Melissa Kung, Executive MBA Metro NY '19

Melissa is a senior finance manager, with 12 years of experience at Johnson & Johnson. Outside of work and school, she loves spending quality time with her family and two dogs, Maddie and Sofia. Her passions include baking, underwater photography, and traveling.