Diversity and inclusion: A journey in motion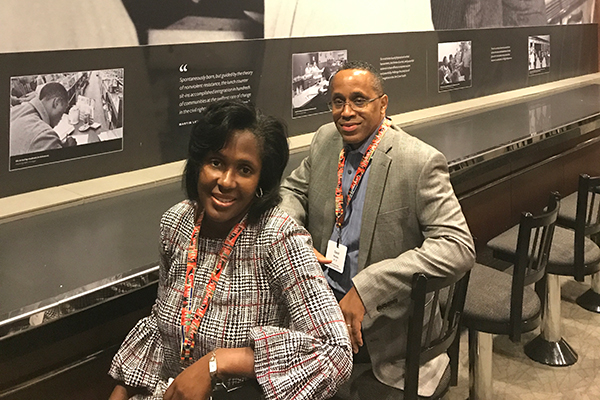 By Lynn Wooten, the David J. Nolan Dean and
Professor of Management and Organizations
One year ago this month a journey began.
Drawn to Ezra Cornell's ethos of '… any person … any study,' my family and I prepared for a big change with my acceptance of the position of dean of the Dyson School. At the same time, my husband, David Wooten, accepted a position as associate dean for diversity and inclusion and chief diversity officer for the Cornell SC Johnson College of Business. Not only were we drawn by the university's mission, we also felt the diversity of the programs that interest all students, regardless of their background, provided exciting opportunities to continue to make a positive impact.
If you feel change can be challenging, you're not alone. Our then-15-year-old daughter prepared to leave behind her friends and the only life she'd ever known in Ann Arbor, Michigan. Meanwhile, our son was preparing to graduate from the Hotel School here at Cornell and move back to Ann Arbor for law school. Just as he was preparing to leave, we were planning our big move to Ithaca. It's safe to say our family didn't so much dip our toes into the river of change—we jumped in with both feet.
Similarly, the Dyson School is on a journey. February has been a wonderful month as we celebrate Black History Month and also welcome Dyson's founding director of diversity, Jennifer Majka. Our faculty and staff are working to better define the Dyson distinction and ways we can continue to evolve the student experience. Not only is diversity and inclusion an important part of the student experience, we're also working at the college and university levels to ensure we're expounding upon all that our communities have to offer.
I can think of many stories that make me proud to be exploring growth opportunities in this area at Cornell. A memorable experience occurred last November when David and I joined President Martha E. Pollack and a group of alumni, their families, and friends at the National Museum of African American History and Culture in Washington, D.C., for a special event to celebrate the museum and Cornell's founding principles of diversity and inclusion.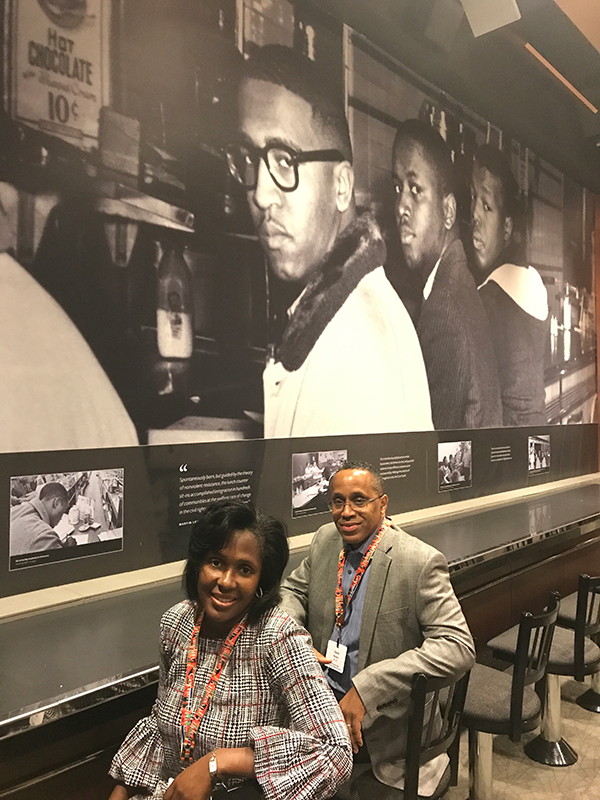 One exhibition at the museum was particularly meaningful. In the photo here, you see David and me seated at the Woolworth's Lunch Counter from Greensboro, North Carolina, where, on February 1, 1960, four college students sat down in a non-violent sit-in protest and requested service. Thus began a national movement that helped pave the way to the Civil Rights Act of 1964. This was important to our family not only for what it represented, but also because I am a graduate of North Carolina A&T State University in Greensboro, a land-grant university where I received my bachelor's degree.
These experiences are reminders that part of celebrating what makes us unique means having purposeful discussions around diversity and inclusion. The Office of Diversity and Inclusion for the Cornell SC Johnson College of Business is dedicated to creating forums for positive conversations for students, faculty, and staff. By fostering collaboration and inclusivity, we contribute to a culture that values our intrinsic strengths and differences and leverages them across Cornell University and beyond.
As for our family, one year after we announced our intentions to join the Cornell community, life has evolved. Exciting opportunities are headed our way. It's a reminder that life takes us on twists and turns, but it's easier to make a change when you know you're a part of something bigger.
When it comes to diversity, equity and inclusion at the Dyson School, growth is on the horizon. I hope you'll join us on the journey.