Quick Q & A: Arnab Basu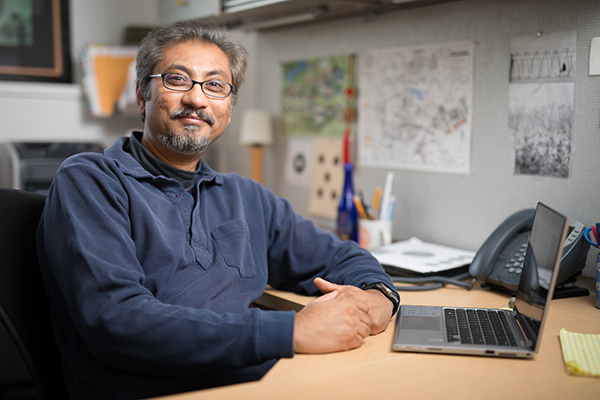 Soccer aficionado, development and labor economics expert, and early career journalist in India—learn a little more about Arnab Basu, professor at the Dyson School.
Q: What would your autobiography be called?
A: The Accidental Economist
Q: If you were the CEO of a company name one thing you would make compulsory in the office and one thing you would ban in the office?
A: Ban: Nobody should ever email anyone ever
Compulsory: An office without rules because I am not a fan of rules. I would want an office where people know what they have to do and just do it.
Q: If you were on an island and could only bring three things, what would you bring?
A: A soccer ball, iPod, and a nice plush towel
Q: If you were an animated character, who would you be and why?
A: I'd be Charlie Brown because I am thoughtful, hesitant, and shy, although my behavior would lead you to believe otherwise.
Q: What do you like best about teaching at Dyson?
A: Dyson has exciting students and an extremely collegial group of faculty, staff, and graduate students. The intellectual vibrancy that Cornell has cannot be found anywhere in the world.
Q: Who is your idol?
A: I have quite a few, but I would like to highlight one whose research has influenced me quite a bit and who might be relatively unknown to business school undergraduates. Pranab Bardhan, professor emeritus of economics at UC Berkeley, through his writings on rural institutions in poor countries—especially South Asian ones in the late 1960's and early 70's—opened the door to a whole new sub-field in development economics. A generation of scholars in development economics can trace back their interest in the subject to Professor Bardhan's work. With renewed focus on doing business in emerging markets, the topics he worked on—labor contracts, credit markets, inequality, and income redistribution—are worth revisiting.
Q: What is your favorite experience from growing up?
A: The monsoon weather in India. I am tired of the snow and I wish could experience the Indian monsoon instead.
Q: If you could teach anything, other than Introductory Macroeconomics and Research Methods in International Development, what would you teach?
A: Avant-garde Indian films because some of the best films are from Indian directors and the West still doesn't know enough about these films that were made in the 70s–90s in India. It's an amazing insight into the culture and life.
Q: What is a fun fact about you?
A: I started my life as a journalist for the Daily Telegraph in Calcutta, India.
Arnab's main research interests are in the areas of labor markets in developing countries, the economics of eco- and social-labeling, and field experiments to elicit behavioral preferences. Within labor markets, Arnab's research spans topics on the informal sector, minimum wage and enforcement, labor contracts, employment guarantee schemes, child labor, and human trafficking.
More recently, he has undertaken field experiments amongst coffee farmers in Colombia and cocoa farmers in Cote d'Ivoire to study how behavioral preferences affect production decisions, household labor supply, and human capital investments. Arnab is a research fellow at the Institute of Labor Economics (IZA) in Bonn, Germany and a fellow of the Global Labor Organization (GLO). He was awarded a research fellowship from the Alexander von Humboldt Foundation in Germany and is a recipient of the Theodore W. Schultz Young Economist Prize awarded by the International Association of Agricultural Economists (IAAE).