Evan Yates, MBA '18: Uniting business, tech, and medicine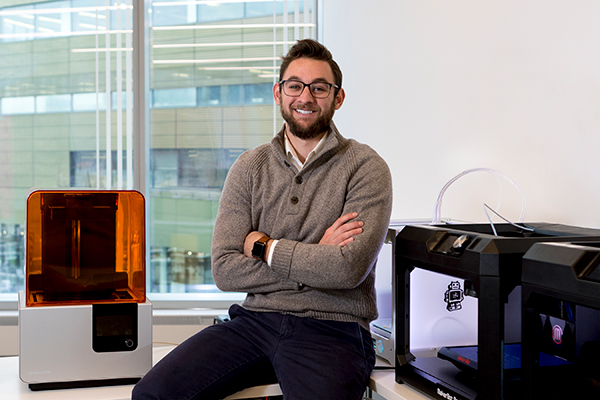 Photo credit: Zach Silverstein
For Evan Yates, a current student in the Johnson Cornell Tech MBA program, taking the leap and deciding to pursue an MBA was no easy decision—seizing the opportunity meant taking a year off from medical school and delving into a drastically different field. However, after starting a company with a friend during his second year of medical school, Yates knew that he wanted his life and career to be built on more than just medicine.
"I wanted to expand myself in both business and tech, so a traditional business degree wouldn't do," he explains. "I felt that this was the perfect time to do it, before preparing for residency programs complicated things. I knew what I was looking for—I wanted a one-year program that would give me business and tech training at a higher level, and I found that in the Cornell Tech MBA program."
Yates began his application to Cornell Tech a year prior to actually submitting it; he decided to complete his third year of medical school, and during that time, he realized that pursuing a Cornell Tech MBA was the right choice for him.
"I was very afraid of taking a year away from medical school—seeing my classmates from the past three years being matched to residencies certainly didn't help much with the fear that everything would be pushed back a year, but I thought about what I actually want to accomplish. I'm going to be a physician, hopefully for the next forty years or so. If it takes one extra year to get there, but I earn an MBA during that year…from that angle, it's really a no-brainer."
Yates' current focus is his Startup Studio project, a feature of the Cornell Tech MBA program that offers students the opportunity to create and develop their own startups. He knew he wanted to explore the possibilities of a health-based startup, so when a classmate approached him and proposed tackling the way people interact with their healthcare, there was an instant moment of inspiration.
"Right now, I'm having a blast trying to develop some ways to better healthcare for consumers, particularly in taking the friction out of finding a primary care physician and making the process for people to take control of their own medical records more seamless," says Yates, who knows from experience the complication and frustration of transferring medical records and communicating with healthcare companies.
Yates plans to continue developing this startup and ensuring that it is a viable product as he returns to medical school for his final year.
"It's all about making people's lives easier and simplifying processes that shouldn't be as difficult as they are. That's the goal," affirms Yates.
—Written by Julianna Teoh, a student intern for the Cornell SC Johnson College of Business