An inside look at Lokai founder Steven Izen '13

For millennials today, the Lokai bracelet stands in a league of its own: one could make the case that it's the best conversation starter among today's twenty-somethings; an accessory that's small enough to fit around your wrist but relevant enough in popular culture that, if it's not being worn by a celebrity on Snapchat, it's likely donating part of its profits back to a charity that champions social responsibility.
Celebrities aren't shy to show off their Lokai bracelet on social media and in everyday life.Check out past Instagram posts by the Kardashian Klan. Or look closely next time you see Justin Bieber walking the red carpet. The Lokai bracelet even got its own close-up during Superbowl XLIX: watch as 49ers cornerback Richard Sherman goes in for the handshake with Patriots quarterback Tom Brady, moments after the final play of the game. What does it say that a football star like Richard Sherman chooses to wear any sort of optional accessory while on the field? For Lokai to get some screen time on the biggest stage in sports, when the whole world is watching: it's the sort of product placement that money can't buy.
Not bad for a Cornell student who started his company during his senior year, following a heartbreaking personal loss for the future founder. Developing the concept on Cornell's campus in Ithaca, alumnus Steven Izen '13, conceived his brainchild on the heels of tremendous heartbreak at the loss of his grandfather to Alzheimer's disease.  Out of a moment of deep loss, the Lokai bracelet was born. When he wasn't studying during his senior year, Izen worked around the clock to develop his product, taking full advantage of everything related to entrepreneurship at Cornell.  One he committed to making his company succeed at all costs, he rolled up his sleeves and went to work. Five years later, customers and celebrities can't help but do the same.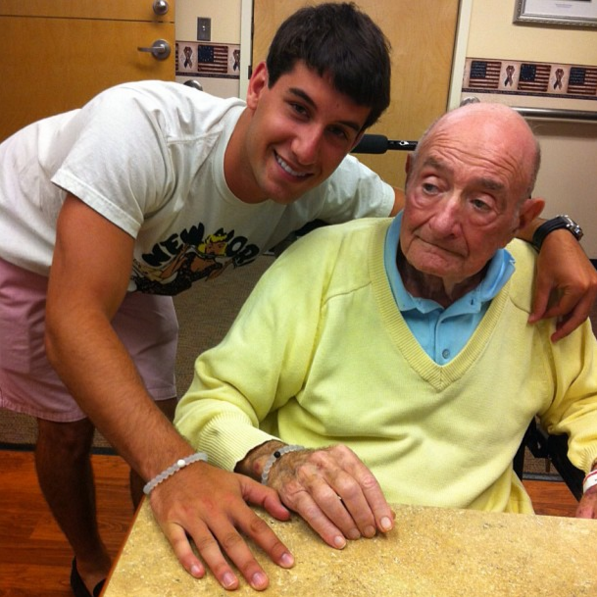 The bracelet is made up of clear, stretchable silicon beads that separate a single white bead and a single black bead at opposite ends of the bracelet. The black bead contains mud harvested from the Dead Sea, while the white bead contains water sourced from Mount Everest's base camp—the former being the highest point on planet earth, and the latter being the lowest point.
The design encapsulates the spirit of Lokai's famous motto: "Sometimes you're on top of the world. Stay humble. Sometimes you've hit a low. Stay hopeful." Last year, Steven Izen saw his name among Forbes' 30 Under 30 in Retail and Ecommerce. It's no secret that this Cornelian has made his own meteoritic rise right out of college, but what's refreshing about this startup is that the company has remained humble and true to its roots, a prime example of brand-building and the importance of authenticity. One good case in point: despite the massive growth of Lokai, the company has stayed true to its early commitment, in which they pledge to donate 10 percent of their profits to charitable partners. One-tenth of the profits has been a bigger number every year since launch; nonetheless, remaining steadfast has done a world of good for important causes that many millennials support. The results speak for themselves. Lokai has given more than $8 million to charitable organizations.
How can you tell whether or not someone truly bleeds Big Red? Check to see if they have an even bigger heart (a black and white-beaded bracelet doesn't hurt, either).
Learn more about Steven and Lokai by reading his interview with Aileen Chang from Entrepreneurship@Dyson.