Taking home top honors at the Cornell Investment Portfolio Case Competition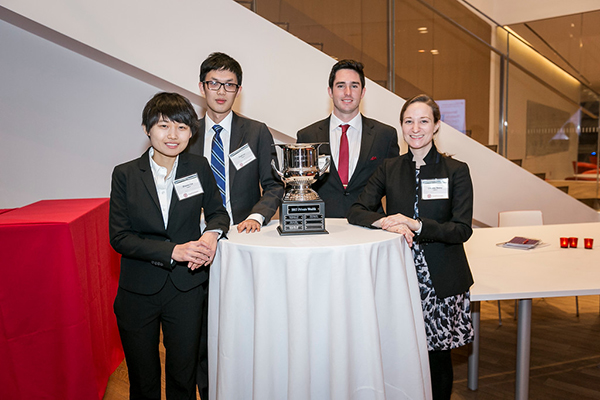 By Lindsey Staley, Two-Year MBA '19
Since arriving at Johnson in July, I have been fortunate enough to participate in seven different case and pitch competitions, touching a wide variety of topics and taking place in many different locations. The Cornell Investment Portfolio Case Competition in early March was certainly one of my favorites (not just because my team happened to win this time).
The process for this competition began during Johnson's winter break, with an application deadline, which included a statement of interest. For this competition, each school was allowed to bring one team, unless they had two programs (ex. MBA and Masters of Finance) participating, in which case they could bring two teams. Cornell's organizers took an innovative approach to this rule and selected four MBAs and four Masters of Engineering (MFE) students and then mixed them up into two teams with two MBA and two MFE students each.
I was very excited to be selected for the competition because the topic, defined contribution (DC) plans, had already been announced and this is a topic I am very passionate about. I had worked as an investment consultant with a focus on DC prior to school and am planning to return to that role post-graduation. The team I was paired with consisted of one of my MBA classmates, Kyle Horne, who will be doing a private banking internship, and Tian Yuan (Fred) Liu and Zhaosu (Alex) Cai, two MFEs whom I had not met previously, but had strong quantitative and coding backgrounds.
The benefits of a diverse competition team
We received the case one week before the competition and got right to work, spending all day Saturday working on our presentation in one of the new, state-of-the-art breakout rooms at the Breazzano Family Center for Business Education in Collegetown. We immediately recognized the power of our mixed team with Kyle and I storyboarding and generating ideas and Alex and Fred offering opinions on what is possible quantitatively while diving in to build the Python models based on our ideas. Through our debates, Kyle and I learned that "it's in the algo" and that some modeling is "hand-waving" and Fred and Alex learned about storytelling with "clients" and the importance of PowerPoint formatting. I also learned more about what is possible in Python and other programing languages and how to translate my ideas into something that can be coded.
Prior to this competition, the only finance competitions I had participated in were stock pitches, so I was surprised and impressed by the this one's holistic investment perspective. By building a defined contribution plan we had to consider the case from many angles, thinking about behavioral finance, asset allocation, and investment manager selection. Essentially, we needed to take a very big step back so that we could see how those stock pitches ultimately end up in an individual's portfolio. The career and recruiting opportunities at the event were also much more holistic than those I had seen at other conferences. The CFA Society of NY hosted a session about the variety of careers in investments beyond the traditional MBA path of equity or fixed income research, and the companies that attended were also recruiting for a wider variety of functions.
Networking with (and learning from) fellow MBAs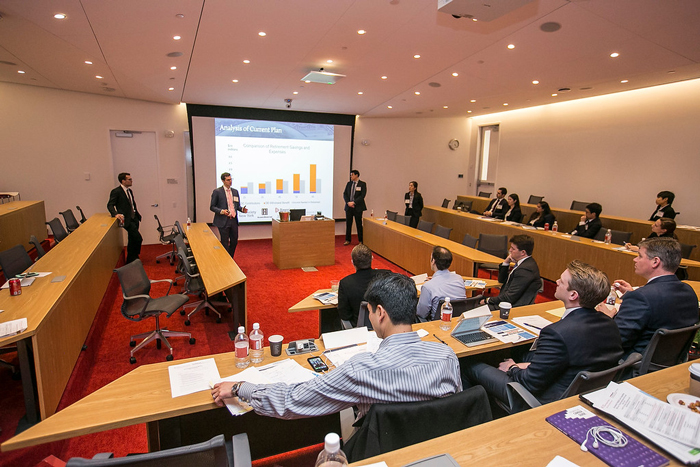 The competition took place in NYC at the new Cornell Tech campus on Roosevelt Island and each team was provided with hotel rooms across the river in Manhattan for the night before. On the morning of the competition, after the welcoming remarks, each team was assigned a breakout room to rehearse before their first round presentation. We were impressed by how clean and bright the facilities were and loved that we could easily connect our devices to the TV in our breakout room. We were definitely nervous before the first round, but once we got in front of the judges we started to relax. The atmosphere in the room was very collegial and the judges and other observers would smile and nod as they took notes. We left the room feeling confident in our presentation, but had no idea how the other teams were doing!
After a short lunch and snack break, the finalists were announced, two from each room. Our team, the other Cornell team, Chicago Booth, and NYU Stern had made it through to the final round! We had the next hour to get feedback from one of the judges and review our presentation. Though there wasn't necessarily enough time to make any major revisions, we did add one analogy to our presentation addressing our coach's feedback and heard that it went over well in the second round. This feedback and revision time was another unique feature of this competition and I'd love to see other competitions do the same thing.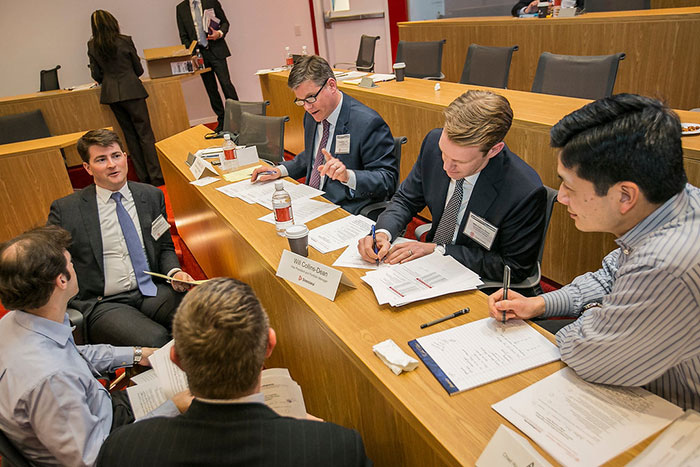 Our team was selected to present first, which meant that we were able to watch all of the other finalists. It was a blessing and a curse because we were able to learn from all of the other presenters, but we also started to question our presentation as we continued watching the other strong teams! Each team had unique ideas. For example, the NYU Stern team proposed using gamification to identify investors who are likely to over-react to market movement, the Booth team had a very clean, well-rehearsed presentation and beautiful, glossy handouts for the judges, and the other Cornell team proposed a contrarian investment solution focused on academic research about sequencing risk. After the final presentation, all of the contestants reconvened upstairs for drinks and delicious hors d'oeuvres, while the judges deliberated. It was fun to catch up with some of the students from other schools who I had met at other competitions and conferences throughout the year, such as Cornell's Women in Investing (WIN) Conference and the Darden at Virginia Investment Competition. Many of them had secured internships or gone on fun winter break trips since the last time we met and it was neat to hear about their similar and different MBA experiences.
Winning the top prize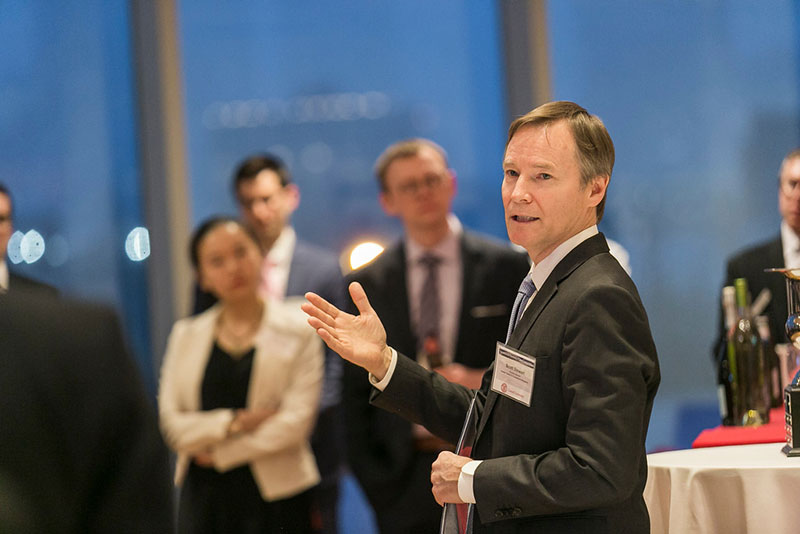 After what felt like eons, the judges joined us in the atrium to announce the winners and Scott Stewart, who organized the event for the Parker Center, told the backstory behind the case we read. I personally loved the back-story of the case because it was a real life project that Scott had encountered in the industry and the work he did on it led to the development of an investment product that is now has among the highest assets under management in the defined contribution industry. When we got to the award announcements, in typical fashion, they kept us in suspense by announcing fourth and third place first. Our team was happy for our classmates, when we heard they were taking home third place, but suddenly we realized that this meant we were in contention for first! It was down to us and Booth, who I knew had made a great pitch, and our team exchanged nervous/excited glances with each other…
The judges announced that it had been a very close race, but that ultimately OUR TEAM had won! I couldn't believe it that after going to so many different competitions, I had finally taken home top prize! It felt especially good because this is a topic I am so passionate about.
The event concluded with congratulations between teams, more networking, and several toasts over thematically appropriate Ithaca Flower Power ale. Overall I felt that this was a great event for aspiring MBA investment professionals (even if we hadn't won) and I will highly recommend it to our incoming first years for next year.

---
About Lindsey Staley, Two-Year MBA '19:

Lindsey Staley is a first-year MBA candidate, Roy H. Park Leadership Fellow, and Forte Fellow at Johnson. She graduated from Barnard College of Columbia University in 2013, where she majored in economics, and spent the past four years working for Mercer as an investment consultant in NYC. Prior to Barnard, Lindsey danced professionally with Nashville Ballet 2 and trained on a full scholarship at the Joffrey Ballet School in NYC. At Johnson, Lindsey has focused her studies on the asset management field and serves on the executive boards of several clubs, including as executive director of the Johnson Board Fellowship program and as vice president of recruiting for the Investment Management Club. She is a CFA charterholder, completed the CIPM, and is a member of the New York Society of Security Analysts. Lindsey grew up in Ithaca and attended Ithaca High School. She is a member of the Ithaca Ballet board of directors and a proud fourth generation Cornellian.