Using Sage Hall as your gateway to Cornell

By Abhinav Ray, Two-Year MBA '18
Coming to Johnson for your MBA is like setting up your basecamp at Sage Hall and looking in all directions for opportunities to venture. Don't get me wrong, Sage Hall can be very consuming and there is more than enough to do there—you could spend all your time moving between the basement, the atrium, and the breakout rooms. You should, however, look outward and use your time at Cornell University to explore everything it has to offer. The larger university community gives you the opportunity and resources to multiply your MBA experience.
Here are some experiences of mine outside of Sage Hall that have helped make my two years at Cornell incredible.
Connect with other schools
As an MBA, you will spend a lot of time with Johnson students and alums. A big part of my development has been meeting students from other disciplines on campus. I was part of Big Red Tech Strategy during both my years at Cornell. The club gave me a chance to meet engineering PhD candidates at Cornell who had invented technologies and were selected as commercialization fellows. I was able to work with them to help commercialize their technologies. Hackathons are another great way to meet students from different schools. I took part in the Health Tech Hackathon and was part of a team of three biomedical engineers, an immunology PhD candidate, and an MBA. There are also several mixers that take place on campus such as those at the Big Red Barn—also a must-visit place when in Ithaca—where you can go to meet graduate students from Cornell Law School; the College of Architecture, Art, and Planning; and the School of Hotel Administration…basically anyone and everyone. Every student you meet here would have their own story to tell.
Enjoy sports and the outdoors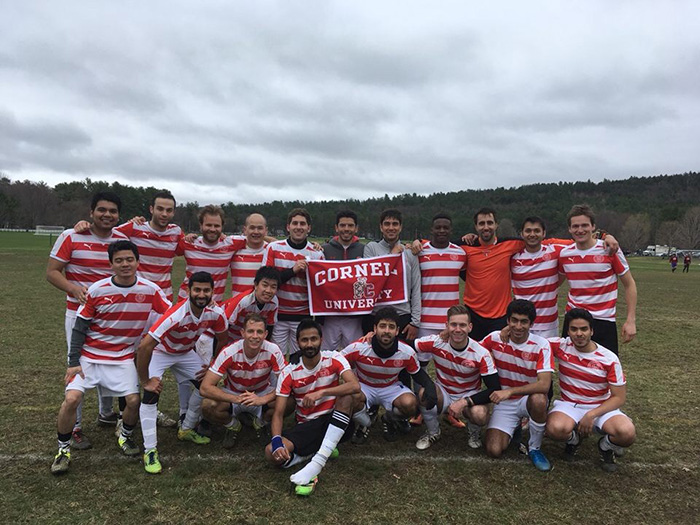 I was lucky to be part of an amazing Soccer Club at Johnson. We went on to win the MBA World Cup in 2017. There are plenty of opportunities to channel your inner sportsperson here and find people who think alike. I was a frequent visitor of Gruman Courts to play squash especially when it starts getting a little cold, and I took to playing tennis for a while outdoors near Risley Hall when the weather allowed. The Johnson Bowling League held during the spring semester at Helen Newman is a great way to spend Fridays. If you're a fan of golf, or want to try your hand at it, you can always go to the famous Robert Trent Jones Golf Course. Also while at Cornell I witnessed my first competitive ice hockey game at our very own Lynah Rink versus Harvard. Hockey games are a great way to see Cornell come together to cheer for Big Red.
Go on one of the treks
Johnson has plenty of options to go to another country as part of an international study trips course. In these courses you learn about a new country, its culture, its industries, how business is done there—and to top it off, you get to visit the country with about 50 of your classmates. There are several treks throughout the year to places such as Israel, Colombia, Dubai, Japan & Korea, South Africa, China, and Brazil to name a few.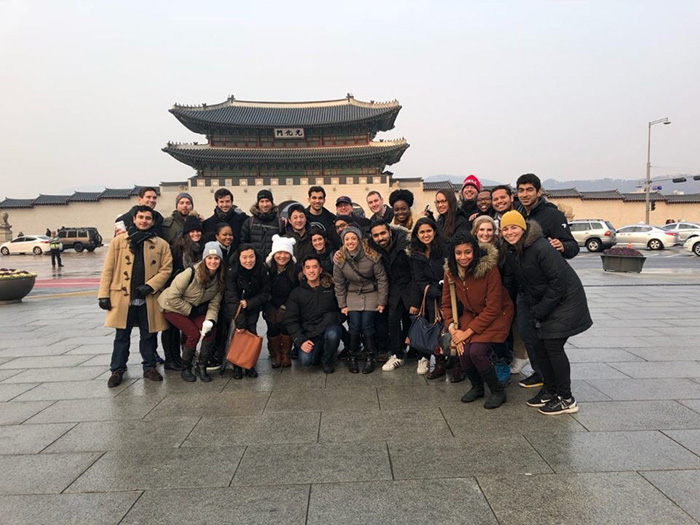 Explore the cafes and libraries
While the famous "161 Things Every Cornellian Should Do" might be too much for most of us, there are several cafes and libraries at Cornell that are spread across campus and give you a very different experience from Sage. Green Dragon in Sibley Hall is definitely one of my favorites. Ivy Room at Willard Straight Hall, Mattin's Café in Duffield Hall, the Cornell Dairy Bar, and Trillium in Kennedy Hall are a few cafes on campus. Each of the schools has their own library. The Cornell Law Library, Gates Hall, the Uris Library, Olin Library are a few close to Sage Hall. You should explore these if you need some quiet time away from Sage or want to meet some economists, engineers, or lawyers!

---
About Abhinav Ray, Two-Year MBA '18

Abhinav Ray is from New Delhi, India, and was working in the consulting industry before beginning his MBA studies. He came to Johnson because of the opportunities and resources that were available at the school and Cornell University. During his two years he was able to work with material science undergrads, PhD candidates, and architecture professionals to get the diverse learning experience he wanted at Cornell. He is passionate about soccer and follows every major European league. After his MBA he will be returning to work as a consultant in New York.