Cornell Business Impact Symposium: Bridging sustainability and enterprise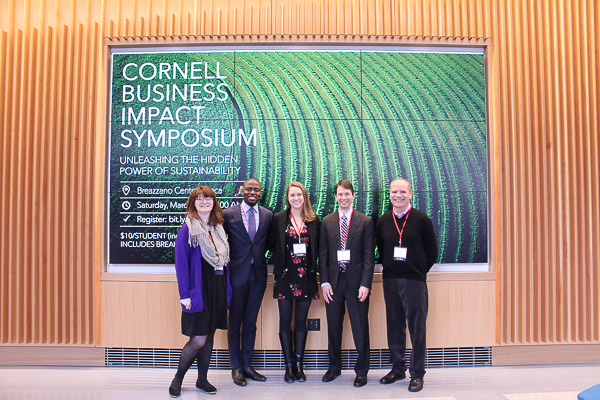 The Cornell Business Impact Symposium (CBIS) has proven to be a thought provoking event year after year, and 2018 was no different. The Center for Sustainable Global Enterprise hosted this year's annual conference, which centered around Unleashing the Power of Sustainability. Attendees heard from sustainability experts in a number of industries including food, fashion, technology, and finance during the day-long event held at the Breazzano Family Center for Business Education in Collegetown.
Although sustainability and business are not always interconnected, Cornell strives to bring the two fields closer together with initiatives like the Cornell Business Impact Symposium and Johnson's sustainable global enterprise immersion curriculum. MBAs are becoming more aware of how business decisions can affect sustainable operations, and many were involved in this year's conference as both attendees and presenters. Here are their takeaways.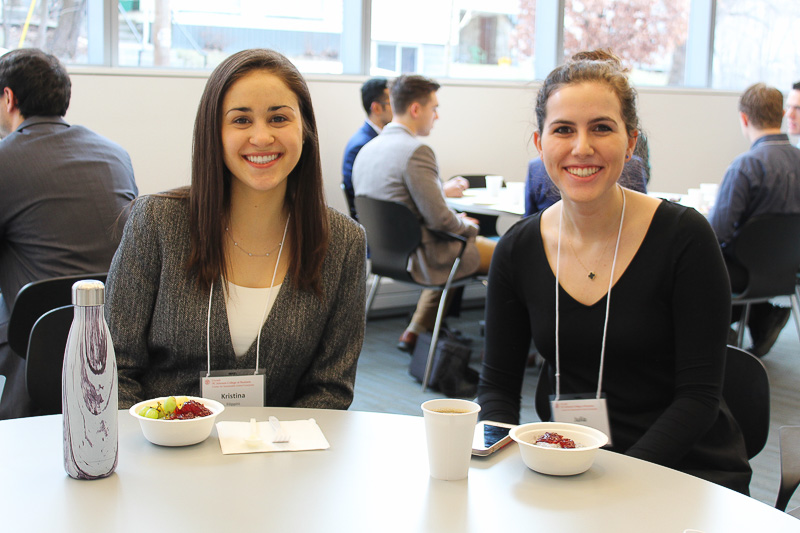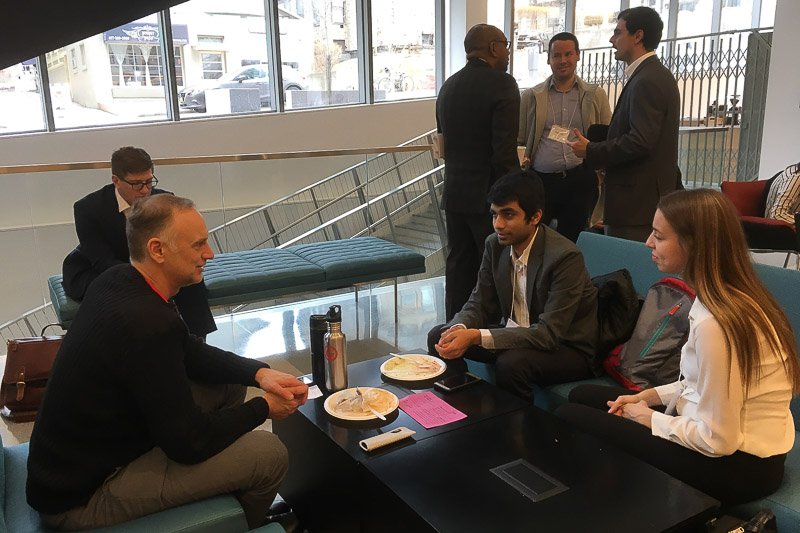 René Bonomi, Two-Year MBA '19
An initiative that started three years ago with the Sustainable Enterprise Association, as part of Johnson's Center for Sustainable Global Enterprise (SGE), the Cornell Business Impact Symposium is an event that captures the essence of innovation and best practices in sustainability. Currently, the organization involves six graduate and undergraduate clubs from the university—one is the SGE club, which I am a part of.

Mark Milstein, director of SGE, opened the event. Following his introduction, keynote speaker Mike Bowman, breakout product leader in GE's Global Research Center, described his 12 years of experience investing in cleaner technologies and how he structured a framework to develop advanced technologies. Currently there are great innovations in GE's product pipeline and the reason for that is the usage of his framework.

The panel Combating Climate Change with Clean Energy Innovations, moderated by Crosby Fish, MBA '18, hosted panelists Mike Bowman; Brian Bauer, program manager of clean energy programs at Cornell's Center for Regional Economic Advancement; and Jason Salfi, CEO and co-founder of Dimensional Energy; was insightful, highlighting trends in the energy industry, such as storage improvement, and illuminating innovative start ups such as Dimensional Energy and Emergy.

The last session on Balancing Financial Gain and Social Impact in Investment Decisions debated impact investing strategies and how this business area is developing and growing to bring great improvements to business, society, and the environment from now to the future.

I cannot wait for next year to be part of the 2019 Cornell Business Impact Symposium. I am sure it will be a remarkable event—it has never disappointed.
Christina Chan, Two-Year MBA '19
The Cornell Business Impact Symposium brought together a diverse group of students, faculty, and professionals from all parts of New York State and beyond into one space. Together, we explored our roles in the future of sustainability and business. As an MBA, it was inspiring to see the number of undergraduates and professionals who united for a shared cause. In each session, you could feel the energy in the air as the audience and speakers discussed their experiences and sought out solutions to systemic issues. I especially enjoyed the panel From Fashion to Food: Excursions through Sustainable Supply Chain. From experts both in the academic and professional field, I gained invaluable insight and connections that will continue to inform my career path, and I look forward to seeing how CBIS will continue be an influence in the years to come.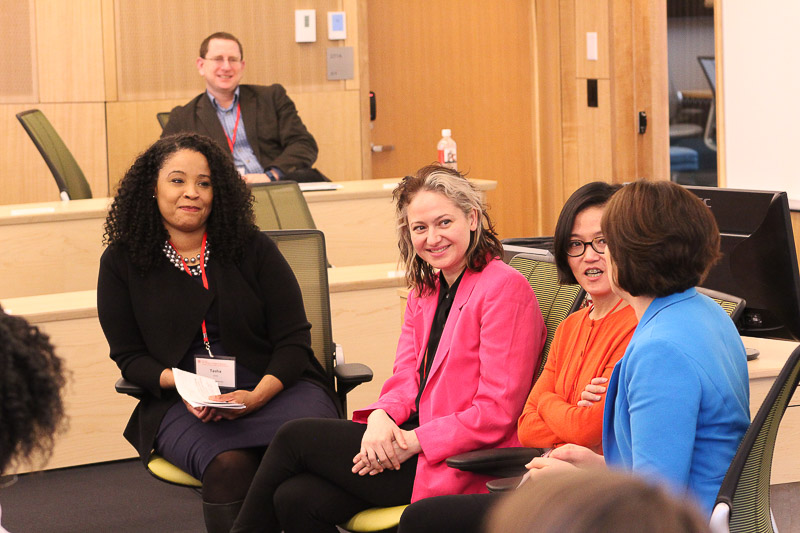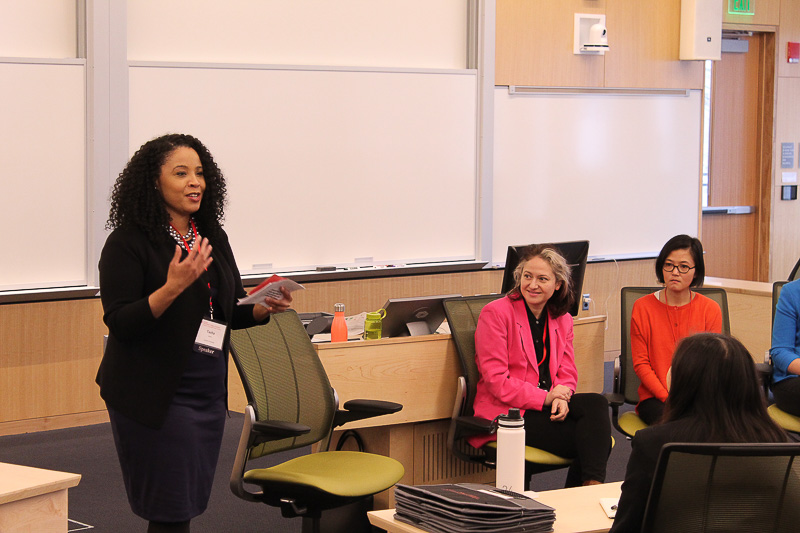 Speakers on the panel From Fashion to Food: Excursions through Sustainable Supply Chain
Siddhesh Amarnath, Two-Year MBA '19
The Cornell Business Impact Symposium was a fantastic opportunity for students, academics, and industry professionals to come together and discuss emerging themes in sustainability, tackling climate change and impact investing.

Having dabbled in impact investing in Southeast Asia prior to business school and also participated in sustainable investing case competitions, I was eager to gain an understanding of impact investing trends in the United States. The breakout session Balancing Financial Gain and Social Impact in Investment Decisions was particularly informative for me, as I learned about how crowdsourcing and automation can help reduce the cost of impact measurement, which typically tends to deflate net returns on impact investing projects. The panel debunked the notion that impact investments necessitate relaxation of financial return goals.

Earlier in the day, breakout sessions such as Tools & Strategies for Climate Mitigation and Combating Climate Change with Clean Energy Innovations also educated the audience about the potential of carbon sequestration in tackling climate change, as well as initiatives such as the Sustainability Accounting Standards Board (SASB) and organizations like the CDP that foster greater accountability and transparency in reporting environmental impacts of projects. All these efforts are directed at incentivizing firms to set an internal price of carbon that is accounted for in capital budgeting decisions.

This event also enabled me to make valuable connections with like-minded individuals interested in the domain of sustainability. I'm already following up on my conversations with several event attendees and exploring ways to further develop sustainability initiatives at Cornell and beyond.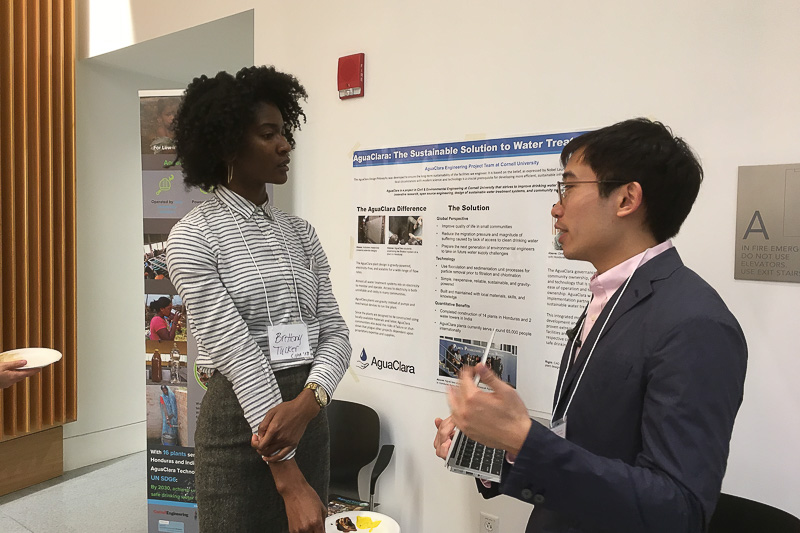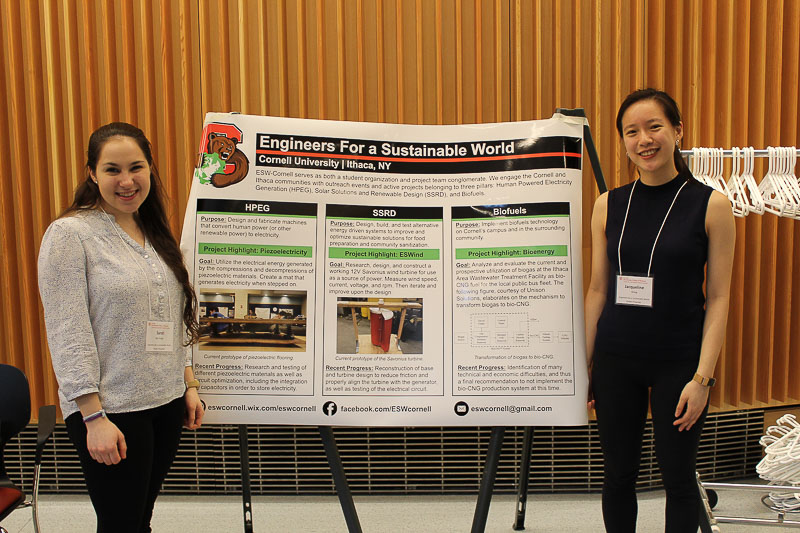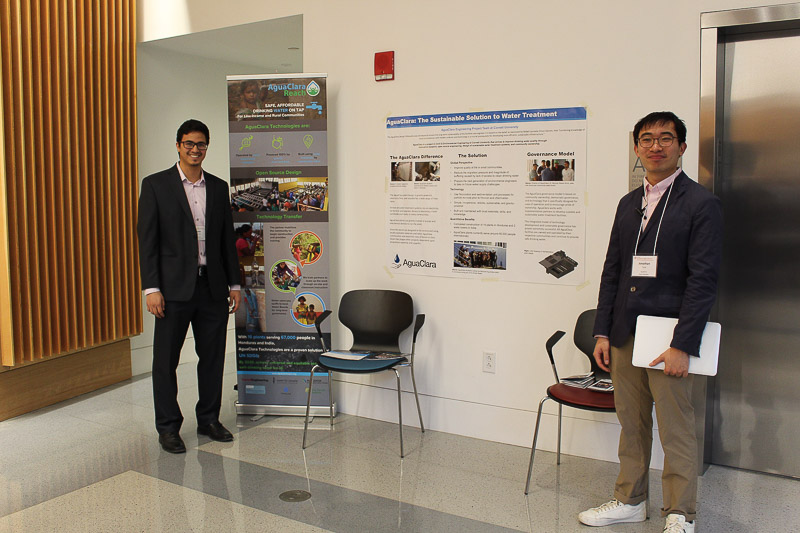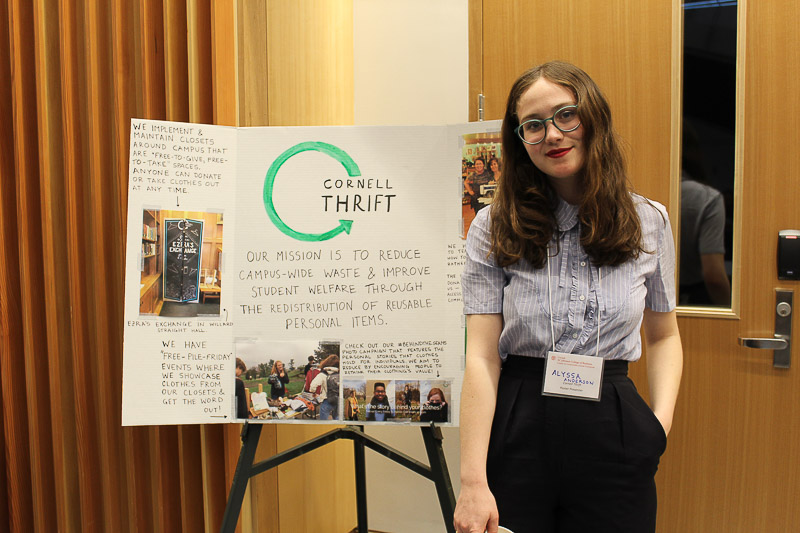 Student poster presenters at the Cornell Business Impact Symposium.
Sarah Theobald, Two-Year MBA '19
A highlight for me from this year's CBIS was the From Fashion to Food: Excursions through Sustainable Supply Chain panel, moderated by Tasha Lewis, assistant professor in the Department of Fiber Science & Apparel Design, with panelists: Luna Lee of Eileen Fisher, Elizabeth Pulos of Macy's, and Beth Sauerhaft, sustainability and sustainable agriculture expert. The panel covered an array of hot topics from supply chain traceability and upcycling to the challenges of measuring social impact as well as reconciling emerging market manufacturing practices with United States corporate standards. The discussion and follow up questions were dynamic and incredibly engaging, with students of all ages and programs peppering the panel. Overall, CBIS 2018 was a truly inspiring event—the excitement for future possibilities within the field of sustainability was palpable. I left energized and eager to continue working toward designing a better world through business.