IBI teamwork in action during Financial Modeling weekend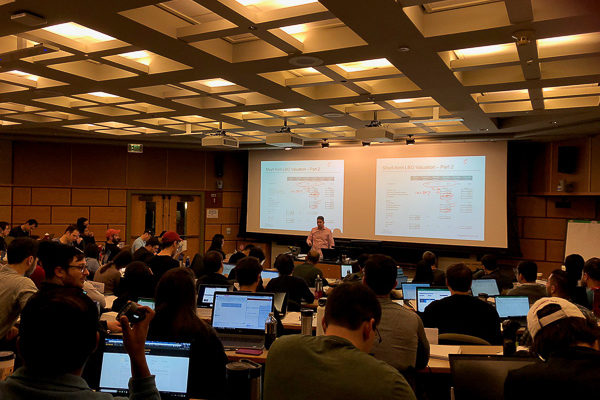 By Daniel Kaufman, Two-Year MBA '19
What are the primary drivers of a leveraged buyout (LBO) model? Is this deal going to be accretive or dilutive to the acquirer's earnings?
The above represent common "technical" questions candidates receive during investment banking interviews. During the recruiting process, the Old Ezra Finance Club board and second-year students did a tremendous job preparing us to ace the interviews and secure internship offers. But as my peers look toward summer on Wall Street, we want to take our preparation to the next level.
Cue the Investment Banking Immersion (IBI).
It's clear that Drew Pascarella, lecturer of finance, spends an incredible amount of time planning every aspect of the IBI experience so his students can get the most sophisticated banking training available. As a classmate and I rode back to Ithaca from our "sell days" (a day where industry and product groups at banks "sell" themselves to the incoming summer associate class) in NYC, we lamented the thought of sitting through a full weekend of Financial Modeling with Pillars of Wall Street (PWS). However, we noted the timing of this weekend couldn't have been better, as our LBO and mergers and acquisitions (M&A) cases were on the horizon. We also chuckled about how we'd now get a shot at really understanding the answers to those technical questions we danced around during recruiting.
We already had a couple of touch points with the PWS team prior to our course weekend, so this didn't come as a surprise, but it's certainly worth noting: They put tremendous amounts of time and effort into the design and delivery of their courses. Matthew Holaves, one of the PWS founders, genuinely cared about providing an experience where people not only learned, but also developed "tools" to be used during the summer.
It's all about teamwork
Looking back on the weekend, the item that stuck with me most is the IBI's focus on teamwork. During the fall, we prepped for interviews together, drove to NYC for informational sessions together, interviewed (at times) together, and the weekend's sessions highlighted that we also learn together. And now, even though these modeling courses are scheduled in the early stages of the IBI, there is already a palpable chemistry amongst the group. There were countless instances over the course of the weekend where we joked with each other from across the room, took the time to help each other with the syntax of complicated formulas, and motivated each other to keep pushing through a challenging, yet rewarding experience. The fact that this chemistry manifested itself in this context provided another reminder of how fortunate I feel not only to be a part of the Johnson community, but also to experience the IBI with people who are quickly becoming close friends.
As the clock turns to 4 p.m. on Sunday, the group pushes through the final stages of our last model. With some newly acquired technical skills, we eagerly await the 8 a.m. Monday email from Drew, where we'll get our next assignment—a simulated LBO pitch of an industrial company to a financial sponsor. There will be long nights ahead, but as always, we will tackle this case and our ongoing preparation together, so that we can hit the ground running this summer.