Fayrouz Hares, MBA '18: Aiming to lead on an international scale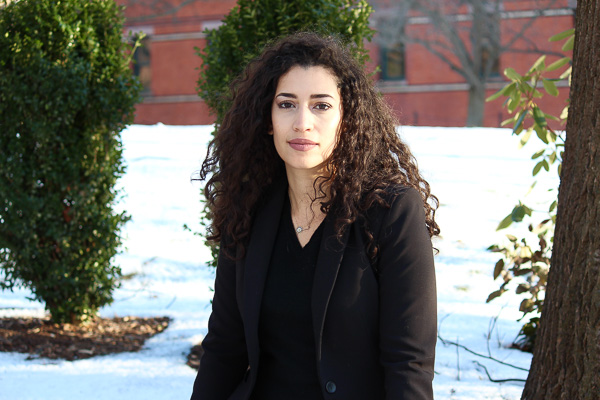 As Fayrouz Hares, MBA '18, walks through the doors of Sage Hall, she is overwhelmed by a multitude of hellos, nods, and smiles. "I know almost everyone here," Hares mentions as she continues greeting her classmates. As a second-year MBA candidate in the Two-Year MBA program at Johnson, Hares is still taken aback by the warm, affectionate community of Johnson students. This comfort is something Hares thought she had to leave behind with her family in Morocco when she began applying to MBA programs in America. Yet, she unexpectedly discovered a familiar sense of home in small-town Ithaca.
At the age of 25, Hares had a master's degree in finance and a few years of work experience under her belt when she founded her company Go Deal. Created in response to the lack of available business attire for women, Go Deal imports clothing from the United States into the Moroccan market to provide women in business with a variety of affordable outfits. Hares ran her company for two and a half years until she decided it was time to invest more of her time toward her own personal development.
"I felt like, yes, I know a lot of theory, but I lack practical knowledge. I decided it was time for me to switch gears and get back to learning," says Hares.
Having completed her undergraduate and graduate studies in Morocco, Hares was ready for an international experience where she would be challenged in new ways. Hares' innate desire for a worldly perspective is what has guided her throughout her educational pursuits: "I fell in love with finance because it was the foundation that allowed me to work with one of the largest consulting firms in the world, and getting to know more about what lies outside of Morocco felt like the thing for me."
Though it is customary for Moroccan students to study abroad in a specialized school in France, Hares desired an education that was not limited to one area of study. She decided that an MBA program at an American university was the right match for her.
As an international student, Hares searched for a program that would provide her both academic exploration and self-comfort. Leaving Morocco was a new beginning for Hares, as she had to leave behind her family who has been invested in her education since her primary school days. Hares recalls that the guidance and support of her parents and brothers helped her narrow her decision with selecting schools. "I thought it was a marketing ploy at first when they talked about a 'tight-knit community,'" chuckles Hares as she reveals why she chose Johnson. "But once I joined the community, I saw that everyone really is involved in your well-being."
When asked what has been one of her favorite moments at Johnson thus far, Hares mentions the diverse, yet strongly connected student body. "I have been fortunate enough to be able to befriend people from 38 different countries. Understanding their experiences and values really changes your way of thinking." The unyielding support from her classmates is what has made her experience in America worthwhile. When Hares moved with her husband and pets to Ithaca, her husband fell in love with the supportive community and quickly became friends with all of Hares' friends, too.
Faced with the same professional roadblock as Hares, her husband decided it was time for him to return to school to become more well-rounded in the business field. She still recalls the day he was accepted into Johnson. "When I started telling my friends, I think they were more happy than me," she laughs.
Family has always been the driving source of Hares' passions and ambitions. She hopes to garner the support of her family in Morocco, along with her new family in Ithaca, to one day work for a company where she can drive change and initiatives; where her name will be "amongst the big guys." As the academic year nears its end, Hares is looking forward to graduating in the community she now calls home, with both her Moroccan and American family and friends.
—Written by Ashley Win '19 and photo by Carina Segredo '19, student interns for the Cornell SC Johnson College of Business