Hirschel Abelson '55, MBA '56, honored with Samuel C. Johnson Distinguished Service Award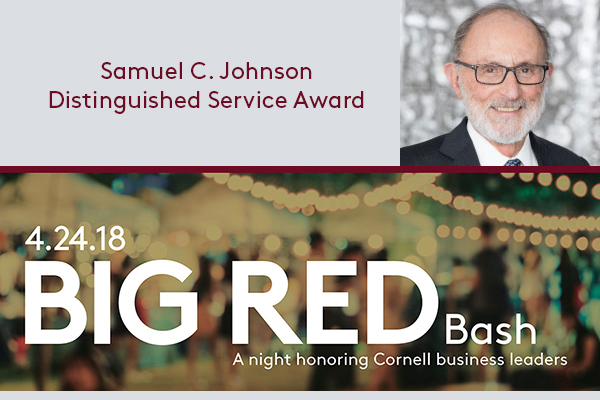 Co-founder and chairman of investment firm Stralem & Company, Hirschel Abelson '55, MBA '56, has always been a champion for younger generations. As a businessman and as an engaged alumnus, Abelson continues to be invested in empowering both the employees at his firm and Johnson students, setting them up with environments and resources that enable them to thrive, even if it requires shaking up the status quo.
In recognition of his extraordinary career and his sustained and exemplary commitment to Johnson and its students and alumni, Abelson will be honored with the Samuel C. Johnson Distinguished Service Award at an awards ceremony and celebration, the Big Red Bash, to be held on April 24 at Guastavino's in New York City.
Shortly after receiving his MBA in 1956, Abelson joined financial services firm Ladenburg Thalmann, where he remained for 10 years, eventually becoming partner in corporate finance and economic adviser. In 1966, Abelson moved on to co-found Stralem & Company, serving as president, chief investment officer, portfolio manager, director, and now, chairman. Although his has been a lifetime of leadership, Abelson says that one of the most rewarding aspects of his career has been to step aside and trust others to take the reins.
Back in 1999, when the stock market soared to form the bubble that would eventually lead to the dotcom burst of the early 2000s, Abelson tasked a fairly green team of researchers with identifying why the firm's upmarket to down-market ratios were "becoming out of whack." Surprised by the responsibility, yet up to the challenge, the team returned not only with a diagnosis of the problem, but also an executable solution that Abelson then asked them to implement. "I gave them an A+ and told them to go put it into action. I was impressed at how fearless they were when they were given a chance," he says.
Abelson has been equally bold in his service to Johnson. He has served on the Johnson Advisory Council, been a Cornell University Council life member, a member of the Cornell Club of New York as well as the Cornell University Alumni Association of NYC, and was recently named a Foremost Benefactor, bestowed upon individuals who have provided exemplary service to the university and contributed a significant amount of financial support to Cornell.
While always passionate about the school that launched his career in business, Abelson's involvement truly began when he returned to campus in the early 1980s. At the time, the school—then the Graduate School of Business and Public Administration (B&PA)—was heavily siloed, with faculty and students in public administration largely separated from their counterparts in business administration. A schism was taking place, and B&PA Dean David A. Thomas created a task force made up of business and educational leaders, faculty, and alumni—including Abelson—that would assess the situation and make recommendations.
Given the relatively low (15 percent) enrollment rate in the public administration program, the task force believed that the school was stretching its resources and therefore not giving its students the best possible experience. Although it was a controversial idea, the group advised the dean to reduce the program and shift the school's focus to business management exclusively. The school was eventually reborn with this new focus and renamed the Samuel Curtis Johnson Graduate School of Management, thanks to a $20 million gift from Samuel Curtis Johnson '50, who also participated in the task force and advocated for the transformation.
Today, what inspires Abelson most about Johnson is how dynamic it is. "I love watching new programs added, revised, or even removed. Johnson is this living, breathing institution that adapts to what's going on in the world and anticipates changes. It's wonderful to see," he says. The Cornell Tech campus in New York, according to Abelson, is a great example of how the school is investing in the future. "When I was in school, it was all about manufacturing. Then the focus shifted to marketing, then finance. Now it's all about digital, and Johnson is on top of this change," he says.
As he reflects on receiving the Samuel C. Johnson Distinguished Service Award, Abelson says it has been a pleasure to be involved all this time. But as at Stralem & Company, he's eager for a new generation to take over. "The secret to being a good leader is knowing when to step aside," he says. As for his role, Abelson says he's loving his emeritus status, and plans to continue watching Johnson shine from the sidelines.
—Written by Maria Minsker '13, a business journalist based in New York City