Accelerate Johnson welcomes incoming One-Year MBA candidates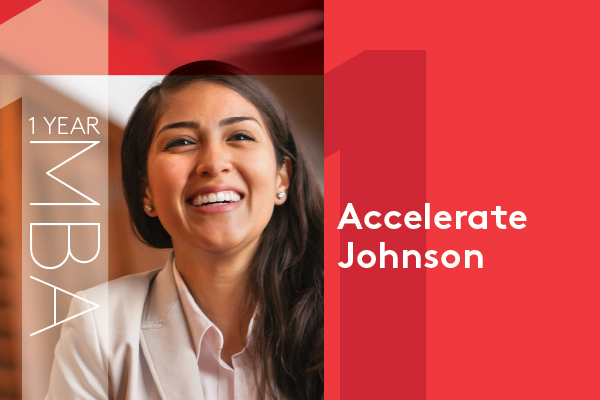 One of the best ways to determine if an academic program is right for you is by immersing yourself in its community. In March, incoming candidates for Johnson's One-Year MBA program had the opportunity to experience Johnson and meet their potential class cohort at the annual Accelerate Johnson (AJ) welcome event.
Candidates attended a Friday packed with panels, interactive presentations, and leadership activities at the Cornell Tech campus on Roosevelt Island. This was the first year AJ has been held at Cornell Tech in conjunction with incoming candidates for the Johnson Cornell Tech MBA program. Students in the One-Year and Cornell Tech MBA programs complete their core courses on the Ithaca campus beginning in May. In years' past, they have not met before courses began—this year, they dove into a leadership case challenge as integrated teams.
"My background is in IT and media, two fields that evolve rapidly, so I'm used to a fast pace and knew that the One-Year MBA program would give me the skills I needed while not keeping me away from the work I enjoy for too long.

The Accelerate Johnson event was my first chance to see the Tech Campus up close, and being in this beautiful, well-appointed space made me more excited for the busy year ahead (and maybe a little jealous of the Tech MBA students who will get to call this brand-new campus home). The panels and activities gave us a taste of the coursework in store for us this summer, and the admissions and career services staff were as helpful and warm as I remembered when I met them during a campus visit last fall. Of course, meeting my future classmates over Ithaca IPAs and a panoramic view of the NYC skyline was the definite highlight of the event. I'm looking forward to seeing everyone in Ithaca very soon!"

—Sara Schmitt, One-Year MBA '19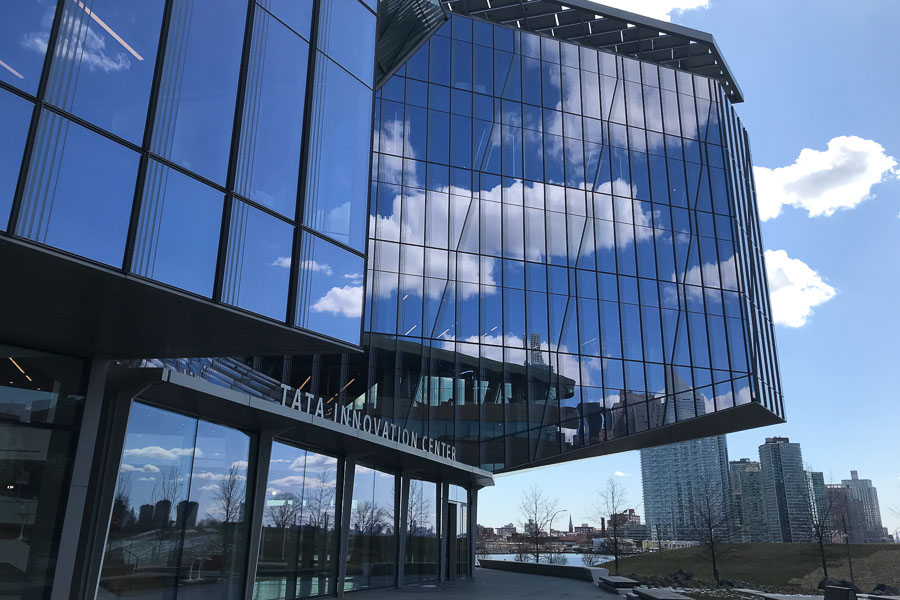 Ingrid Jensen and Kathryn Kvasnica, executive director and assistant program director of student services, respectively, led a program overview and academic preparation session with the One-Year candidates.
"Students got to meet and mingle, put names and faces together, and spend time with colleagues in their programs and the wider Johnson network," Kvasnica says. "It went really well—everyone seemed to make connections and learn a lot about what they will experience at Johnson. I saw a great range of backgrounds and experiences among the class. They were interested in getting to know one another, and I'm looking forward to seeing their relationships grow."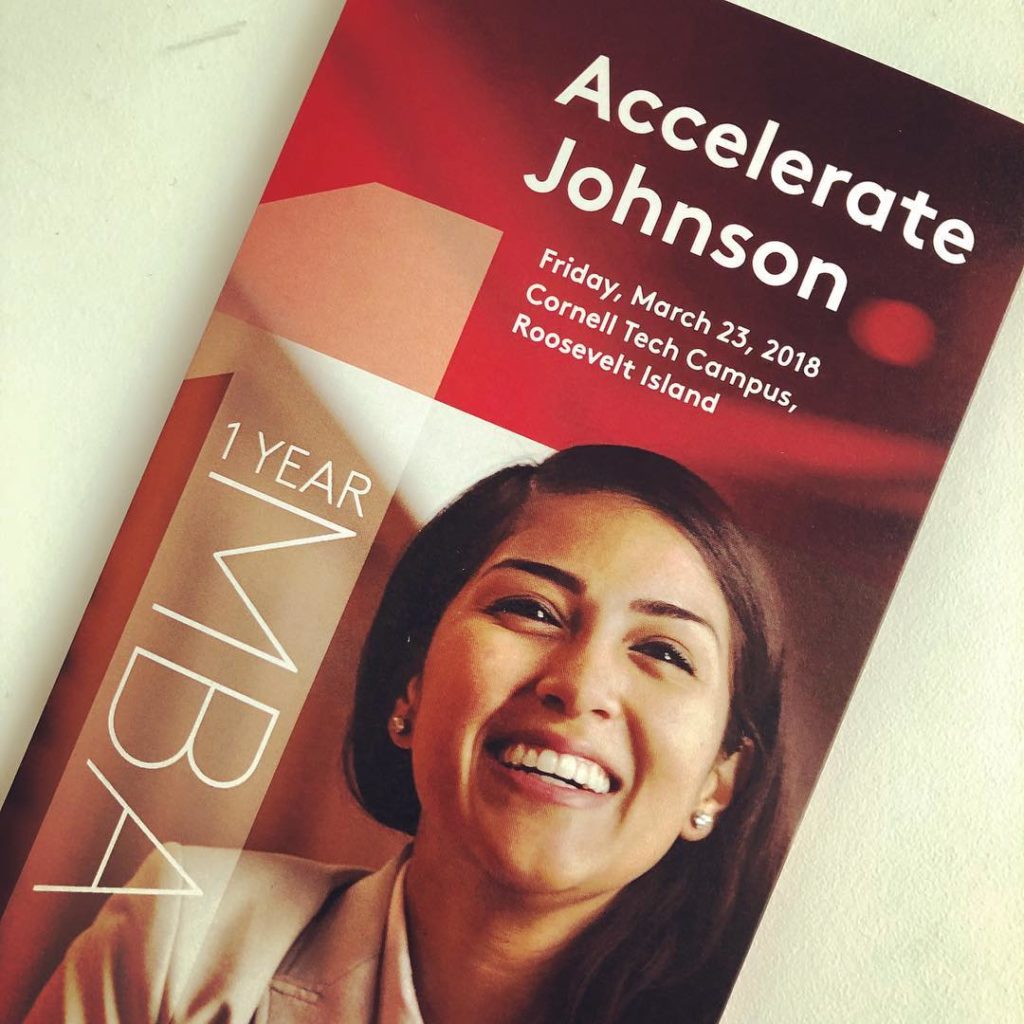 Preparing for career success
Incoming students represented various sectors including consulting, finance, and technology, and some attendees were part of the dual degree MD/MBA program in partnership with Weill Cornell. Annie Marra, associate director of the Career Management Center, led a career session titled Preparing for Success. Marra says she was impressed with the candidates' backgrounds and noted that the group collectively had a clear sense of direction when it came to career planning and ambitions, and she's is optimistic about their career placement potential.
Following the career session, current students and alumni from the One-Year program participated in a panel discussion and cocktail reception, which helped acclimate incoming students to the community and culture at Johnson. Current students and alumni offer a wealth of support and information for incoming candidates at AJ. Marra noted that while the programmatic and professional aspects of the cohort are similar year over year, strong connections among One-Year students, Tech MBA students, and recent alumni are essential for maintaining the program's unique and collaborative culture.
"AJ allows candidates to build relationships and connections, assuring them that they'll have familiar faces to reconnect with in the summer," Marra says. "It's a great way to start building networks across the One-Year and Tech MBA programs."
A commitment to leadership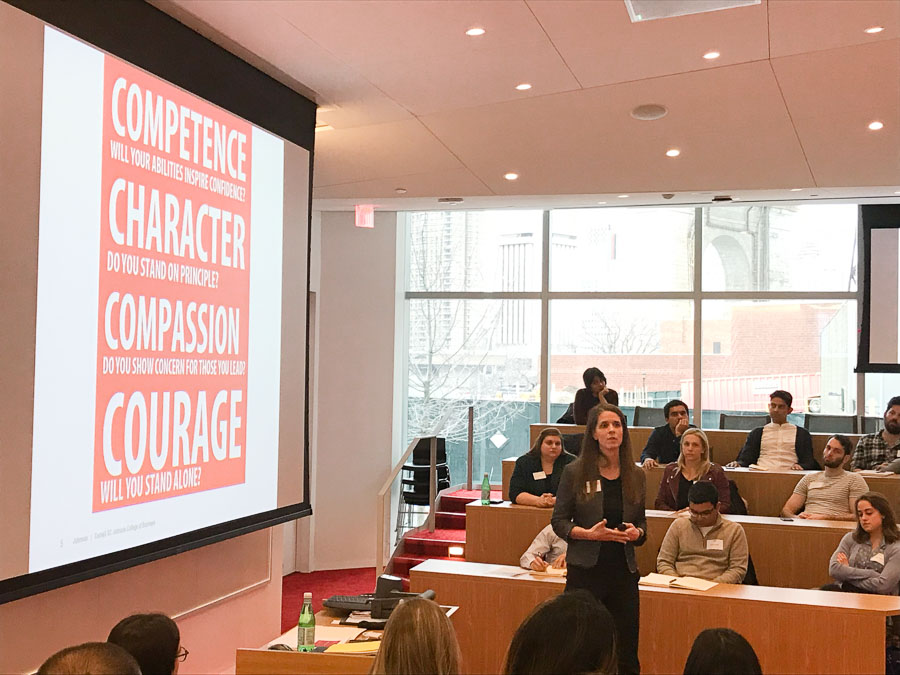 AJ also introduced incoming students to Johnson's commitment to leadership—a critical benefit and outcome of the program—with a presentation and case challenge with Laura Georgianna, executive director of leadership programs. Johnson Cornell Tech and One-Year MBAs worked together during this interactive session—much like how their core teams will function once they begin classes in May.
Georgianna noticed that the group of students were engaged and excited, and she enjoyed hearing their thoughts and perspectives during the discussion about the leadership management case.
"One of the things we do really well at Johnson is to create hands-on experiences as a way to grow as a leader. The leadership session at AJ allowed students to talk in tangible ways about real-life challenges they will face as leaders," she says. "The diversity of gender, culture, and work experience among AJ attendees was good to see. You could hear different perspectives playing out in discussions while they drew on their past and their values. I think that's what makes our programs so rich—the ability to draw on a wide range of perspectives to get an answer you wouldn't come to on your own."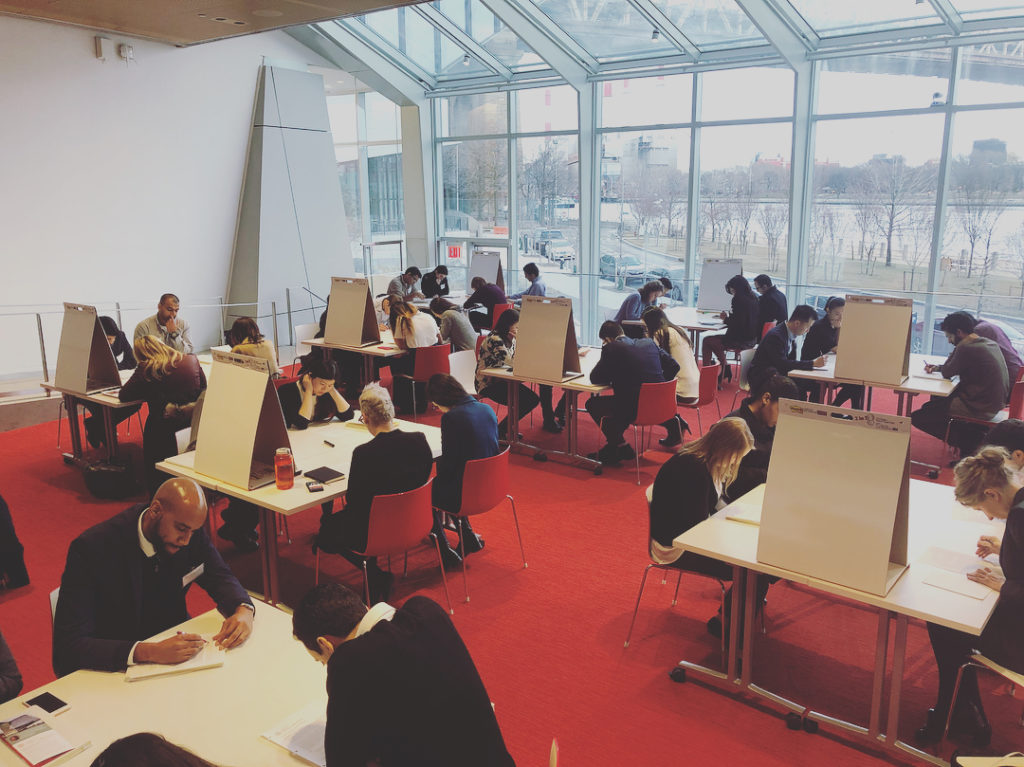 Two campuses, exciting possibilities
After the Friday sessions and the Dean's Reception, incoming students also had the choice of extending their AJ experience by visiting Ithaca over the weekend, which included attending Carnaval—a student-run event that transformed Sage Hall for a night of culture and celebration.
"AJ provided me the opportunity to connect with colleagues from the One-Year and Cornell Tech MBA programs even before the start of the program to form a deeper relationship with each other. Through AJ, I was able to learn about the well-structured One-Year program and its objectives, the opportunities for leadership and career development, and the great resources offered by Johnson from both campuses. I particularly enjoyed working on the case study with peers from diverse backgrounds during AJ. We shared our perspectives and worked together as a team to represent the collaborative culture at Johnson.

I chose Johnson's One-Year program because of its collaborative culture, close-knit community, unique performance learning approach, and a strong focus on leadership and global impact."

—Kuei-Lin (Andy) Chang, One-Year MBA '19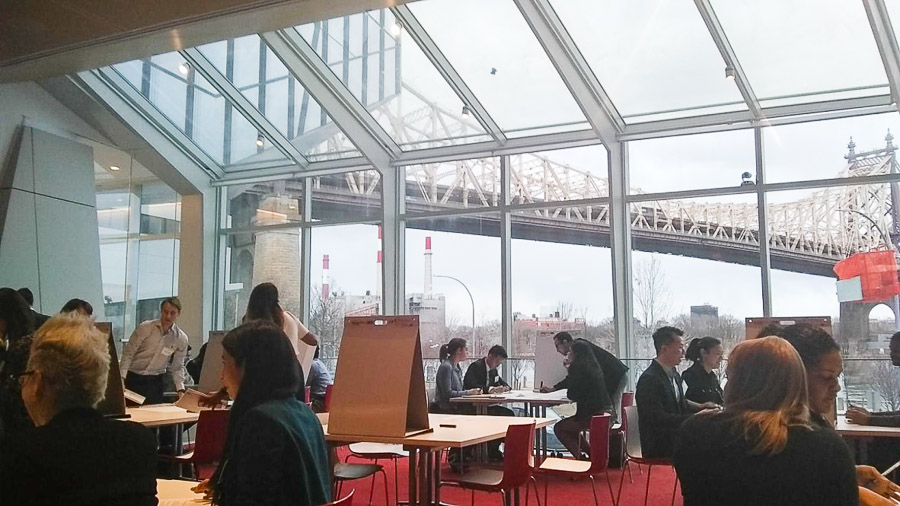 As Johnson continues to find new ways to connect the Ithaca and Roosevelt Island campuses, AJ provided the perfect introduction to the Tech campus for incoming One-Year MBA students. Not only will these candidates meet again with their Tech MBA counterparts in Ithaca, they'll also have the opportunity to reconnect later on by taking weekend electives in the fall or spring intensives at Cornell Tech.
"While the Tech campus is growing and emerging, you can feel the energy there," Georgianna says. "Getting the chance to feel that energy and see the new construction gave our incoming One-Year MBA class a sense of the forward momentum we have as a college."