Award-winning alumni club builds strong Bay Area connections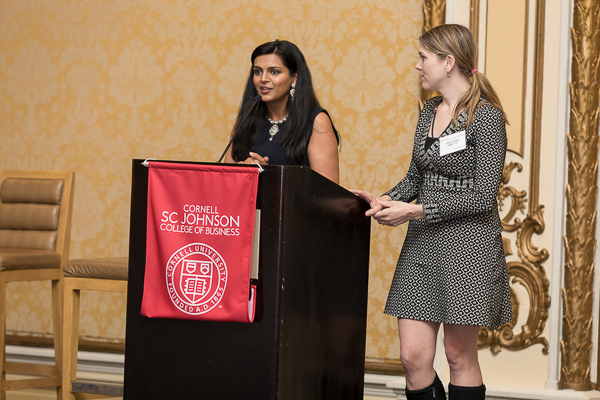 You know an alumni event is successful when no one wants to leave. That was the case when Professor Risa Mish traveled to California last year to deliver a lively talk about "Building Resilience: Helping Yourself and Your Team through a Challenge" at a Thought Leader event sponsored by the Johnson Club of the Bay Area. People lingered long after the scheduled departure time to talk with Mish, a favorite faculty member.
The club's 2017 Predictions event featuring Fair Trade USA founder and CEO Paul Rice was a sellout, marking another success for the club. The 133 registrants topped the previous year's 100, marking a new attendance record for this iconic Johnson annual event, launched in the Bay Area 23 years ago and soon adopted by Johnson regional clubs throughout the country.
In recognition of the club's programming prowess, the Johnson Club of the Bay Area will be honored with the 2018 Henry P. Renard '54, MBA '55 Regional Club of the Year Award April 24 at the Big Red Bash, Johnson's annual alumni awards celebration, to be held at Guastavino's in New York City. The award recognizes regional club leaders and members for the innovation, creativity, and diversity of their programs, the total number of events hosted, and the percent of local alumni who attend.
"This award is testament to the fact that our alumni are engaged," says Richa Sood, MBA '12, a group product manager and head of category expansion at Shutterfly and club president since 2015.
Under Sood's leadership, the Johnson Club of the Bay Area has held more events and attracted more alumni than any other Johnson regional club except the Johnson Club of New York City. Whether the event was a panel discussion featuring alumni thought leaders on a hot topic like fintech, a rare in-person gathering of Executive MBA Americas graduates, a happy hour at a local brewery, or a Trifecta reception connecting alumni with current and newly admitted students, attendance has regularly exceeded expectations.
The club's aim is to create thoughtful engagement opportunities that attract graduates of all Johnson MBA programs—residential and executive. Surveying alumni to understand their preferences, developing comprehensive annual event plans, and cross-promoting events with other Cornell clubs in Northern California—these are all key components of the Bay Area club's success, says Sood. She gives credit to fellow board member Rishi Sood, MBA '12, global lead for sales development and operations at LinkedIn (and also Richa's husband), as well as two new board members she recruited: Boris Pavlocic, MBA '14, head of the executive briefing program at DocuSign, and Prakash Nagpal, MBA '00, a vice president at Infoblox. Together, they come up with programming ideas, then each takes the lead on individual events.
Richa also adds her own personal touches that contribute to the club's success, thanking individual alumni on LinkedIn or Facebook for planning to attend events, and again for coming.
"I've invested in building relationships over time," says Richa, who was motivated to lead the club by her own positive experience with local alumni when she sought support and information as a San Francisco newcomer. "I want people who move to the Bay Area to know they can find and get plugged into a robust community."
—Written by San Francisco-based freelance writer Amy DerBedrosian