The Billionaire's Apprentice author Anita Raghavan explores motivations behind insider trading cases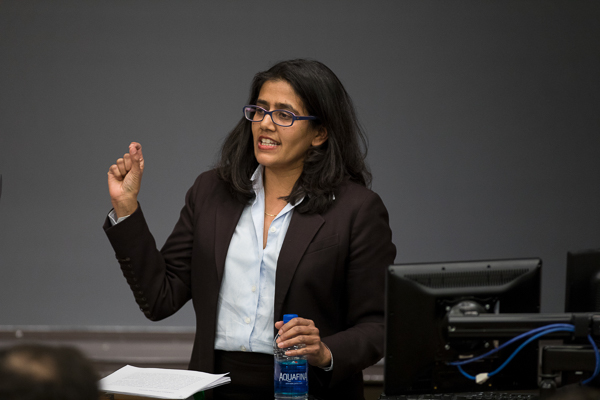 Greed is not good. In fact, succumbing to its temptations can lead otherwise upstanding Wall Street executives — people with impeccable credentials — to disgrace and incarceration. Journalist and author Anita Raghavan provided proof of that proposition in her Day Family Ethics Lecture, "Why Good People Do Bad Things," based on her book documenting the downfall of two South Asian business luminaries convicted of multiple counts of securities fraud a decade ago. In her research for The Billionaire's Apprentice: The Rise of the Indian-American Elite and the Fall of the Galleon Hedge Fund, Raghavan monitored the insider-trading trials of Raj Rajaratnam, Galleon Group hedge fund founder, and Rajat Gupta, head of consulting giant McKinsey & Company and Goldman Sachs board member.
A writer for The New York Times as well as Barron's, Raghavan was the European Bureau Chief for Forbes magazine and, before that, worked as a reporter at the Wall Street Journal for nearly 17 years. Her lecture, delivered April 10 at Sage Hall, was a joint presentation of the Samuel Curtis Johnson Graduate School of Management and the Cornell Law School.
The trials Raghavan recounted revealed that Rajaratnam received insider tips from Gupta and used this advantage to make millions of dollars trading shares. In the end, Rajaratnam received an 11-year sentence, the longest in American insider trading history, while Gupta got two years.
Iago and Othello
In her talk, Raghavan suggested that Gupta, who consistently toed the line in ascending the corporate ladder at McKinsey, was swayed to break the law when confronted by the wealth and power that typify investment moguls on Wall Street. That included Rajaratnam, a billionaire with a reputation as a "rogue," said Raghavan, likening him to Iago, the conniving ensign in Shakespeare's Othello. Gupta, she said, would be Othello, the play's tragic hero.
"Raj relished the image of the 'bad boy,'" she said. He pushed the boundaries, convincing authorities in New York City that he was kosher to get approval for two kitchens in an apartment expansion. "He could not help but lie, even lying about his living arrangements at an exclusive school in England as he was being sentenced for his crimes," she said, noting Rajaratnam's claim he had lived in the same Dulwich College room that once housed English author and humorist P.G. Wodehouse.
Gupta, by contrast, was an icon in the Indian community. A graduate of Delhi's Indian Institute of Technology and a well-respected philanthropist, Gupta was "a law-abiding citizen for decades," Raghavan said. "There was no sign of unethical behavior as he rose to become chief executive of McKinsey. Yet he later divulged company secrets to help a friend."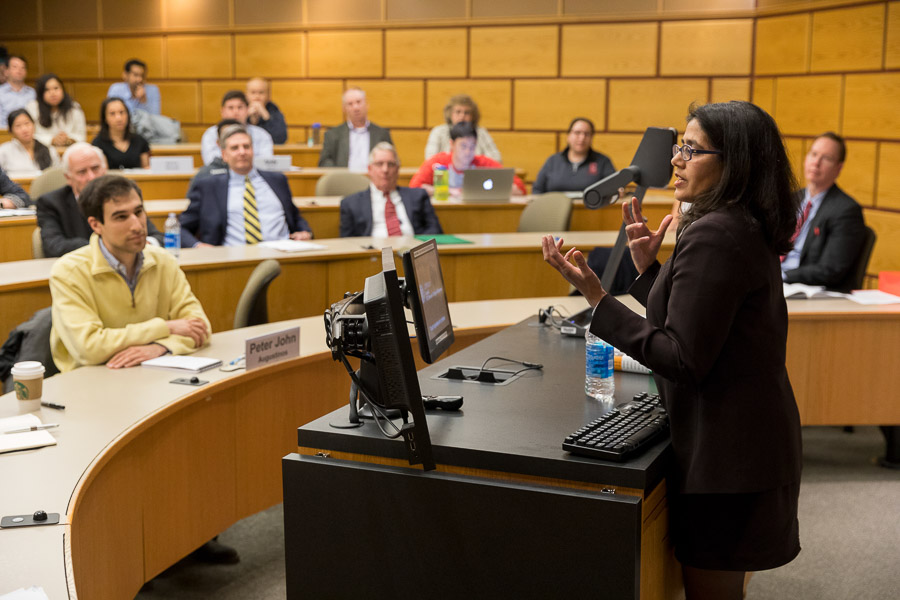 Crossing the line: A cost/benefit analysis
Raghavan suggested that Gupta, when presented with the possibility of committing a crime, did a cost/benefit analysis of insider trading. "There was the cost of getting caught and arrested, but maybe he felt complacent at a time when there had not been any prosecutions for such crimes in 15 years," she said. "The reward was a closer relationship with Raj; that was potentially very lucrative in that he would obtain a bigger stake in the Galleon hedge fund."
Another possible justification for Gupta's behavior is that he considered insider trading to be a victimless crime, Raghavan said, making it an easy line to cross. Still, she said, he had to know that passing insider information violated his fiduciary duties and that he had to protect that information.
Raghavan suggests that the seed was sown for Gupta's decision to commit securities fraud when he moved to New York City in 1990 after living in less glamorous locations. "His peer group changed when he moved to New York City; he ran in different circles, surrounded by people with more influence and more money than he had," she said. "He got to know Raj, who was very wealthy, street smart, and more comfortable crossing the line with illegal behavior."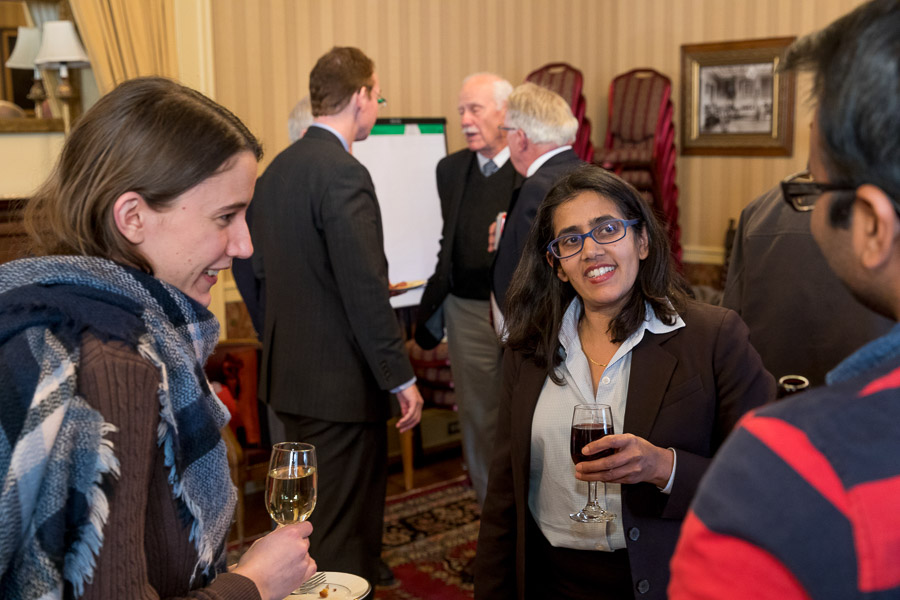 Gupta began to be driven by money; he had earned a fortune and wanted to start spending it, Raghavan said. "He began placing more emphasis on material things, became enamored with corporate jet travel and moving in circles occupied by the rich and famous, and was dropping names with grandiose ambitions to burnish his image." Charitable giving was also a key interest. "He would love to have been able to plop down $100 million for his favorite charity," she said.
During the Q&A following her lecture, an audience member asked Raghavan if she had any advice about how middle managers could deter unethical behavior. "Company leaders set the tone with what they say and do," Raghavan said. "It's a remarkable opportunity to send the right message to employees. For middle managers, success depends on highly productive employees, which can lead to the enabling of bad behavior. With the proper language and initiatives, they encourage people to do the right thing."
About the Day Family Ethics Lecture
The Day Family Ethics Lecture is made possible by the Day Family Senior Lecturer of Business Ethics Discretionary Fund, established in September 2007. As a joint effort between the Samuel Curtis Johnson Graduate School of Management and the Cornell Law School to support Cornell's commitment to leadership and business ethics, the fund was created through a generous donation from the Dr. Harry M. Day Charitable Foundation, and supported by Jerrold Day '71 (Eng), MBA '78, and Harry D. Day, JD '73. Dana M. Radcliffe, Day Family Senior Lecturer in Business Ethics and senior lecturer of management, manages the lecture series.
—Written by Jay Wrolstad, a freelance writer for the Cornell SC Johnson College of Business