Jamey Edwards '96, MBA '03, honored with 2018 Robert J. Swieringa Young Alumni Service Award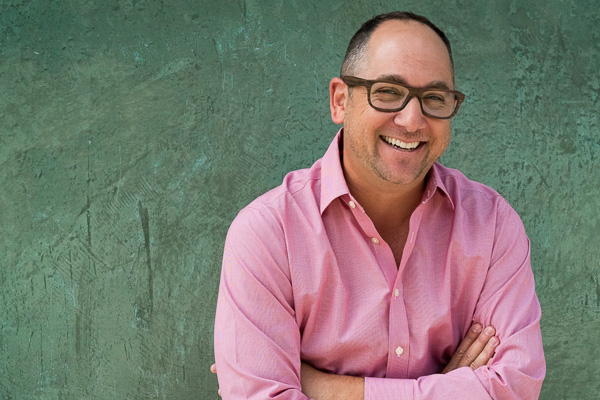 Robert J. Swieringa Young Alumni Service Award honoree Jamey Edwards '96, MBA '03, knew he wanted to become an entrepreneur from the moment he finished his first business plan as an undergraduate student in Professor David BenDaniel's Entrepreneurship and Personal Enterprise course. That's why, when it was time to choose a business school to attend, his choice was clear: He had to return to Ithaca and pursue his graduate degree at Johnson.
Back at his old stomping grounds as a business student, Edwards was eager to learn more from Professor BenDaniel, so he joined Johnson's Entrepreneurship and Personal Enterprise immersion program, which BenDaniel headed at the time. "Professor BenDaniel taught us that it was possible to take an idea and make it into reality. He laid out the framework for that," Edwards says.
During his time at Johnson, Edwards developed a passion for healthcare and set out to build a company that would change the way patients and doctors interact. The rest, Edwards says, is history—he went on to co-found Cloudbreak Health, a company that enables doctors to make remote diagnoses, and today, he's the CEO.
Once a nervous public speaker cautious about sharing his ideas, Edwards says it was his Johnson upbringing that shaped him into the bold innovator that he has become.
"Johnson students are smart and hardworking, yet unpretentious. Constantly working in teams with such individuals helped me get there as well. I attribute a lot of my success to the work ethic and leadership skills that I gained at Johnson. I'm very grateful," he says.
And it's because of this gratitude that Edwards continues to give back to the school. After graduating from Johnson, he served as president of the Johnson Club of Southern California for seven years, working with members and volunteers to create annual engagement opportunities for alumni in the region. He has served as a member of the Cornell Alumni Admissions Ambassador Network (CAAAN) since 2011, including a stint as CAAAN committee chair. He also provides consistent support to the Johnson and Cornell Annual Funds.
Having come a long way from being terrified of public speaking, Edwards has also been a guest speaker at many Johnson events over the years, and regularly returns to Ithaca to address current students. Most recently, he spoke at a student-organized healthcare conference, where he shared his experience in the industry. "To this day, I hear from students that have questions about the healthcare space, and no matter how busy I am, I try to make time for those conversations, because I remember what it was like."
In recognition of his exemplary commitment to Johnson and its alumni, and continued engagement with Johnson as a volunteer leader in many engagement activities, Edwards was honored with the 2018 Robert J. Swieringa Young Alumni Service Award at the Big Red Bash, held on April 24 at Guastavino's in New York City.
As for his continued service to the broader Johnson community, Edwards is eager to stay involved. "I know the impact that the school has had on me, so in my mind, there's no better place to give your time and money," he says. "I want to give people the opportunity to have the same types of experience that I had."
—Written by Maria Minsker '13, a business journalist based in New York City.