Trek Recap: Sustainable Global Enterprise Club and Energy Club visit Bay Area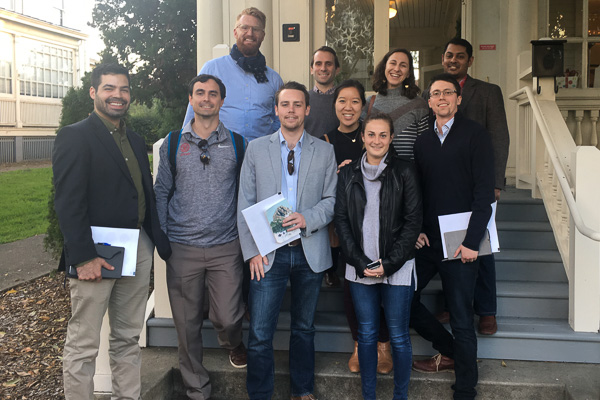 By Rene Bonomi, MBA '19
As part of an annual professional trek, the Sustainable Global Enterprise (SGE) Club and Energy Club joined forces and traveled to the San Francisco Bay Area to visit companies with sustainable values and initiatives. We had the opportunity to visit 11 notable companies, including Apple, Tesla, Gap, and several startups developing cutting-edge technologies and solutions such as 8minutenergy, Stem, and Advanced Microgrid Solutions. Our group was hosted by a number of Cornell and Johnson alumni, and we concluded the trek having learned so much about the intersections of sustainability, tech, and business.
Day 1: Visit to industry giants Apple, Tesla, and SunPower
Visiting Tesla was an eye-opening experience for us. We were able see how the company is structured in order to produce cars.
"Outside of Silicon Valley, Tesla is prominently featured when talking about the future of transportation or business; but within Silicon Valley, Tesla is as secretive as they come. Having worked a bit in the traditional automotive industry back in Detroit, I couldn't wait to compare the differences between the two. The cleanliness, automation, and compactness of Tesla's factory were all in stark contrast to the factories that I had been in previously. It all spoke to the current situation of Tesla—a fast growing company that prided itself on producing the highest quality goods."
— Matt Pundmann, MBA '18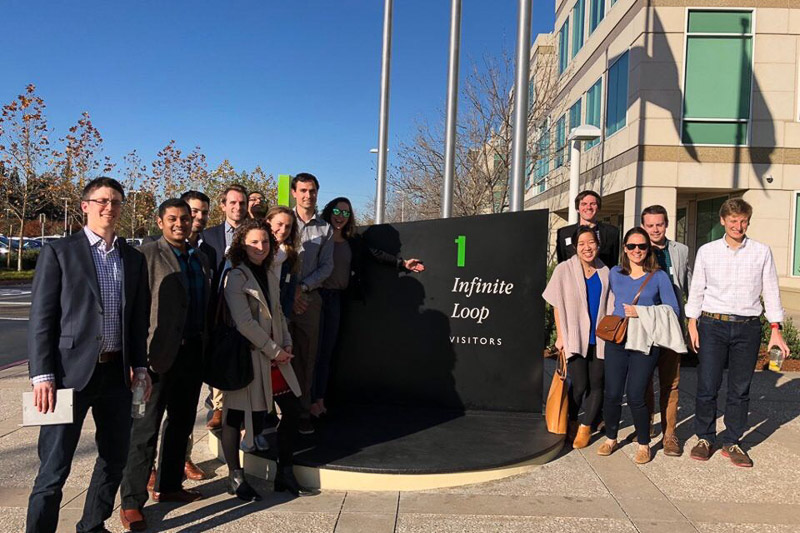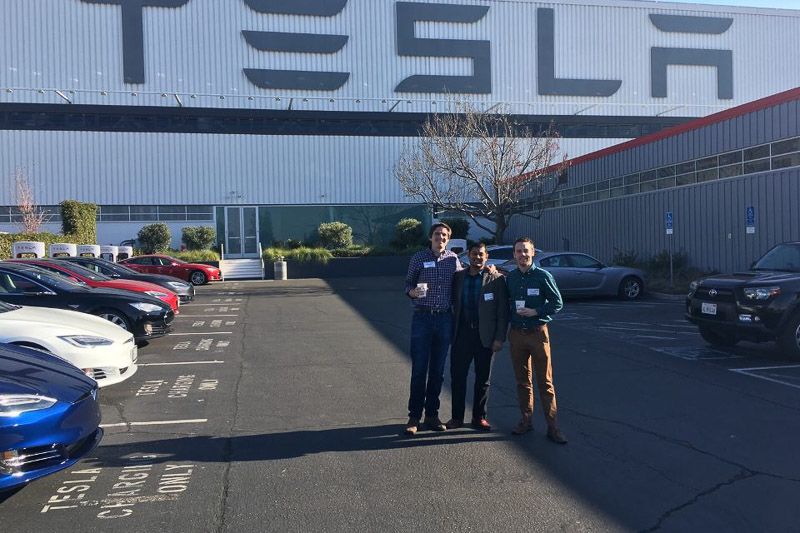 Upon arriving at the Apple campus, we were welcomed by Cornell alumni who were eager to share how the Johnson MBA program played an important role in their lives. We went on to learn that 100 percent of the electricity Apple uses to power its data centers, and 96 percent used by its facilities worldwide, comes from renewable energy sources such as solar, hydro, and wind power. We even received a sneak peek of Apple's new campus project that is set to run entirely on renewable energy.
Next, our visit to SunPower proved to be key in understanding the energy market and strategy of the company regarding solar panel production. SunPower is the most efficient solar panel producer in the world, and it was clear to see why by their successful R&D process and facilities.
Day 2: A glimpse into sustainable culture, technology, and supply chain
On our second day, we began with environmentally friendly footwear company Allbirds' sustainability team to hear about their successes and challenges in prioritizing sustainability to control exponential growth of the company. It was particularly interesting to learn about the company's process in becoming a certified B Corp, as well as strategies in cultivating a sustainability mindset in the culture of its employees and suppliers. As they continue to expand their orders, suppliers, and types of materials, the company foresees implementing new strategies to maintain its social and environmental sustainability standards.
Afterwards, our trek took us to 8minutenergy Renewables—the nation's largest independent developer of solar PV projects. Our group was welcomed by Ted Elliot, MBA '17. It was interesting to hear about the new tradeoffs in the market, such as cost X-efficiency and how they are working with virtual PPAs. We also visited Method, a sustainable producer of cleaning and personal care products where president and CEO Drew Fraser '90 gave us a glimpse into their sustainable supply chain, products, and processes.
We ended the day at CohnReznik, an investment banking advisory firm focused on renewable energy where we were welcomed by VPs Britta von Oesen, MBA '09, and Frank Palladino. They gave us insight into the renewable energy market and investment banking strategies within this field.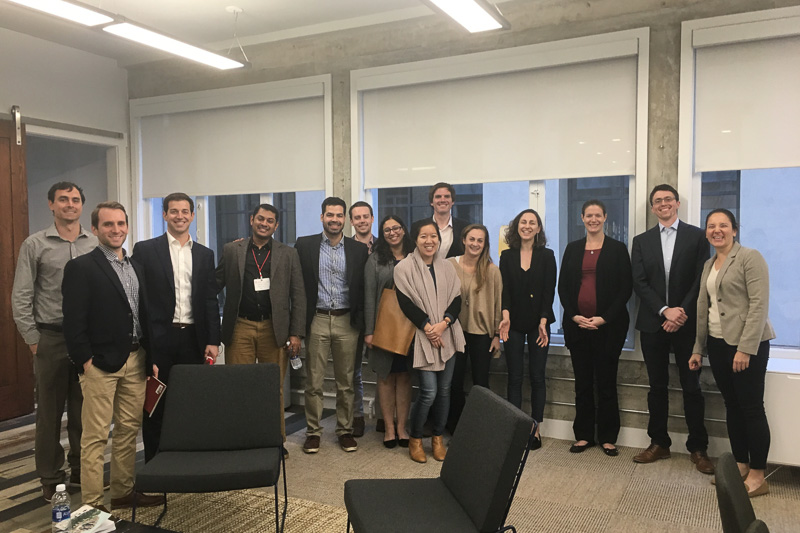 Day 3: Staying ahead of the trends and competition
Day three introduced us to two startups that were leveraging renewables to create their core business model. Advanced Microgrid Systems (AMS) is a startup focused on microgrid systems innovation in the field of software to control energy storage and usage. Robert Brink, MBA '16, provided an overview about the technology used by the company and market within which they operate. Similar to AMS, we visited Stem. Here, too, we were welcomed by a Cornell alum David Gelinas '07.
Following that, we visited Gap Inc. and were hosted by Kirsty Stevenson, director of product sustainability at the Center of Excellence. She gave one of the best explanations on how to integrate innovation and sustainability. The company's new plan to stay competitive involves several initiatives throughout the supply chain to leverage the company's efficiency and results and to improve its brand equity.
Our trek concluded with a visit to RSF Social Finance, located in the Presidio, one of the most beautiful places in San Francisco. RSF is an institution that finances social businesses and was one of the first to support social entrepreneurship initiatives. Alex Haber '08 gave a thorough explanation of the company and its operations.
More than just a trek: Great people and connections
One common component among our visits included the passion that Cornell and Johnson alumni had for creating impact on both an individual and broader level. They were able to express how beneficial the MBA and SGE program had been toward the success of their careers. Their presentations exposed various concepts behind sustainable businesses, how renewable projects are structured, as well as tendencies ahead of the market.
"The trek was helpful in experiencing the culture of the companies up close. It was encouraging to see the progress the organizations had made so far in reaching big goals, and it was inspiring to see their energy and positivity no matter the obstacles they may encounter while reaching those goals."
— Christina Chan, MBA '19
While the Johnson MBA program and curriculum prepares students to succeed in business, it's the community makes it a remarkable experience. This trek was something beyond anything we could have expected: the opportunity to meet great people and make connections that move the world of business in a much more sustainable way.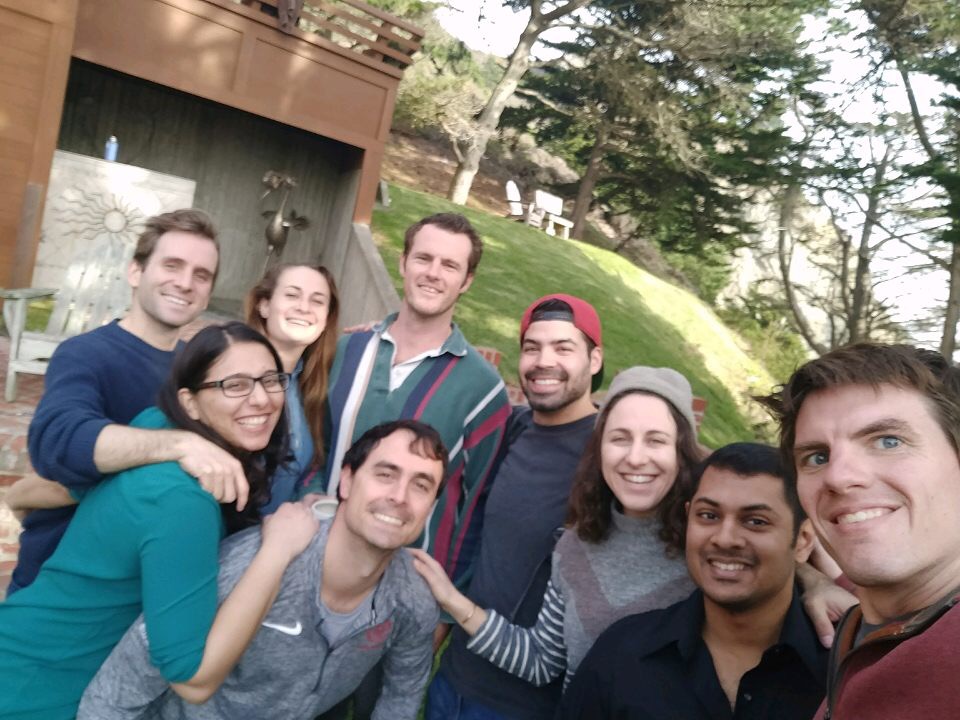 ---
About Rene Bonomi, MBA '19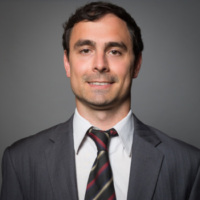 Rene is currently an Environmental Finance Impact Investing Fellow, a venture associate at Big Red Ventures and business consultant at Big Red Tech Strategy at Johnson, advising the Cornell entrepreneurship community. He has worked in investment banking, management consulting and social projects. Rene has a bachelor's degree in industrial engineering from the Federal University of São Carlos, Brazil.