Anne Estabrook '65, MBA '66, honored with the 2018 L. Joseph Thomas Leadership Award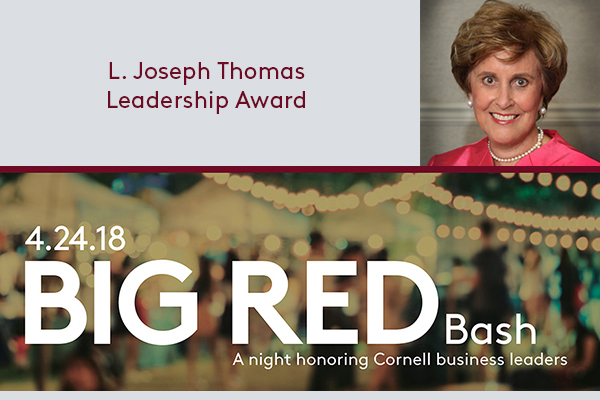 Anne Estabrook, this year's L. Joseph Thomas Leadership Award honoree, is used to being the only woman in the boardroom and she has never let that intimidate her. As an undergraduate student in Cornell's School of Industrial and Labor Relations, she always knew she'd eventually take over from her father in running Elberon Development Group, the New Jersey-based industrial real estate and construction business he founded. But before joining the company, Estabrook was determined to pursue a business education.
"I wanted to get an MBA, but my father was opposed to me trying to enroll in a program that would take two extra years. He wanted me to hurry up and graduate and come work for him. But I needed to get more management knowledge before starting my career," Estabrook says.
Determined to earn a business degree, Estabrook double-enrolled and completed her undergraduate education while pursuing her MBA, which only took one additional year instead of two. "When my father came up for graduation, the buttons were popping off his suit," she recalls. "I was the first in my family to go to college and now I had two degrees."
Estabrook says Johnson not only prepared her for a career in the industrial real estate space but also taught her how to be a leader and make her voice heard. In addition to running the family business, Estabrook has served on the boards of multiple New Jersey banks and was often the only woman in an all-male group of decision-makers.
"Having the education, confidence and credentials has enabled me to get my foot in the door," she says. "Once I got in the door, I wanted to make a difference." And she has made a difference: Estabrook became the first woman to chair the New Jersey State Chamber of Commerce and the first female president of the New Jersey chapter of the National Association of Industrial and Office Properties (NAIOP)—an organization for which she became the national chair in 2001.
Estabrook has been generous with her time and expertise in giving back to Cornell, too. A Cornell Presidential Councillor and Foremost Benefactor, she served on the Cornell Board of Trustees for 10 years and is also a member emeritus of the Johnson Advisory Council, President's Council of Cornell Women, and the Baker Program in Real Estate.
In recognition of her exceptional demonstration of vision and leadership, sound business sense, and commitment to community, Estabrook was honored with the L. Joseph Thomas Leadership Award at an awards ceremony and celebration, the Big Red Bash, held on April 24 at Guastavino's in New York City.
As CEO at Elberon, Estabrook says she regularly thought back to what she learned at Cornell and Johnson, constantly applying both the practical and the soft skills she gained. "From accounting to management and leadership, it was all crucial. Every little lesson was important," she says. This is a big reason why Estabrook has remained so involved with Johnson many years after graduating: She considers it her responsibility to give back.
"I strongly believe that if you receive, you have an obligation to give back," Estabrook says. "I received an excellent education both as an undergraduate and graduate student, and I know it was instrumental in helping me reach my goals, so it was my duty to help Johnson continue to provide that education to others."
As an engaged alumna, Estabrook served on the Johnson Advisory Council, but her biggest contribution, she says, came when she chaired the business and properties committee of the Cornell Board of Trustees. Drawing on her immense experience in real estate and construction, she helped oversee the reconstruction of Sage Hall. "It was a long, expensive, and complicated effort, but in the end the building was a beautiful combination of old and new and everyone was pleased," Estabrook says. Once the restoration was completed in 1998, Johnson, having outgrown its home in Malott Hall, moved to Sage.
Today, Estabrook is chairman of Elberon and advises her son, who is now president and CEO. As a Cornell Trustee Emeritus, she also continues to be involved with Johnson. Empowering women is an area Estabrook is particularly passionate about, so she enjoys mentoring female students and offering career guidance. "Giving back means giving time, not just money," Estabrook says. "And as alumni, we get a lot out of it as well. It's important to stay in touch with the professors and keep up with the new things that are being taught in the school. That knowledge helps all of us in our business careers."
—Written by Maria Minsker '13, a business journalist based in New York City.