Johnson Club of China celebrates 10th Anniversary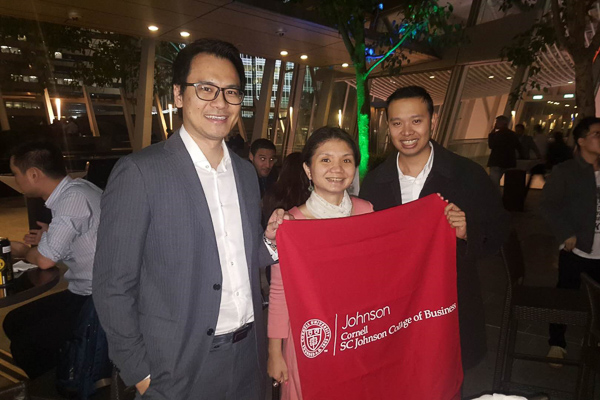 A lot can happen in 10 years, and many changes have taken place in the decade since 2008. In that year, Barack Obama became the 44th president; stock markets plunged around the world due to fears of a U.S. recession; China hosted its first-ever Olympic Games; and one Satoshi Nakamoto published "Bitcoin: A Peer-to-Peer Electronic Cash System."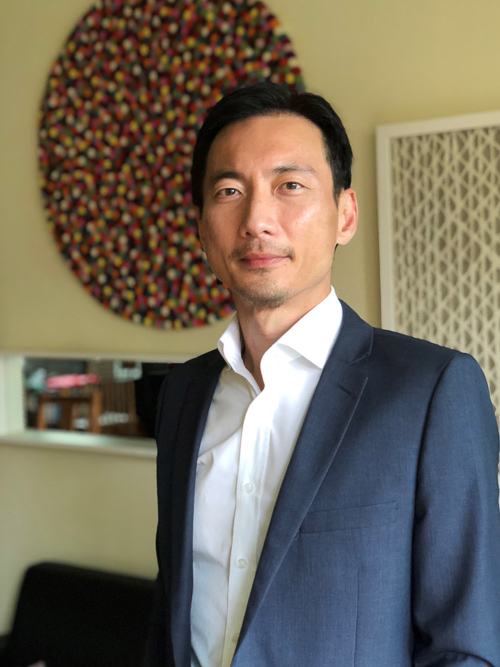 For Geoffrey Lim, MBA '00, 2008 marked the launch of an important, new community: the Johnson Club of China. This regional alumni club has been very active since its inception and celebrates its ten-year anniversary this year. For Lim, Johnson and the Johnson Club China hold a special significance.
"It has something to do with history," he says. "Prior to the '80s, very few Chinese students studied abroad, as the country was recovering from the aftermath of the Cultural Revolution." After that, Lim explains, a growing trickle of Chinese students began to study in the United States, but most pursued majors in engineering and science.
"A degree in business? Back then, in the '80s and '90s, a BBA or MBA would be frowned upon," Lim says. Business degrees were simply not valued in China at the time. "Hence only a handful of students could be found in business programs in 1998, which was when Charlotte Ye [MBA '00] and I enrolled in the Johnson school."
At the turn of the millennium, the class of 2000 was the first to be housed in Sage Hall, a newly refurbished, state-of-the-art facility. "One look at Sage Hall back then and your heart would melt!" says Lim.
After graduating and returning to China, however, Lim says the connection with Johnson went from overwhelming to "completely underwhelming," as the alumni pool was still extremely small: "There were zero Johnson activities in China," he recalls.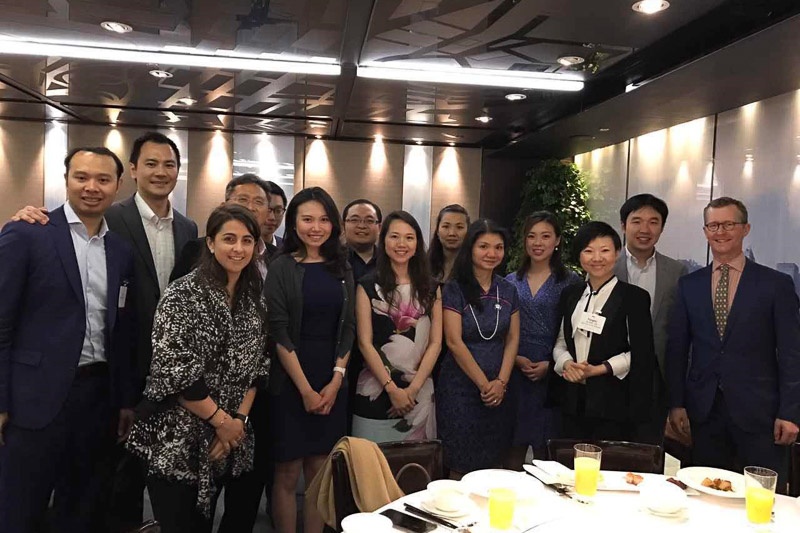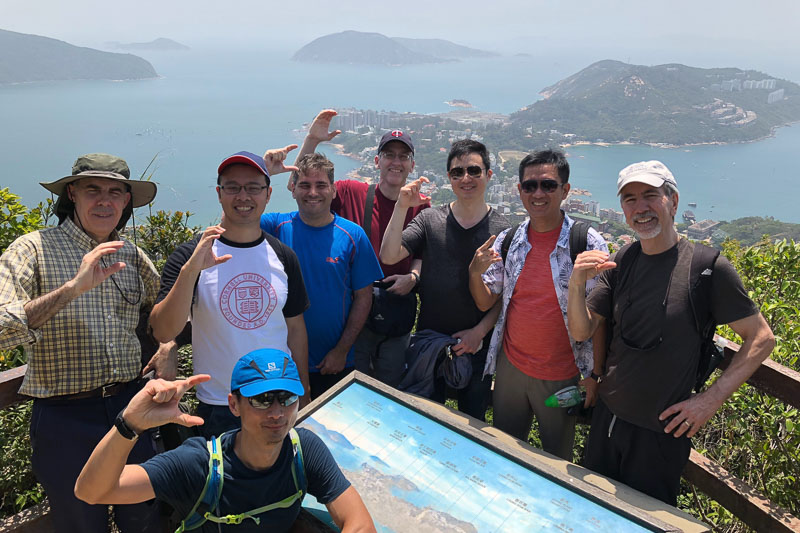 But by the middle of that first decade of the millennium, as the alumni pool grew, Lim thought it made sense to create a Johnson Club of China with chapters in Beijing, Hong Kong, and Shanghai. He envisioned a unified club under national leadership. Following a year of discussions with Cornell and Johnson alumni staff, and Johnson Dean Joe Thomas, Lim formally founded the Johnson Club of China in December 2008, with the close support of Ye in Beijing and Sean Alexander, MBA '01, in Hong Kong. The Shanghai chapter was added later.
Since then, the Johnson alumni family in China has grown from fewer than 70 alumni to about 400 members—a growth rate rapidly accelerating as new alumni graduate from the Cornell Tsinghua MBA/FMBA, launched in 2015. And the Johnson Club of China has organized more than 60 events in the three cities, with two to four events per city every year. These include Trifectas, which bring alumni, newly admitted students, and current Johnson students together; Thought Leader series speakers; the annual Chinese New Year hotpot and karaoke; coffee chats with prospective Johnson applicants; internship and career seminars for current students; whisky tastings; hiking trips; and visits to Beijing's Forbidden City. The club has also hosted formal events in honor of visiting Cornell leaders, including the university president, Johnson deans, and faculty members.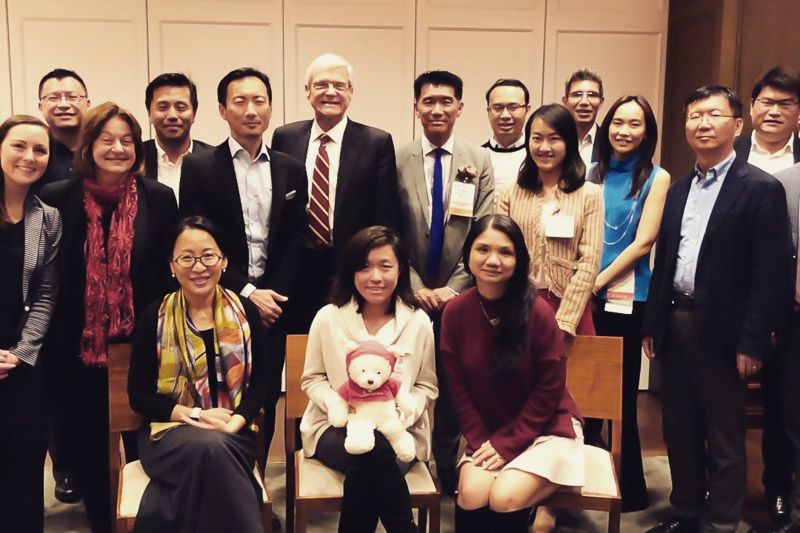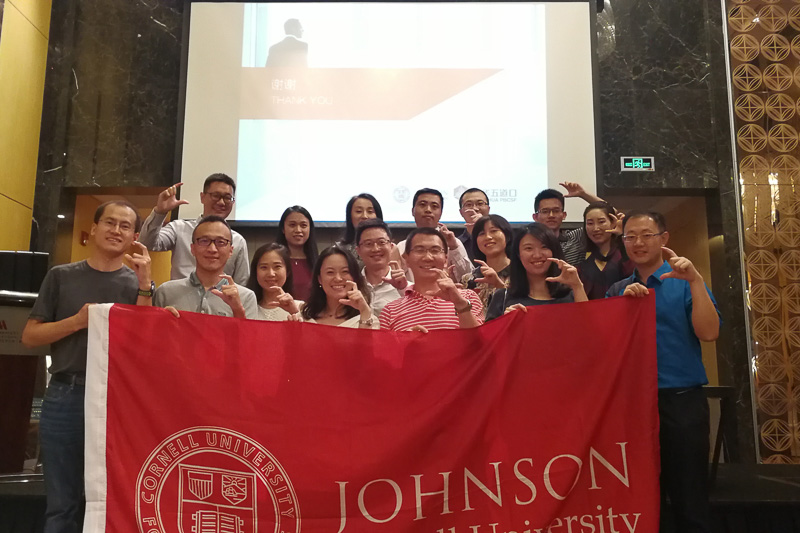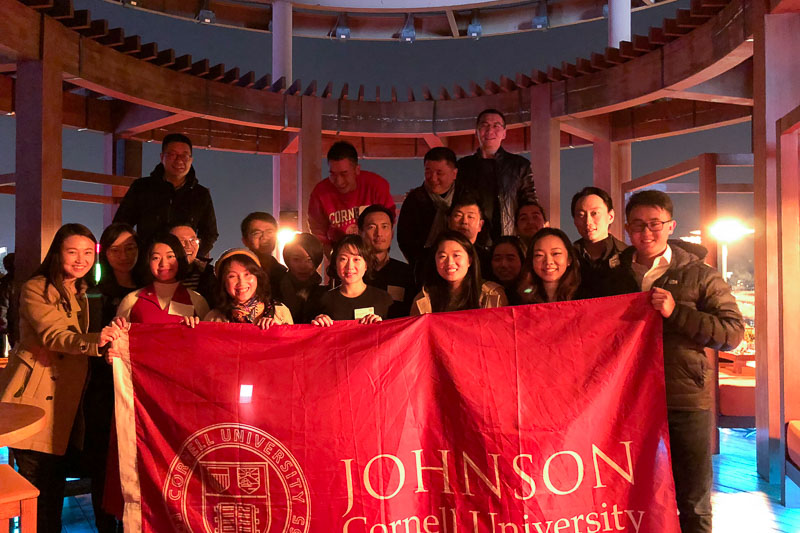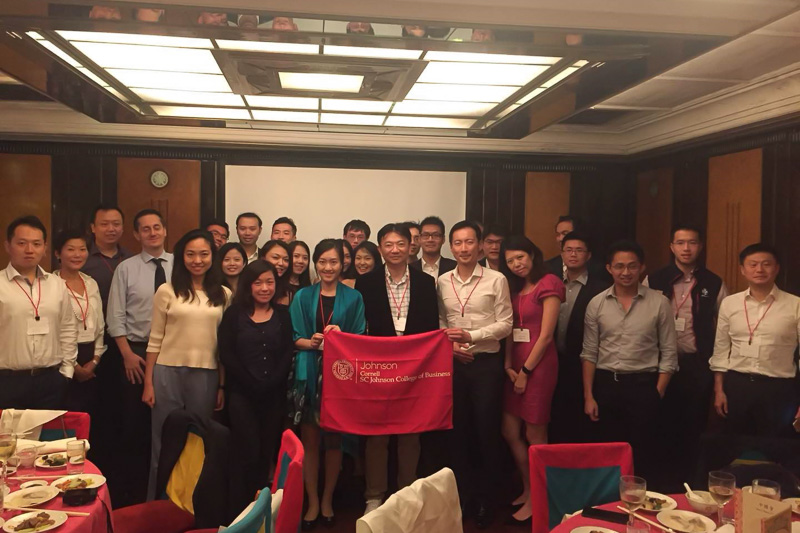 Karin Chu Hernandez, MBA '11, leader of the club's Hong Kong chapter, says she really enjoys it when faculty fly out to Asia to visit and when Cornell alumni leaders in Asia get together for the annual Cornell Asia Pacific Leadership Conference. "You really do feel the school spirit," she says. "It's all about bringing back all the fond and positive memories from Cornell and reliving them."
After 10 years, Lim will be stepping down, and Frank Liu, MBA '09, who is based in Beijing, will take the reins as the new national leader of the Johnson Club of China. Hernandez and Zhou Zhen, MBA '11, will be his co-leaders in Hong King and Shanghai.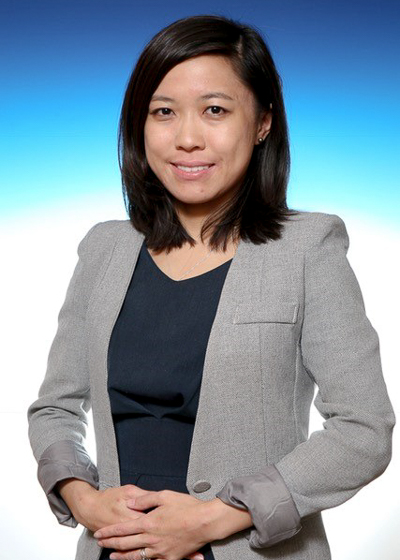 "I feel very honored and a bit nervous taking over a leadership role in this club," says Zhen, who has headed up the Shanghai chapter for the past three years and will now step up his co-leadership duties. He looks forward to building an even more closely knit club and hosting more events for alumni, adding value where he can.
Lim is grateful to all the support that Johnson leaders and Alumni Affairs staff have provided over the years. "No part of what we've accomplished would have been possible without the help or support of acting dean Joe Thomas, who was there at the Johnson Club of China's inauguration, and now again as we celebrate our tenth year; former dean Soumitra Dutta, who supported the Johnson Club of China for the longest duration; and Alumni Affairs director Sara Andress, who has worked with us for nine years and accounts for the lion's share of operational support we have received from the school— especially through her weekends and nights, given the 12-hour difference between Ithaca and China," Lim said.
In her turn, Andress credits Lim and all the Johnson Club of China leaders for building such a vibrant and active alumni community in China. "Because of the support of our very committed volunteers, we engaged 47 percent of the alumni base last year," says Andress, now senior director of Alumni Affairs for the Cornell SC Johnson College of Business. "I recently visited with alumni leaders in Hong Kong and I am incredibly impressed by their dedication, excitement for engaging fellow alumni and students, and commitment to growing the school's brand within China," notes Andress. "Creating a strong sense of community and school pride excites alumni and inspires them to host and attend events. They give back to the school by demonstrating the value of the Johnson MBA for prospective students and educating current students about the strength of the Johnson and Cornell networks.
"The strong foundation that leaders of the Johnson Club of China have created and fostered over the past ten years is especially important as the school continues to invest in the Cornell-Tsinghua MBA/FMBA program," Andress adds. "As the school's footprint in China continues to grow, our alumni community in China continues to grow, too."
The Johnson Club of China plans to host a 10-year anniversary gala to celebrate its important milestone. Details are in the works and will be announced soon.
—Written by Lu-Hai Liang, a business journalist in Beijing, China