Family businesses thrive through the spirit of entrepreneurship

Growing up in a family business can inspire succeeding generations, sparking innovation and diversification. For the next generation of family business owners, exploring new opportunities and moving in new directions help to keep the family firm profitable and relevant.
Panelists offered a number of strategies for developing successful spinoffs that retain some ties to the family business foundation at a panel discussion at the 2018 Entrepreneurship at Cornell Celebration: "Where Family Business and Entrepreneurship Meet … and Diverge," sponsored by the Smith Family Business Initiative.
Christina Suriadjaja (MMH, currently on leave), founder of Travelio, explained that her two-year-old online home rental platform, modeled after Airbnb and flourishing in the Southeast Asia market, evolved from her work in the hospitality industry. As Suriadjaja was growing up, her father's Indonesian firm, PT Surya Semesta Internusa, helped her to become familiar with the construction, real estate, and hospitality industries.
"I am separate from the family business and not directly involved with it," she said. "My father's business provided seed money, and while my company is different from the family business, it is still involved with real estate," she said, noting that she maintains independence in part by obtaining venture capital investment funding and executives from outside sources.
Adriano Lenz Campos, MBA '19, stayed closer to home, nurturing new branches in the cast iron foundry firm his grandfather launched in Brazil. He and his brother, who now control Fundimig, recently launched their own company under the family umbrella. "We now have a machining plant and new foundries, and we have diversified with a retail fashion footwear franchise business we own," he said.
Ujjval Manish Shah, MEng '17, MBA '18, was also motivated to diversify and develop new products to complement his family's export business, Prakesh Chemicals International, based in India. "All of our family members are involved, and they know how to sell but they don't know much about the commercial chemical products they are selling," he said. "I earned a chemical engineering degree to help develop new products for market and opened my own business within the family company."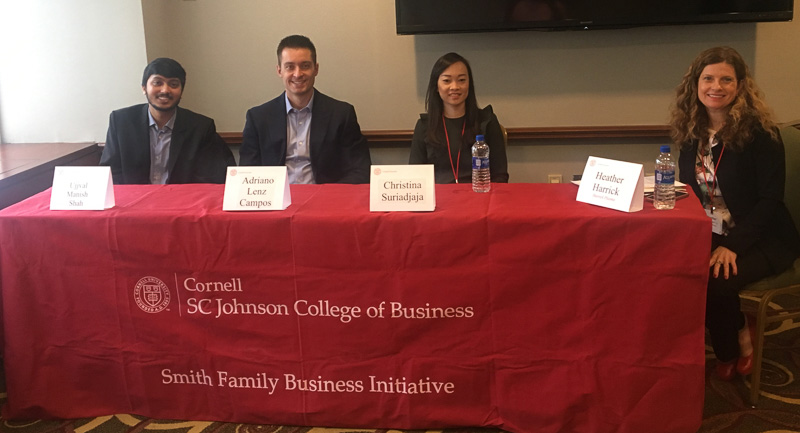 There is a certain level of risk, as well as opportunity, for all entrepreneurs, even those with links to established family businesses. "We are now into shoes, which is a far cry from cast iron, and because we are embedded in the family business we have to understand the risks of diversification," Campos said. "My brother and I were fortunate to find some well-established franchise businesses to acquire. Ecommerce is not yet popular in Brazil, but we are exploring that as well." A new structure within the family company, which separates newer retail operations from the established manufacturing business, helps to reduce internal conflict, he added.
In Shah's view, "the future is now developing our own chemical products," he said. "It's a risky move, but it will help us develop new markets throughout the world while also getting into R&D. He cited new fast-drying inks for printers as one product he is exploring to break into new markets, but expressed concern that family businesses face fierce competition from retailing behemoth Amazon and others that are entering the commercial chemical market.
The panelists suggested that entrepreneurship is critical to the long-term success of a family business. "It's easy to sit back and appreciate success, but you need to prepare for future challenges by seeking new opportunities," Shah said. Suriadjaja added, "You have to be willing to use the family name and resources to get started. And you have to respect the family reputation and name."
—Written by Jay Wrolstad, a freelance writer for the Cornell SC Johnson College of Business