Symone Williams, MBA '19: Living with impact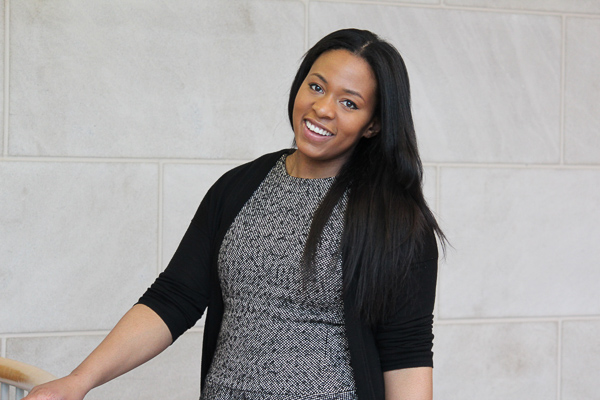 Symone Williams is no stranger to treating life as a learning experience. A current first-year student in Johnson's Two-Year MBA program, Williams is dedicated to overcoming obstacles and empowering people to improve their lives.
"I believe that life is not worth living unless you're helping other people. That's my driving force," Williams asserts.
As a child, Williams saw firsthand how many factors outside an individual's control affect education. "I was fortunate that my parents were invested in education, and because of this, they sought out educational programs that gave me the opportunity to attend a wonderful private school. But when I looked at the fact that the public high school graduation rate in my zip code was 50 percent—then realized that three zip codes over, the public high school graduation rate was virtually 100 percent—it hit me how much where you're born can affect you," Williams explains.
Her brother had a very different experience in the public school system as an African American male, she says. "The contrast between how we were treated in the educational system was really shocking. My mom had to move in order for my brother to have a better educational experience. If she hadn't been able to do that, I know his life would be drastically different."
Her deeply rooted passion for social justice drove Williams began to give back immediately after her earning her undergraduate degree by joining Teach For America, a program that gave her the opportunity to help fulfill the promise that everyone has the right to education. Williams says that her first year of teaching was one of her most challenging leadership experiences, but the lessons from teaching in the classroom serve her every day at Johnson.
"As a teacher, you can't hold on to an incident from the day before and let that drive how you approach a new day. You have to remember that your students won't remember what you said, but how you made them feel—that's the type of lifelong lesson that I'll never forget. So many of the management skills that I've refined here at Johnson are built from lessons I took from the classroom," she says.
Currently Williams is focusing on viewing the issues she is passionate about through different lenses and aims to working in the public sector as a management consultant where she can better understand the systems in place that lead to social inequity.
"I'm very excited to see what social impact can look like from different vantage points. At my core, I'm an explorer, so it's incredible to see all the different options that consulting offers."
—Written by Julianna Teoh, a student intern for the Cornell SC Johnson College of Business
Photo by Carina Segredo, a student intern for the Cornell SC Johnson College of Business