Cornell alumna: Lifelong learning, leading teams is key to women's entrepreneurial success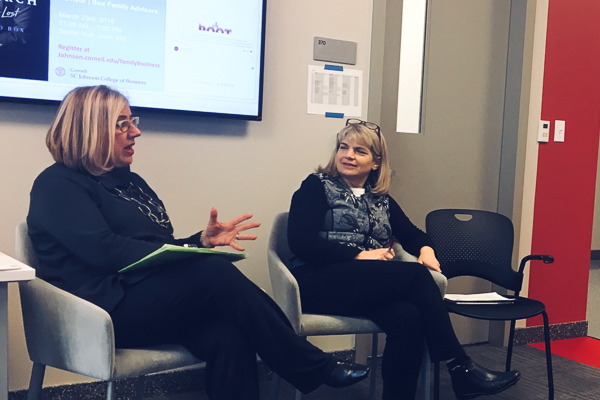 Serial entrepreneur Shelly Porges '74 (Human Ecology), MPS '77 (Hotel School), has followed one guiding principle throughout her successful career: If you become a lifelong learner, opportunities will come your way.
"There's really nothing you can learn in life that is not worthwhile," Porges said at a recent talk sponsored by Dyson's University-Wide Business Minor. "Because every bit of what you learn is going to be useful to you somewhere and somehow."
Porges arrived at Cornell University in 1970 intending to study psychology but later decided to major in business. After earning an MPS from the School of Hotel Administration in 1977, she worked in executive positions at Marriott International, American Express, and Bank of America.
After her 10-year stint at American Express, which culminated in becoming executive head of marketing for American Express Canada, Porges relocated to San Francisco and became chief product and marketing officer for Bank of America during a major turnaround. She then launched her entrepreneurial career in the Bay Area and started five financial services firms and one media company.
"I had a corporate career for 14 years before I started an entrepreneurial career," Porges said. "Every bit of that—the combination of the skills I learned, the information and knowledge I gained, the reputation I built that allowed me to go raise money because people knew who I was—all of that was to my benefit when I went to the next phase."
Porges's drive to work hard, exceed expectations, and learn as much as she could have brought her new opportunities. This combination of ambitions introduced her to people whom she learned from and who helped her as an entrepreneur.
"Mentors find you—you don't find mentors," Porges said. "The way mentors find you is you are outstanding at what you do and you distinguish yourself because of your experience, insights, and work ethic."
Because of her success in building her network, Porges was able to leverage her personal and business connections to cofound Entrepreneurs for Hillary in 2015, which mobilized thousands of entrepreneurs around the country, raised millions of dollars for Clinton's campaign, and hosted more than 80 events in 15 cities.
Since the election, Porges has left the realm of political fundraising and is now focusing on increasing funding for women entrepreneurs. She noted that women and minority entrepreneurs are "dismally funded not only in Silicon Valley but everywhere, and there's a desperate and intense need."
Porges has worked with women entrepreneurs as managing director for Reservoir Q Global LLC, an investment and advisory firm that supports entrepreneurs globally. The firm identifies, mentors, and invests in early-stage ventures in the health tech, fintech, business acceleration spaces, among others.
Women are increasingly becoming not only entrepreneurs, but also investors in startup companies. Porges said this is happening because of what she called "the largest transfer of wealth that we will see in our lifetime," which in the United States, will result in shifting $30 trillion of assets from boomers to millennials.
The transfer will start from boomer husbands to their wives, and then to their children. As a result, women will comprise 70 percent of the beneficiaries of the wealth transfer, receiving about $22 trillion, Porges said.
"I think that that's a huge opportunity," said Porges, an entrepreneur-in-residence at Georgetown University. "This is another revolution going on right now, and women are driving that."
Two other critical roles women need to play in the entrepreneurial world are serving on teams and boards of directors of companies. Porges pointed to a study conducted by First Round Capital, a venture capital firm, that showed companies with at least one female founder performed 63 percent better than companies with all-male founding teams.
"We all have so many experiences that we bring to bear on a decision when we're part of a team," Porges said. "When we can openly and constructively share that and bring that perspective to the team, teams just perform better."