Hospitality panel discusses sexual harassment, brand evolution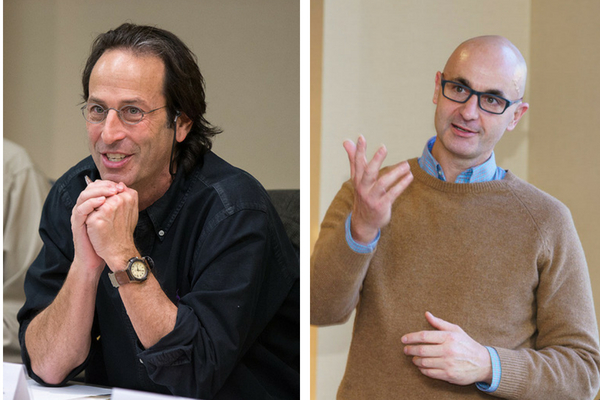 The School of Hotel Administration presented its first Cornell Hospitality Thought Leadership Event in Washington, D.C. in April. Sponsored by the Office of External Relations in the Cornell SC Johnson College of Business, the event featured professors David Sherwyn and Chris Anderson chairing panel discussions with industry experts about two important challenges currently facing hospitality leaders.
Sexual harassment 2018: Ensuring that your company is not the next headline
Moderator:
David Sherwyn, John and Melissa Ceriale Professor of Hospitality Human Resources; director, Center for Innovative Hospitality Labor and Employment Relations (CIHLER)
Panelists:
Carolyn Chabrow Berger, senior counsel for employment and benefits, Hilton Hotels Corporation
Heidi L. Gunst, counsel for employment practices and compliance, Interstate Hotels and Resorts
Elizabeth McRee, partner, Jones Day
Sherwyn opened the discussion by recalling the 1991 Senate confirmation hearings for Supreme Court nominee Clarence Thomas and the recent allegations of sexual abuse against Harvey Weinstein, both of which greatly heightened national awareness of the problem of workplace sexual harassment. The Me Too movement that has grown out of the Weinstein scandal and others has created a platform for exerting pressure on workplace cultures that discourage sexual harassment reporting and fail to remedy hostile work environments.
Panel participants discussed proactive ways to address issues of sexual harassment, including:
implementing employee sensitivity training programs designed to prevent the behavior, inform how to recognize it when it occurs, and explain procedures to follow when making a claim;
responding appropriately when an employee sexual harassment claim is made and investigating harassment cases to avoid liability, negative publicity, and further harm to employee morale; and
raising awareness about employers' legal obligations and current law that categorizes sexual harassment as a form of sex discrimination.
The panelists noted a general lack of knowledge, training, and education about sexual harassment in the workplace and that much work remains to be done in corporate culture assessment, workplace behavioral training, reinforcement of cultural values, and review of internal complaint processes. Employees, too, are often unclear about the difference between sexual harassment and sexual assault. Feelings of shame, confusion, and fear of career repercussions may also prevent the targets of offending behaviors from filing sexual harassment complaints.
The panelists also considered how civil-rights and anti-discrimination laws affect companies' handling of sexual harassment claims. McRee noted that the threshold for companies to seek outside counsel for sexual harassment claims has gotten lower as companies treat claims made by employees more seriously. McRee's law firm is seeing an increase in complaints concerning issues with employee interactions.
Generally speaking, hospitality companies are giving the issue of sexual harassment in the workplace more attention than in the past, and there is more awareness of this very complicated issue.
The evolution of brands in an increasingly digital world
Moderator:
Chris Anderson, professor of services operations management; director, Center for Hospitality Research (CHR)
Panelists:
Anil Aggarwal, CEO, Milestone, Inc., a provider of digital marketing software and services for hospitality, retail, and finance
RJ Friedlander, founder and CEO, ReviewPro, a provider of online reputation management and guest intelligence for the hospitality industry
Cathy Hartman, vice president of consumer insight and advisory services, Marriott International
Mark Lomanno, partner and senior advisor, Kalibri Labs, a hospitality data analytics company
This panel discussion highlighted the continuing evolution of hotel brands and intermediaries in an increasingly digital world, how the internet influences the way consumers engage with them, and how companies can keep their brand management initiatives current.
The major topics of discussion were:
the importance of providing high-quality, brand-related online content on websites and social media;
the need for online content to be valuable, informative, and interesting to keep consumers engaged in a crowded online and social media space; and
the numerous online channels—many of them beyond the control of hotel companies—through which consumers can discover and connect with hotel and travel-related brands.
Effective branding requires constant awareness of trends and the application of emerging technology. Aggarwal noted the critical importance of search-engine optimization for maintaining consumer engagement with a brand.
Hartman led a discussion of the evolution of brand loyalty from something earned and transactional in nature to something that is acquired through the addition of elements of service and memorable experience. For example, loyalty points earned via a brand's mobile app can lead to increased consumer engagement with the brand. Marriott's analysis of online usage data is yielding insights into consumer behavior that enable the company to better engage with customers and customize their experience of its various brands.
The online journey for today's digital-savvy consumer is evolving, and the digital discovery of brands by consumers is growing. The right application of online technology combined with high-quality online content can ultimately lead to better consumer engagement and product experience. Companies that promote their brands through innovative applications of online technology will become the market leaders.
—Written by Pia Bojanowski, MMH '96, a freelance writer for the Cornell SC Johnson College of Business