GRADtalks 2018: Living proof there's more than one way to experience your Cornell MBA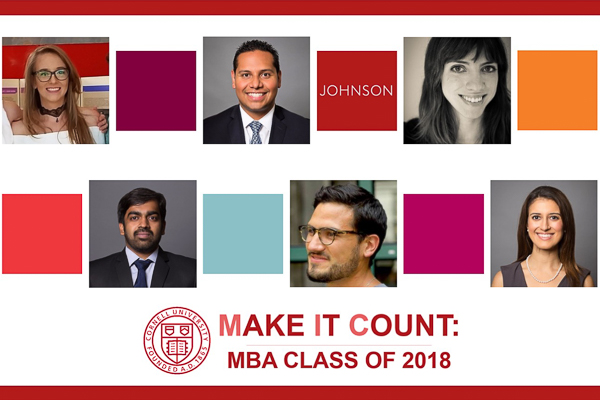 Now in its second year, the GRADtalks event is the best place to hear of lessons learned on the journey to a Johnson MBA from those who know that journey better than anyone: soon-to-be graduates in the Class of 2018. A spinoff of Johnson's year-round REDtalks, GRADtalks offers MBA students the chance to share their personal stories with classmates moments before the last Sage Social of the year.
All too often, anecdotes from members of the Johnson community were poured out in admissions essays and easily forgotten. GRADtalks enables students nominated by their peers to bring their stories back to the fore. This year's response was once again overwhelmingly positive—on Thursday, May 3, Sage 301 was standing room only.
Meet the six speakers from the MBA Class of 2018.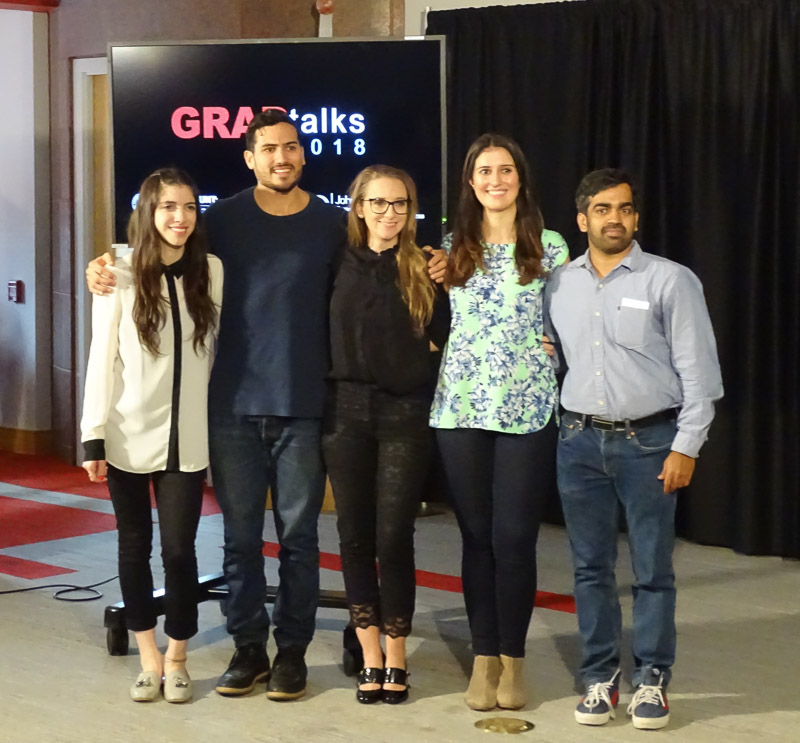 Matheus Costa, Two-Year MBA '18
To open his GRADtalk, Matheus Costa took his classmates back in time and across the globe to the place where it all began: Brazil. Born with boundless creativity, but bred in an environment that didn't fully appreciate his different way of looking at the world, Matheus recounted the struggle throughout his childhood to find ways to communicate his artistry. Nonetheless, Matheus said, he always felt like he was on the cusp of doing something meaningful with his life: "If one day I find my place, I may be great at something."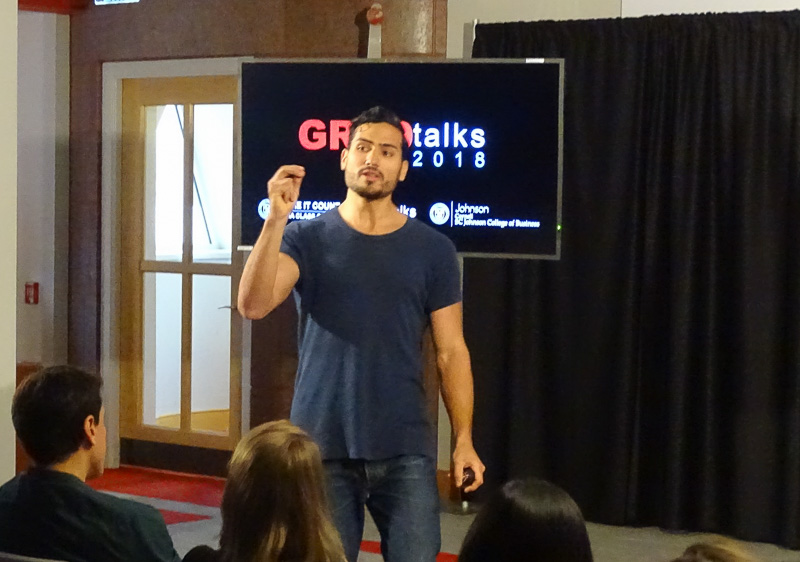 Fast forward to age 19, and Matheus found himself embracing his entrepreneurial side by starting his own shoe business. It wasn't long before he would come to consider himself a workaholic. The next two years would see him travel to trade shows in South Africa and New York, selling his shoes everywhere from London to Hong Kong. Even so, he could never shake the feeling that, while he was successful, he was left wanting in terms of happiness. "Is this all there is?" he asked himself.
His aspirations would eventually lead him to business school. And while initially he may have come seeking the skills to scale his business like never before, he's happy to report that he found something even more profound than a professional skill set: a home away from home, one that he's shared with an MBA family unlike any other.
Secrets to succeeding at Johnson from the shoemaker himself:
"I learned here on teams and with my friends, that when you don't work by yourself, but you're connected, not only is success much easier, but you're able to achieve so much more collectively than as an individual."
"If you are a first-year, never underestimate how awesome your classmates are, and the wealth of knowledge and talent that's around you."
"Johnson is open source, so start good things. The Brazil Trek didn't exist before. We started it because we saw an opportunity and we had a reputation in the school. We leveraged all that into something that is going to be a legacy."
"If the school is not the way you'd like it to be, change it. Start your own things. If there's a club that you're passionate about that doesn't exist, start it. Do your best and you'll leave your mark on the school."
"Here at Johnson, I learned that happiness and success are only real when shared."
Heather Ahmad, Two-Year MBA '18
Heather Ahmad's GRADtalk was out of this world, literally. Describing her Johnson experience in intergalactic terms, she spoke of the miracle of being alive and taking a moment to appreciate all life has to offer: "Earth is four-and-a-half billion years old. Space makes our head spin. It's hard to come to terms with how small we really are. For me, knowing all this makes me happy to be alive."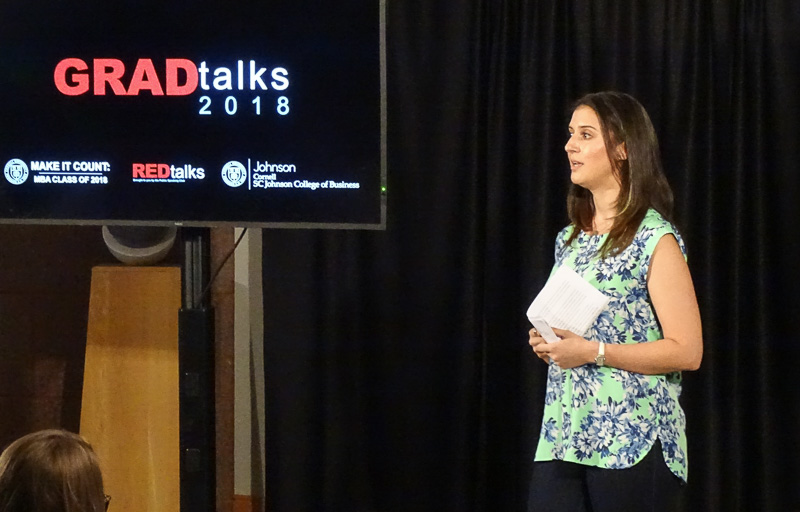 Referencing the lessons she's learned from her favorite heroine, Disney's Moana, she imparted wisdom on keeping things in perspective while always remaining inspired to act. In a manner akin to the size of the universe, it's easy to get overwhelmed by the enormity of what you will do with your life. In her own life, it has helped to remind herself that small steps over time will ultimately result in big outcomes. In her own words: "Life is too short, so why not enjoy your spins around the sun?"
Heather's three-step guide to finding your place in the Johnson community and in the cosmos:
Choose your journey
Have perspective
Grind your way to great
Other nuggets of gold from Heather's GRADtalk:
"Who here has turned to a first-year at some point and reminded him or her to soak it all up. The last you want, whether for you or for them, is to leave here saying 'I wish I had' or 'If only I had.'"
"Strive to one day look back on your life without regrets. And always remember you're lucky to be here."
Alex Baliño, Two-Year MBA '18
Alex Baliño's GRADtalk began with a powerful admission: Her time at Johnson has helped her overcome the fear of public speaking after 24 years of self-doubt. Having worked in the entertainment industry before coming to business school, she talked about feeling more comfortable working behind the camera. Over the course of her journey at Johnson, she learned to bring the confidence she built in the breakout room and deliver in front of an audience during case competitions. Her development culminated in her speaking on stage at this year's Carnaval Latino in March. "The past two years have changed my self-concept," she said.
Alex's advice on projecting confidence credibility during public speaking:
"Prep, prep, prep!"
"Write down everything you want to say before you say it, putting pen to paper to everything that puts a doubt in your mind."
"Watch Beyoncé 20 times."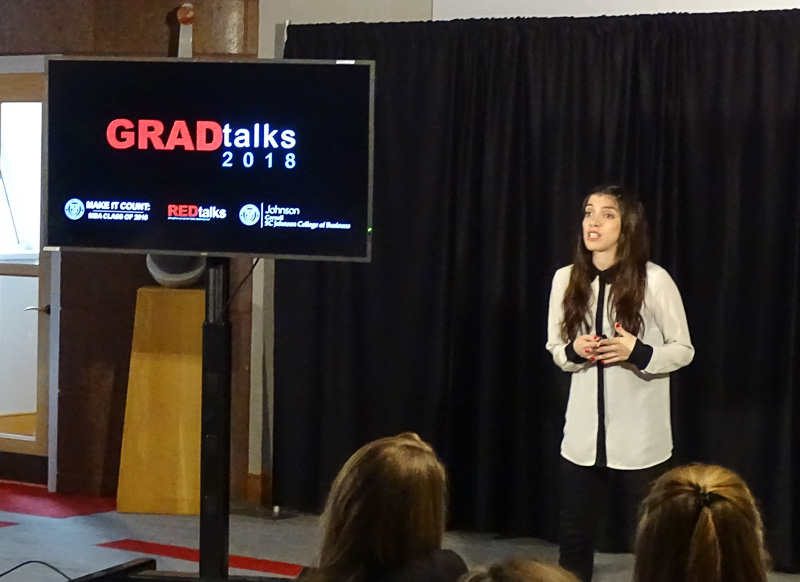 Concluding her GRADtalk, Alex invoked the infamous epilogue she was asked to write for herself, a tradition for Johnson MBAs. In her epilogue, she envisioned herself on stage in front of an audience in Madrid, delivering her own TEDTalk with her newfound public speaking savvy. As she prepares to graduate, it's safe to say that Alex is well on her way to realizing her vision for herself.
Elmer Gonzalez, Two-Year MBA '18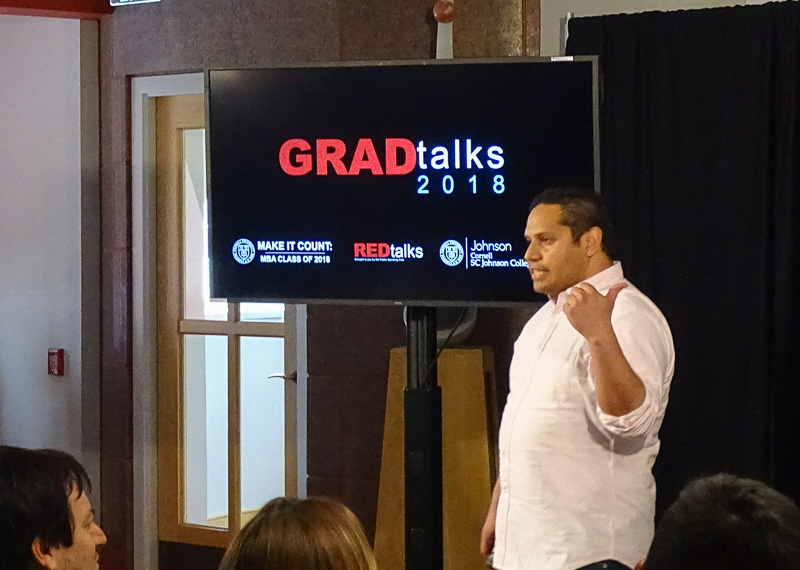 Arguably the most moving GRADtalk of all, Elmer showed his classmates a new side of himself with a story straight from the heart. He took the audience on his journey at Johnson, where he slowly learned to share more about himself and his family with those that matter most in his life. He described himself as a very private individual, so much so that Elmer's mother was shocked when she heard that her son would be speaking in front of nearly 100 of his classmates. Elmer got choked up talking about his family, engaging the audience on an emotional level—you could hear a pin drop in Sage 301. All in all, Elmer stressed the importance of being open to others. After all, he says, it's the reason he found a family within the Johnson community.
Wise words from Elmer's GRADtalk:
"We talk a lot about community, but to me we're just one big family."
"We should appreciate the time we have with each other and be intentional about the impact you have on other people."
"Be nice, be honest, and be intentional, because that matters too."
Joel Fernandes, One-Year MBA '18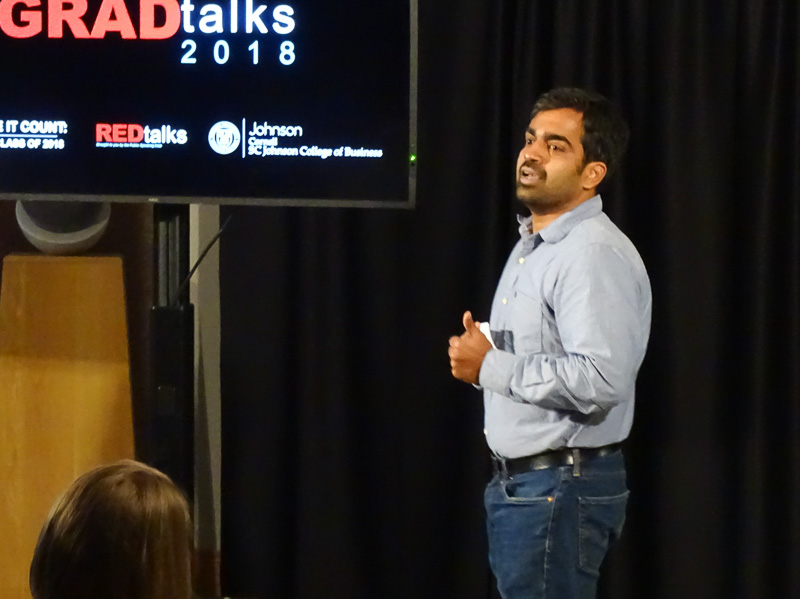 Joel traveled from India to come to Johnson—a trek totaling more than 8,000 miles. In a GRADtalk that struck a perfect balance between humor and heartfelt reflection, Joel recounted all the ways in which his preconceived notions of business school quickly got debunked during his time at Johnson. Joel concluded his GRADtalk by quoting a lyric from the artist Lenka: "I know I've got to let it go and just enjoy the show." If anything's clear about Joel's journey at Johnson, it's that his experience has defied expectations in all the right ways.
Best bits from Joel's lively, laugh-out-loud GRADtalk:
"When I arrived here, I soon realized we're all wide-eyed and bushy-tailed. We all want to do good in the world. It was impossible not to get inspired."
"When I first heard about the family at Johnson, I thought it was nothing more than an MBA buzzword. Since then, I've been delighted to be proved wrong again and again."
"Sage Socials were one of my favorites aspects of business school. I'm gonna miss not having a glass in my hand at 4:30 on a Thursday!"
"To my fellow classmates, I hope we meet in the future, wherever that may be. Drinks are on me!"
Virginia Delizzotti, One-Year MBA '18
For her GRADtalk, Virginia Delizzotti told a story of growing up in Argentina as part of the family business and the bouts of insecurity and desire for validation that came with the territory. She decided on Johnson's One-Year MBA program to gain the marketing and operations background necessary to take on more leadership within her family's food business. She leaves Johnson with the confidence and credibility to chart the path forward for her organization.
Wise words from Virginia's GRADtalk:
"Life is too short not to be in love and passionate about what you're doing."
"My classmates taught me a lot about myself. They taught me that I was not less capable or qualified because of my background. From them, I learned how to trust in myself."
"An MBA is a way of thinking. You don't just get a set of financial skills or marketing tools. You gain the ability to think critically, deal with ambiguity, and solve complex problems."
"You have to get out of your comfort zones, so that you only face external barriers, never internal ones."