Quick Q&A: Dale Grossman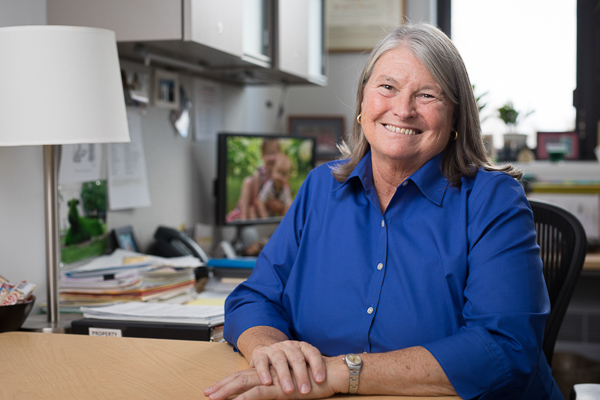 Hiking enthusiast, law professional, and seasoned advisor—learn a little more about Dale Grossman, senior lecturer and director of undergraduate advising at the Dyson School.
Q: If you were the CEO of a company, name one thing you would make compulsory in the office and one thing you would ban in the office.
A: I would make frequent breaks to get outdoors compulsory and ban meetings.
Q: If there was a movie produced about your life, who would play you and why?
A: Candice Bergen—she's a strong woman, plays those tough characters, and is wickedly  funny. (And we look exactly alike…NOT!!)
Q: What do you like best about teaching at Cornell?
A: I like the students best. That's why I got into teaching in the first place and why I do so much advising. When I first started teaching I was only six years older than the students.
Q: Who is your idol?
A: Sandra Day O'Connor because she worked extremely hard to succeed in a male-dominated profession without sacrificing her principles.
Q: What do you like to do for fun in Ithaca ?
A: I love to hike with my dog. It's hard to decide on my favorite place to hike in Ithaca, but if I had time for a short hike I'd go to the Cornell Botanical Gardens. If I had a little more time, I'd hike down Buttermilk Falls—but only if there is someone at the bottom to pick me up, because going up is brutal.
Q: What is your favorite experience from growing up?
A: Going to the beach in Ocean City, Maryland, with my siblings, cousins, and aunts and uncles because the whole family would go.
Q: If you could teach anything other than law courses, what would you teach?
A: I'd like to be able to teach marine biology. If I had to do my career over, I would have liked to major in marine biology.
Q: If you could have any superpower, what would that be and why?
A: I would like to fly. Think about the view a drone has and imagine having it for yourself. It's less about getting from one place to another; it's more about what you experience on the journey.
Q: What is a fun fact about you?
A: I am a simple, open book, but very few students know that if I wasn't teaching I would probably be a professional photographer.
Dale Grossman is a senior lecturer and the director of undergraduate advising for the Charles H. Dyson School of Applied Economics and Management. She has been with Cornell University since 1977 when she initially served as the judicial administrator and then began transitioning into a teaching role in 1980. Dale has served in numerous positions within the Dyson School, the Johnson Graduate School of Management, and the departments of Agricultural Economics and Communication in the College of Agriculture and Life Sciences. Over the years, she has taught courses in estate planning, communication law, internet law, and business law and has advised more than 1,000 undergraduate students. Dale also works in the farm business sector in the fields of farm labor law and communication law. She plans to retire this summer.