IBI Day of Service: 100% accretive to the community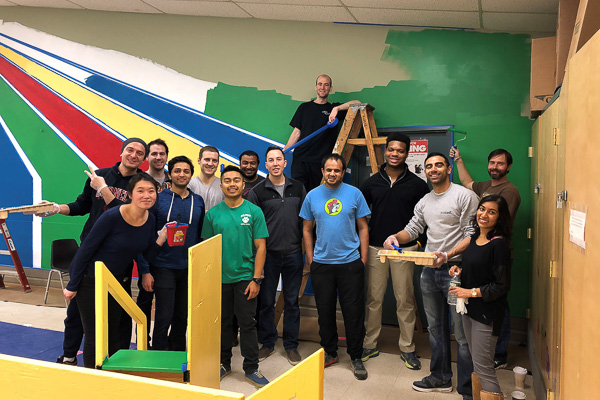 By Santiago Diaz, Two-Year MBA '19
The Investment Banking Immersion (IBI) Day of Service was a special day during the spring semester when Johnson students gave back to the Ithaca community as a team. Why is that important? As a professional who strives to someday have a positive impact in the community, giving back strikes the core of what I value. Before business school, I had the opportunity to give back to the community in several ways, and I truly understood the value of involvement. That being said, as I reflect on my experience, I am able to draw some parallels with what is expected in a future career as an investment banker—teamwork and coordination, execution, and attention to detail.
Without additional preamble, I'll get straight to the details. The Day of Service took place in a pre-school facility currently operated by the Franziska Racker Centers, an organization whose mission is "to support people with disabilities and their families to lead fulfilling lives by providing opportunities to learn and be connected with others." The center staff needed help painting walls and creating designs on a central playground, and we had the perfect group of people!
Parallel #1: Teamwork and coordination
Our client, Racker Centers, had certain expectations. Drew Pascarella, lecturer of finance, communicated client expectations to us and made suggestions as to how to best approach the task at hand. After digesting the information, we all gravitated toward tasks that we could do well—working on the general area, helping on the walls, and deciding to focus on the entrance and painting the drawings.
After teams assembled, people with painting experience assumed the role of project managers and made sure teams were well coordinated. They provided specific instructions and served as the point of contact with Drew and the client. Their position was akin to the role of a VP of a deal team, coordinating between associates and analysts (us), as well as with Drew and the client. After teams were assembled, and we had a good sense of what we were going to do, we had to execute!
Parallel #2: Execution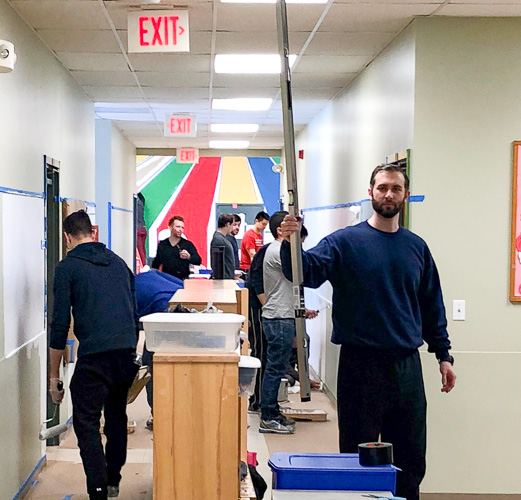 So, we had to paint. However, it isn't as simple as just grabbing a brush, dipping it in paint, and brushing a general area. A lot of prep work had to be done. For example, in the general area, "deal teams" had to make sure that designs to be detailed later had tape that would prevent paint from running into areas where a different color was warranted, according to our client's expectations. Additionally, we had to prep walls and floors since we were only focusing on areas that the client wanted to address, while at the same time avoiding spilling or dripping paint onto the floors—the cleaning of paint would not be a fun or easy undertaking.
After prep work was complete, then came the fun part. However, project managers gave a crash course on best practices in painting, since one cannot just dip a brush or a roller and paint away. The amount of paint that remains could potentially create a mess or make it harder to detail once the initial "hand" was applied to the areas to be painted. This would be akin to joining a bank in the summer—while academically we would be familiar with some concepts and analyses done for clients or prospects, it is extremely likely that each individual bank will have their own idiosyncrasies when it comes to models or assumptions. We would need to be "brought up to speed" when it comes to their particular Modus Operandi.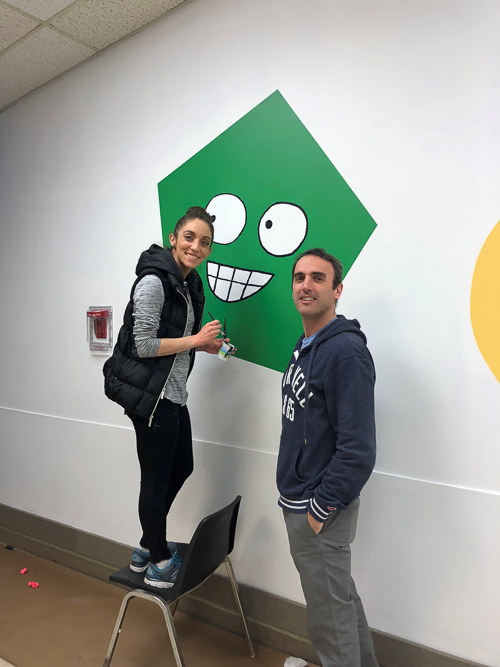 While cognizant that the role of project managers might sound supervisory in nature, in this instance that was not the case. Drew himself was helping us prep floors and walls and coordinating workers if there were people that could be better employed with another part of the project. Additionally, project managers, while coordinating the execution of their respective tasks, also were involved in the project and stood ready to take corrective action if mistakes were made. This was bound to happen, since some of the people didn't have much experience painting, but their help was crucial nonetheless.
Parallel #3: Attention to detail
Personally, I found this dynamic to be extremely beneficial in preparing us for summer internships. Sure, it begs the question, how would painting walls and designs help me become a better investment banker? The answer lies between the lines. The job of an investment banker requires a lot of attention to detail, and making sure the right numbers are going into the analysis, that projections make sense, and that numbers truly portray the right narrative.
Taking that into consideration, let's apply it to this situation. The most important goal was to add value to Racker Centers and to brighten children's lives when they arrived the following week to enjoy the new look of their school. This required a job well done, and attention to detail was a must—we couldn't just paint over a general demarcated area and hope that it resembled a square. If the design was supposed to be a square, then we made sure that the lines were straight, and if it were to be painted a different color for the background that paint would not run over the lines—a square is supposed to be a square, not an approximate. Aside from designs that would adorn the walls, a lot of detail went into making sure that corners of the walls were painted as well. I took it upon myself to go around the walls and to make sure that corners and edges were painted well, which allowed me to add value to the overall project by working across teams… think of it as a generalist approach.

A true lesson learned
While I tried to draw parallels between the Day of Service and a career that I am passionate about, the main takeaway was greater than that. Personally, the Day of Service reinforced the notion that as we prepare to become influential members of society, it is extremely important to always be involved in our communities in any way that we can. It was very gratifying to know that we did a great job and to imagine the faces of the children as they arrived at the school and were mesmerized by the new look of their playground—it made the hard work that we put in extremely worthwhile.
I look forward to be involved in the community even after business school is done, and I will always advocate community involvement as a great way to pay it forward to society. One should ask oneself, are my actions accretive or dilutive, and how can I maximize the internal rate of return of my community?