Faculty Last Lectures 2018: Schmidt, Filipowicz, and Mish give graduates assignments for life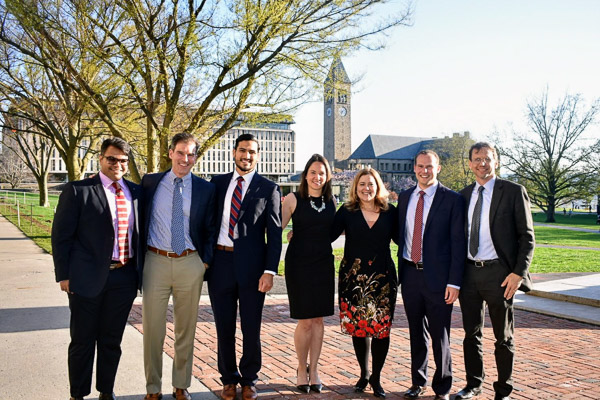 It's a well-known secret among Johnson MBAs that the year's Last Lectures event exists in a league of its own. Why is that? In the case of Bill Schmidt, the proof is in the professor. Anyone wondering what's so special about a Last Lecture need only look to what Assistant Professor Bill Schmidt had to say to a packed audience in Klarman Hall in early May. He, along with beloved faculty members Risa Mish and Allan Filipowicz, was nominated by the Class of 2018 to offer life advice and parting words of wisdom to soon-to-be MBA graduates.
At first glance, Bill Schmidt's lecture appeared to be nothing out of the ordinary at an Ivy-League business school; true to form, the professor is standing at the front of the room, glasses in one hand and a stack of papers in the other.
Little did the audience know what Professor Schmidt was really holding in his hand. It's wasn't a stack of homework, marked up and ready to be handed back to students. Nor was it many copies of lecture notes, printed out for students to annotate.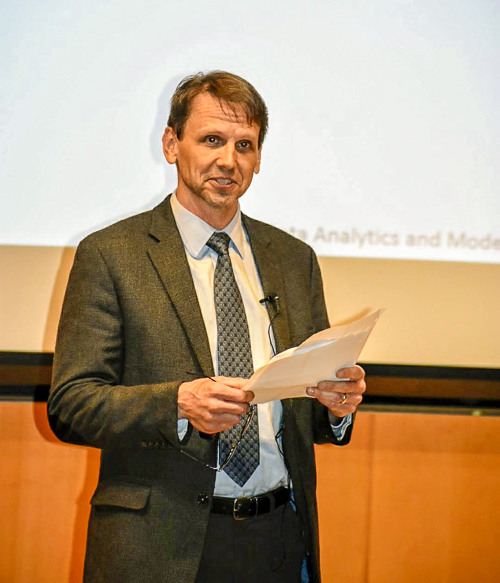 Quite the opposite, actually. Professor Schmidt was holding page upon page of notes from students, many of whom were sitting in the audience at that very moment. Here's how he revealed the plot twist, in his own words:
"If you recall, I asked you on a weekly basis to provide anonymous feedback about the course, what's working and what needs improvement…. Well, I kept all of that feedback."
Amidst laughter from many of his former students in the audience, he added: "And I brought it with me tonight." From the stack, Schmidt pulled out a few and read them aloud to the packed Klarman Hall auditorium.
"Your definition of 'very straightforward' seems to differ significantly from mine."
"I could not venture a guess as to what a test will look like for this class."
"Your wife is right. Your points are valid but long-winded."
Lucky for them, the anonymous feedback was likely the only in-class assignment these MBAs were asked not to put their name on.
Don't let the criticism fool you. The three speakers at this year's Last Lectures were chosen by students, for students. In each of their respective lectures, Risa Mish, Allan Filipowicz, and Bill Schmidt shared their own inspiring lessons and life advice.
Below are recaps and key takeaways from each professor's Last Lecture, intended to give graduates one last "assignment for life."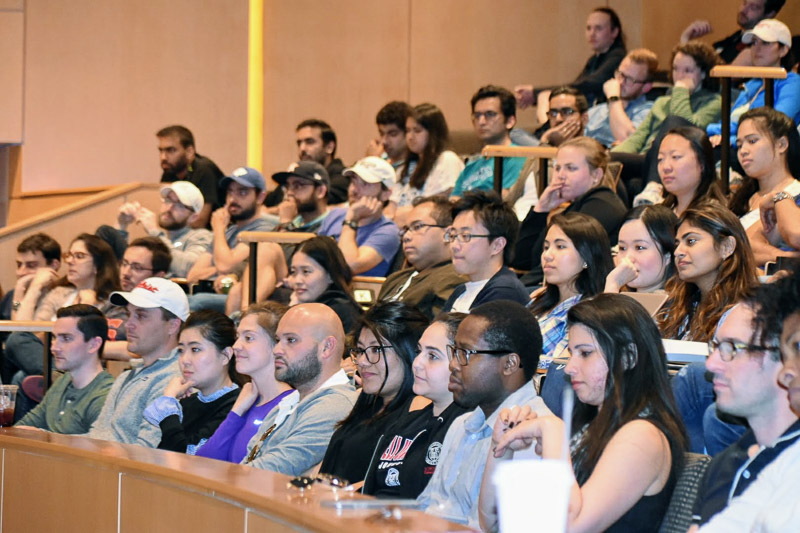 Risa Mish, professor of practice of management and organizations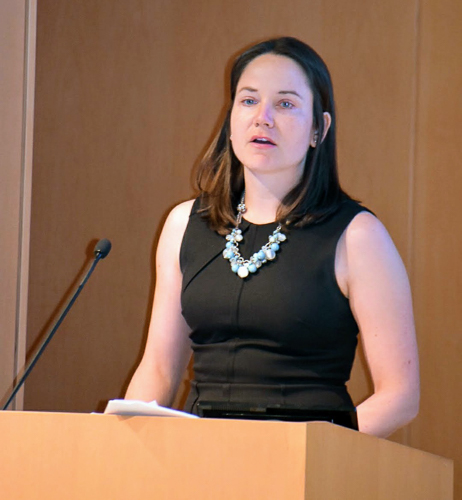 It's safe to say that Risa Mish is something of a household name within the households of Johnson MBAs. And it's no coincidence, as many students consider her to be an invaluable mentor during and after their journey at Johnson.
She began her Last Lecture by stating the obvious: "MBA professors love their frameworks." She continued, "Wouldn't it be great if there were a framework that could help us organize our time and our attention and our effort into the kind of life that will ultimately be said to be 'well-lived.'"
Enter the Pirkei Avots. According to Mish, "The Pirkei Avots are, in essence, the world's oldest self-help book. It's a collection of wisdom and guidance for living a life that is true and fulfilling. One of my favorite sections is chapter 4, section 1. That section provides a four-part framework for tests to evaluate one's own life. The framework consists of four questions and four answers."
Below are the four questions and answers that became the framework for Professor Mish's Last Lecture, along with her own wise words within each section.
Question 1: Who is wise?
Answer: The one who learns from every person.
"Wisdom requires more than intelligence or knowledge alone. It requires awareness of all that there is to know that you do not yet know, and the humility to acknowledge the limits of what you do know. Socrates, for example, tells us that the only true wisdom is in knowing that you know nothing. Mark Twain put it more generously and more humorously: 'It ain't what you don't know that gets you in trouble, it's what you know for sure that just ain't so.'"

"As teachers, we greatly hope that we've contributed to your learning. I know I learned a great deal from the professors I was privileged to study with here at Cornell, but I also try to remind myself every day, that everyone I encounter has something to teach me, and therefore everyone I encounter matters, not just to me, but to the community, country, and to the world."

"Dimming someone else's light doesn't make yours burn brighter. But shining a light on someone else and giving them their due, that helps to fill the whole world with brilliance and make it a place where we can all delight to draw." —Risa Mish
Question 2: Who is strong?
Answer: The one who can control negative information.
"The Pirkei Avots urges us to consider that strength may also be measured by the degree to which we're able to control the impulse not to harm others, or harm ourselves, by taking responsibly of the power we have, and using it to uplift rather than exploit."

"This past year has, unfortunately, shown us so many examples of would-be leaders, in the media and entertainment business, in business and politics and elsewhere, using the power that their industry, institutions, and/or wealth gave them, against the very people that depended on them and trusted them. How we treat the vulnerable, how we treat those whom we've been appointed to serve, that, I submit to you, is the true measure of strength."
Question 3: Who is rich?
Answer: The one who is happy with what she has.
"The framework is not urging us to suppress our ambition. One can be grateful for what is while still pursuing what might yet be, and I'm going to urge you to do both of those things, because the world needs you, and your talents, to be applied in service of great and great ideals and goals and ambitions. Ambition is not something to fear, shy away from, or be ashamed of. It is rather a necessary predicate to achievement."

"It was ambition that took our fellow Cornellian, Dr. Mae Jemison, into space. It was ambition that led our fellow Cornellians, Pearl Buck and Toni Morrison, from humble beginnings to the Nobel Prize in literature. It was ambition that led our fellow Cornellian Ratan Tata to found one of the most successful conglomerates in the world. It was ambition that led our fellow Cornellian Tsai Ing-wen to be the first female president of Taiwan. It was ambition that took our fellow Cornellian Ruth Bader Ginsberg, the notorious R.P.G., from a small apartment in Brooklyn to the United States Supreme Court. Ambition helps us conceive of the possible, so we can achieve the seemingly impossible."
Question 4: Who is honored?
Answer: Those who give honor to others.
"This last bucket is an important reminder because it urges us to focus more on honoring others than on seeking to be honored. The desire to be honored often comes from the misguided impulse to seek validation from others' opinion of us. When we do this, it's often because we judge ourselves so harshly, and we're hoping if someone would only give us an A, or a prize, or a promotion, or a fancy title, then we will finally be worthy. The truth, of course, is that no prize can ever do that for this. Our sense of worth has to come from within, from the knowledge that we are bringing goodness into the world, and working constructively towards the fulfillment of our real purpose."
Bill Schmidt, assistant professor of operations, technology, and information management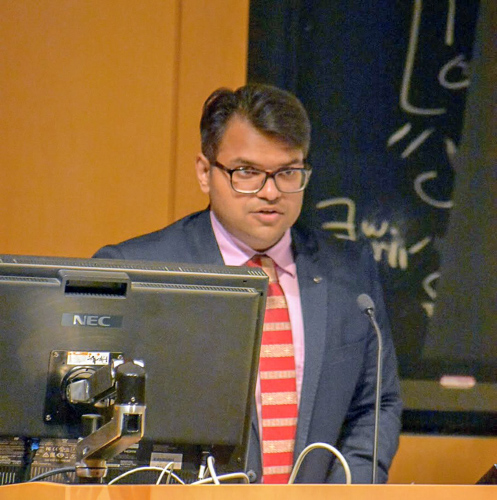 After reading bits and pieces of anonymous feedback from his students, Professor Schmidt turned the focus of his talk toward the role of data in today's information revolution and the responsibility Johnson graduates have as they venture out into the working world.
Recounting his lived experience of growing up in a household of modest means, he spoke about how it felt to be bucketed into a category of American citizens who were receiving government assistance. He remembers the moment he realized how poor his family was: "Our church came by and dropped off a big basket of food for the families in the congregation that were going to have a tough Christmas. It didn't bother me, but it was a realization of: we're that family." This misrepresentation, he pointed out, persists today: "In the media, people on food stamps are often portrayed as lazy miscreants."
He concluded his Last Lecture by making clear exactly what kind of leaders we need for tomorrow, underscoring that the MBA students he's had in class are the thoughtful leaders that the world is actively looking for and currently lacking. Schmidt also explained why criticism is critical to success and why perfection is as unattainable as it is unhealthy to pursue.
Below is a collection of wise words from Professor Schmidt's Last Lecture:
"I want you to hear that, on behalf of myself and the rest of the faculty members here, we care about you, and we wish you the best. We hope the time you've spent at Johnson doesn't fade. I hope to see you many more times, and I hope that when we meet you will tell me about ways you've strived to be better. Not perfect, just better." —Bill Schmidt

"My point is that the world needs thoughtful leaders like you. I've said it in class and I'll say it to you as you embark on your graduation: data doesn't tell you the whole story, it doesn't even tell you half the story. We need leaders who can recognize the individuality in the passerby and the panhandlers, leaders who can think deeply about how the systems they are creating and the data they are collecting have a real effect on people's lives. People who aren't so excited about moving fast and breaking things, because when you break things, it affects real people."

"When you leave Johnson, I want you to consider opening yourself continuously to a stream of alternative views, continuously humbling yourself and asking for anonymous feedback. I'll tell you, you'll get some nasty comments. Without a doubt. But it will make you think about the other person's view. It will make you realize that your worldview of what is right and what is wrong can be rationally challenged by other people among us… We need the leaders that can absorb that alternative information, make balanced decisions, addressing all of those different views."

"You don't have to be perfect. You just need to try to be better. I tell my kids all the time that I'm just a dad. I don't have it figured out yet. What I haven't told my kids is that, half the time, I don't know what I am doing."
Allan Filipowicz, associate dean for executive education and clinical professor of management and organizations
He's famous, among the Johnson community, for shaking every student's hand at the start of class. A double-Red Cornellian (Classes of 1986 and 1987) who teaches courses on negotiations, Allan Filipowicz has been described as the professor who has helped his students in countless ways, whether it's teaching Johnson grads how to "gain another $20,000 in salary or save $5 on your oil change."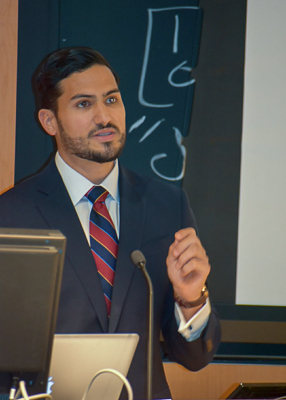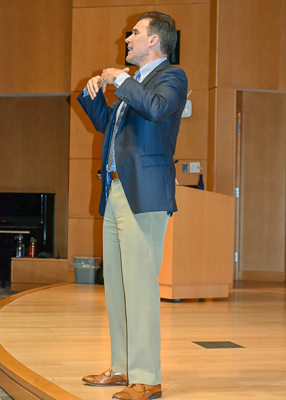 His Last Lecture kicked off with an observation of his own: "The #1 activity of managers and leaders is to predict behavior." He then proceeded to break out in dance, like no one was watching, in front of the audience in the filled auditorium. He got professors Mish and Schmidt on their feet and dancing along with him, before asking the entire audience to get up out of their seats and follow suit. After everyone had sat down again, Filipowicz described what had just occurred as behavior that would be very difficult to predict from a business professor. Put simply, "Bet you didn't see that one coming?"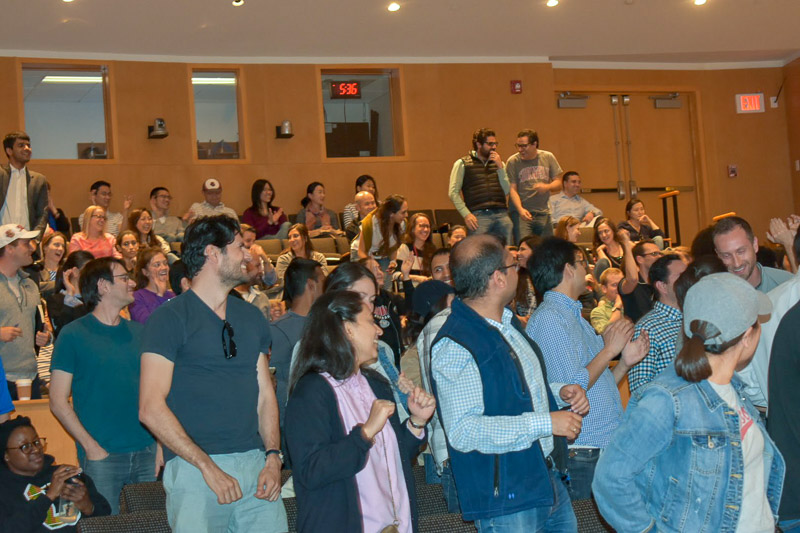 In the middle of his lecture, Filipowicz paused to pull up a YouTube clip from the 1997 movie Austin Powers: International Man of Mystery, in which Powers hijacks a steamroller and drives it straight toward a security guard, albeit at a snail's pace. All the helpless guard can do is yell "STOP!" at the top of his lungs.
While the video clip seemed randomly placed, rest assured Professor Filipowicz made his point. Problems in work and life, he explained, cannot be anticipated as easily as a slow, oncoming steamroller: "The thing that hits you, you will not have seen coming."
In other words, it's virtually impossible to anticipate every potential problem you'll encounter in any given experience, personal or professional. With the unpredictability of what's down the road, he said, graduates can't expect to be able to control every outcome. Rather, it's the way one responds to situations that always remains in one's control. In the professor's own words: "It's not what you're doing, but how you are doing it that's important."
Even in the final sentence of his Last Lecture, Professor Filipowicz left the audience with something to think about: "You are much more awesome than you think."