Noteworthy: Enterprise Radio interviews Al Bhimani, MBA '81, on financial management for tech startups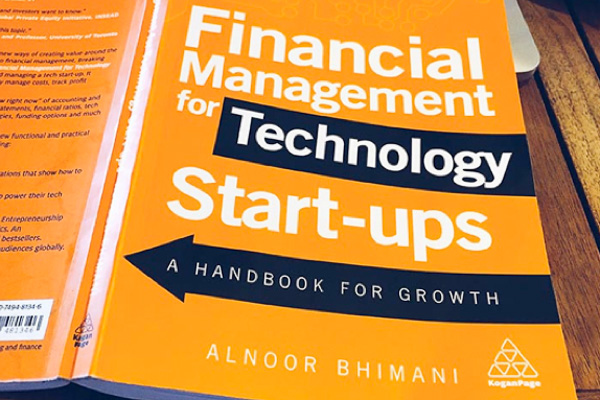 Photo above by Entrepreneur Podcast Network
Overview
According to Alnoor Bhimani, MBA '81, there's more business models today than ever before. Over the past ten years, technology has enabled a variety of new models to engage in advertising that enhance experience and increase interactions between people. In his conversation with Entrepreneur Podcast Network host Eric Dye, Bhimani underscores the need for finance to echo the changes that tech enterprises have mobilized.
Bhimani was a Fulbright Scholar at Cornell University. He also qualified as a CPA in Canada and has a doctorate from the London School of Economics (LSE). He is now a professor at LSE and the founding director of LSE Entrepreneurship.
Key takeaways from Bhimani's interview
Over the course of the interview, Bhimani addressed a few key areas related to financial management and tech startups.
"Strategies are fast changing in the tech world and in the digital world—traditional approaches to enhancing value-creation within an organization are now starting to change very rapidly."
The flurry of new business models over the past ten years means that every single industry is now being affected. While we've developed the areas of finance and accounting over the past two hundred years, there's now a need to focus on what happens before economic transactions.
"We need a financial system to back up information that managers need to get to growth, rather than apply traditional strategies that have become sort of dinosaurs to us."
Beyond focusing on economic transactions, it's now imperative to pay attention to what happens before the economic transactions and carries through to the bottom line. This behind-the-scenes work is the sort that the finance and accounting industries have not been taught to pick up. In the words of Bhimani: "Accounting basically silences what value-creation technology enhances."
"Don't underestimate the power of accounting intelligence."
When asked for the one piece of advice that Bhimani would give tech business founders today in order to make their startup a success, he responded that accounting intelligence remains one of the primary ways for venture capitalists and business angels to evaluate your competency. It remains a tried and true way to assess the viability of a startup, even within the rapidly changing tech space.
Listen to the full podcast by Enterprise Radio to hear the complete interview with author and alumnus Alnoor Bhimani.