A world of opportunity awaits: Celebrating the Class of 2018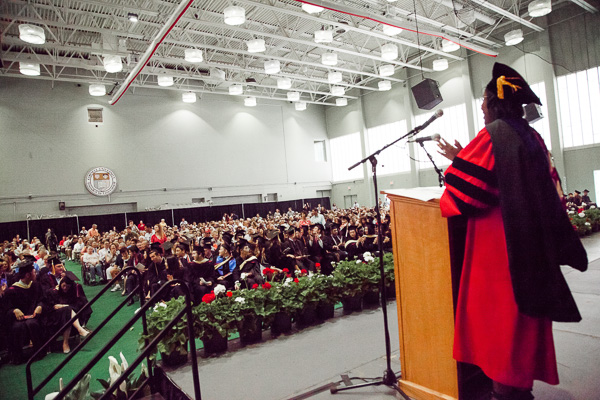 By Lynn Wooten, the David J. Nolan Dean and
Professor of Management and Organizations at Dyson
During Cornell's 150th Commencement I had the honor and privilege of addressing the Class of 2018 at the Charles H. Dyson School of Applied Economics and Management graduate recognition ceremony. There were 256 graduates, along with their families and supporters. It was incredible to celebrate their accomplishments and pursuits of excellence, and I am both proud and excited about the future they will create for themselves!
At the Dyson School, we move ferociously in the direction of our goals and our dreams. The academics are rigorous. We know that if excellence is possible, good is not enough. But I wanted to take a step back and talk to our graduates about more than academics. Beyond Cornell and Ithaca, a world of opportunity awaits our graduates—and you. There are a few concepts I try to incorporate into my life on a daily basis, and I shared them with Dyson's graduating Class of 2018 during my address.
Be relentless in your pursuit of knowledge.
In previous blogs, I have referred to myself as a lifelong and life-wide learner. The key is that you keep an open mind and allow yourself to engage with the people, the places, and the world around you. Be like a sponge, and soak in new experiences with zest and vigor. If you dedicate yourself daily to learning something new, even when it's challenging and difficult to do so, one year from now you will be amazed at how far you have come in your personal growth.  Embrace change, embrace new experiences, and seek out opportunities to learn from the world around you. The key to bettering our world comes from understanding it.
Be bold, dare to show up different.
Some of us have an entrepreneurial spirit. These people are innovators at heart, so coloring outside the lines, thinking outside the box comes naturally to them. But for the rest of us, this doesn't come so easy. If you're more comfortable working behind the scenes, dare to show up different … Speak up, share a fresh perspective and be confident in doing it. When you don't see a solution, create one.
Be kind.
I think we often assume in business that in order to get ahead we have to be fierce in doing whatever it takes to set ourselves apart, even to the detriment of those around us. Empathy and kindness are essential in business, especially if you want to be a leader worth following. If you aspire to be a CEO or a leader among your peers you will set yourself apart by how you treat those around you. You can be successful and kind – you don't have to choose one or the other.
Lead by example.
You can shine as a leader at any stage of your life and career—you don't have to be in charge to lead. Keep in mind that people are watching how you conduct yourself in meetings, how you collaborate with your peers, whether you treat others with respect under duress, whether you show character and integrity in the face of challenging situations. Develop a sense of self-awareness and carry yourself in such a way that others want to work with you and for you. Self-awareness has been cited as one of the single most important qualities for those who want to lead. Hone in on your ability to be self-aware, and bring that to life by leading by example.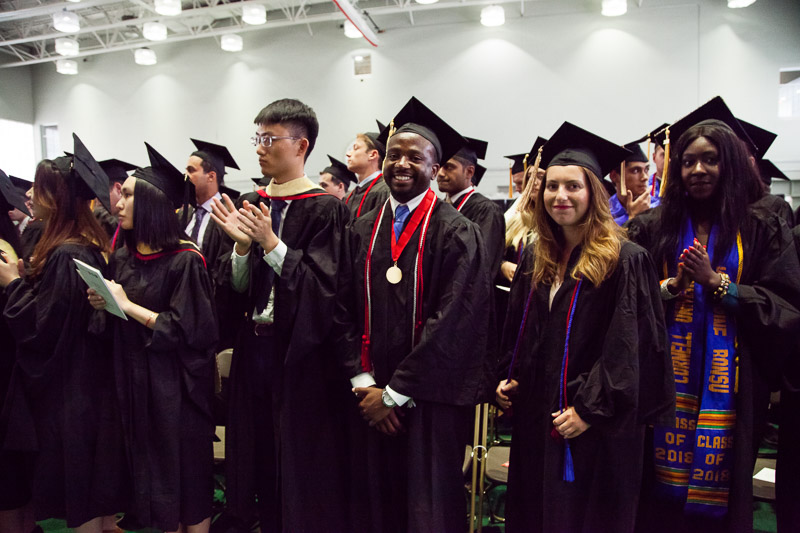 Those in our community know well the Dyson School's mission to use business for the greater good. Our motto is Our business is a better world, and it holds a different meaning for everyone. Regardless of where our graduates go or what they do, I expect that they will continue to push boundaries and find new ways to engage with communities on a local and global scale. They will design their own pathways to success and do exactly what they came to Dyson to learn to do: change the world.