Reflections at the close of another outstanding academic year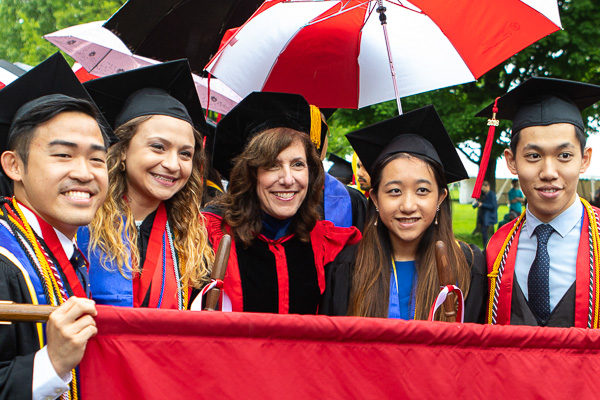 By Kate Walsh
Dean and E.M. Statler Professor of the School of Hotel Administration
Greetings from Statler Hall where we have finished up a wonderful semester, celebrated the graduating Class of 2018, and welcomed back alumni for Reunion over the course of a few short months. As I reflect back on the spring semester, there is so much to share and even more of which to be proud. There's no doubt our students continue to amaze us all.
Hotelies lead, learn, and showcase their expertise
In March, our students hosted "The Best HEC Ever!" HEC 93 had wonderful programming, which included a memorable keynote by Will Guidara '01, co-owner of the hospitality group Make It Nice. More than 180 student leaders and 300 volunteers once again showed us all the essence of hospitality. We were especially excited that the last five HEC managing directors were all in attendance to experience HEC as alumni! It's worth taking a look at the slideshow. It was truly a memorable, heartwarming experience, 93 years strong. Next year's board is already hard at work preparing to welcome Hotelies back home for HEC 94, which will be held March 14–17, 2019.
While HEC highlighted student-led expertise and leadership this spring, our students also learned experientially during cuvée competitions and real estate case events—and they took home top prizes! The Cornell Cuvée Club, under the guidance of lecturer Cheryl Stanley, participated in the Left Bank Bordeaux Cup, the Sciences Po International Tasting, CAV'iT, and EHL's Millesime competition.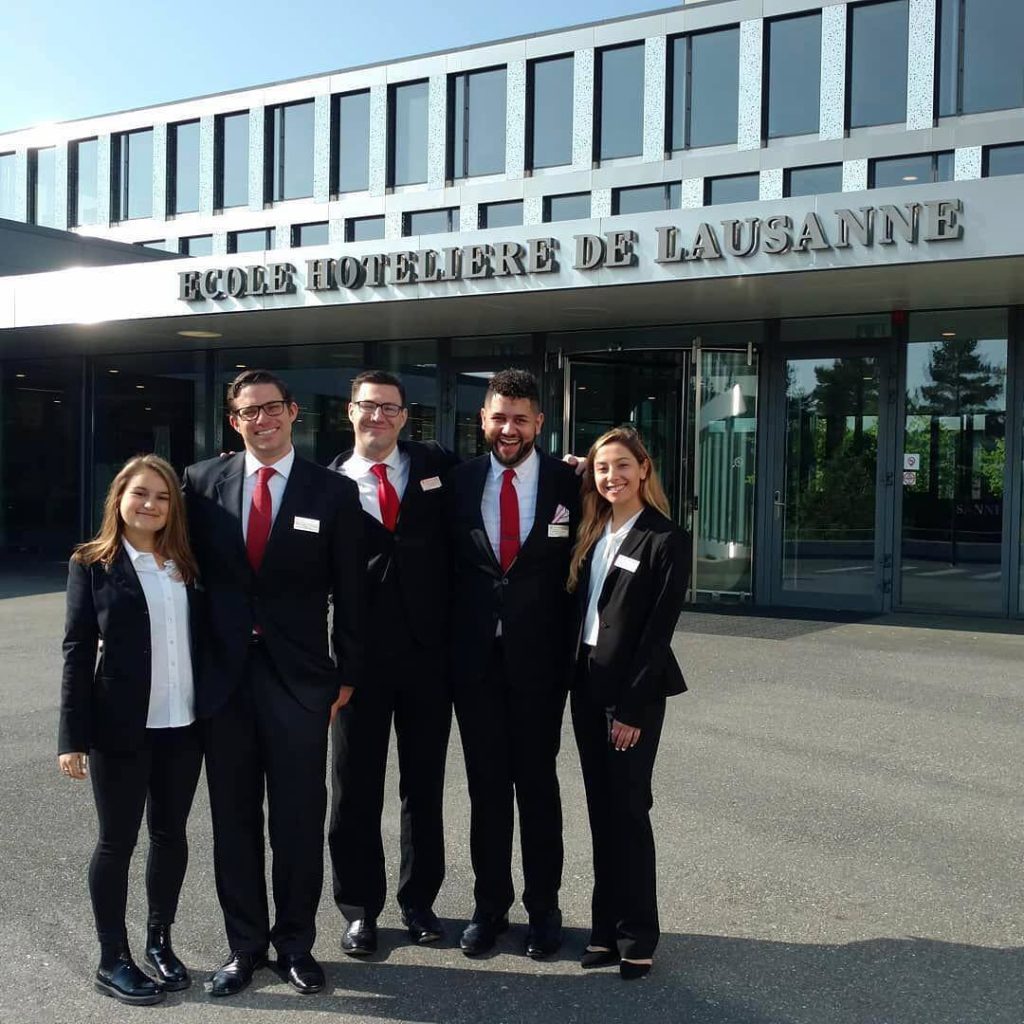 Our real estate students took first place in a real estate case competition at the International Hotel Investment Forum in Berlin, while another team of our real estate students won the $50,000 first prize in the annual Urban Land Institute Gerald D. Hines Student Competition in Toronto.
See highlights from the Baker Program in Real Estate wins on Instagram.
Opportunities in NYC, across the US, and around the world
Our graduate students were busy participating in alumni-sponsored hospitality treks. In February, our MMH students traveled to New Orleans with Professor Linda Canina for The R Club Project—a master class which examined and evaluated elevated levels of personalized services and amenities within the Royal Sonesta.
Over spring break, students traveled to Mexico for an international experiential elective, where Professor Canina guided them through an immersion with local industry hoteliers. The trip included tours of the St. Regis Hotel, Live Aqua Urban Resort, and Las Alcobas in Mexico City, as well as presentations by corporate leaders from Grupo Posados, Kidzania, and Aeromexico. We're so appreciative of Samuel Leizorek, MMH '00, who showed our students generous hospitality during their trip.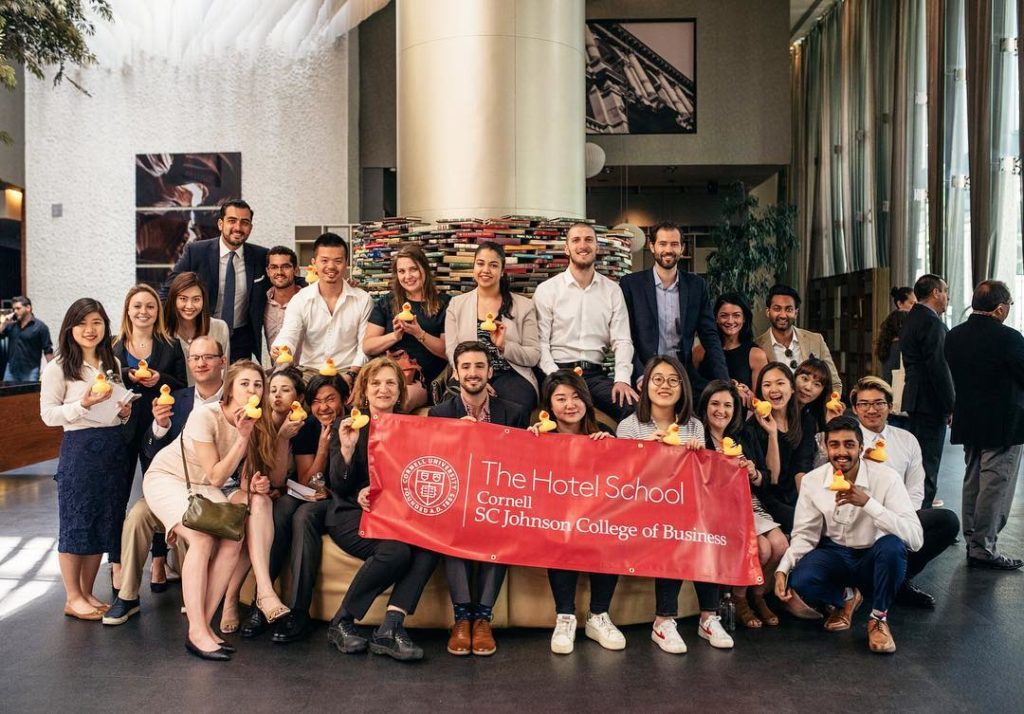 Our second-year graduate students in the Baker Program in Real Estate spent six days in Dubai in the United Arab Emirates exploring the real estate landscape, and first-year real estate students attended the Urban Land Institute Northwest conference in Seattle.
And finally, this semester we were excited to connect our students directly to the real estate industry through the strength of New York City. We successfully launched a new course, Real Estate Technology and Innovation, at Cornell Tech. A second course, Smart Cities, will be offered this coming year.
A fond farewell, a celebration, and a look ahead
On a bittersweet note, after 16 years as general manager of the Statler Hotel and leading our Statler Leadership Development Program, Rick Adie '75 will be retiring this summer. We are thankful for Rick's tremendous leadership. Rick, of course, will stay involved with the school as an alumnus, but he and his wife Mary are looking forward to winters somewhere other than Ithaca. While Rick is truly irreplaceable, we are launching a search for our next Statler general manager.
Most recently, we celebrated our 10th annual Icon and Innovator awards June 5 at the Pierre in NYC. We honored Arne Sorenson, president and chief executive officer of Marriott International, as the 2018 Cornell Icon of the Industry, and Tim Hentschel '01, co-founder and chief executive officer of HotelPlanner, as the 2018 Cornell Hospitality Innovator.  More information about the awards can be found on the I&I website.
We had an incredible time celebrating our Icon, Arne Sorenson, president & CEO of @MarriottIntl, and Innovator Tim Hentschel '01, co-founder & CEO of @hotelplanner, at the 10th Annual #IAndIAwards! See more highlights from the night in our Facebook album→https://t.co/IX1FcCSq7k pic.twitter.com/Zlnrab3G1f

— Cornell SHA (@CornellSHA) June 7, 2018
As we head into the summer months, I'm looking forward to getting to know our new MMH students who are already immersed in coursework. It's certainly a great time to be in Ithaca! The campus is beautiful in the summer, but time always flies by and we'll be welcoming new and returning undergraduates and Baker students before we know it.