Profile in Leadership: Cyrus Taraporevala, MBA '90, president and CEO of State Street Global Advisors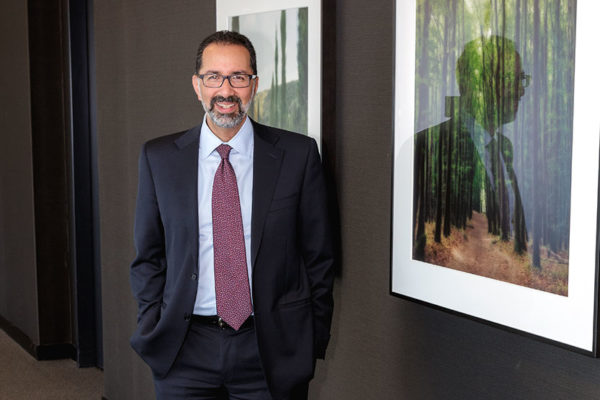 A servant leader imbued with a mission: creating value for clients
Cyrus Taraporevala developed an abiding interest in finance early in life, when he spent many days on the busy floor of the Bombay stock exchange, watching trades and transactions and talking to his dad, an investor, about stocks. "Finance runs in my blood," says Taraporevala, whose great-grandfather was also an investor. "Growing up, I thought I would work on Wall Street. I always had a pretty good sense I would do something in the world of finance."
Taraporevala's interest in finance has taken him to the top spot at State Street Global Advisors (SSGA), the investment management arm of State Street Corporation and a global leader with nearly $2.7 trillion in assets under management, making it the third-largest asset manager in the world. Taraporevala is also a member of State Street Corporation's management committee, the company's most senior strategy and policymaking team.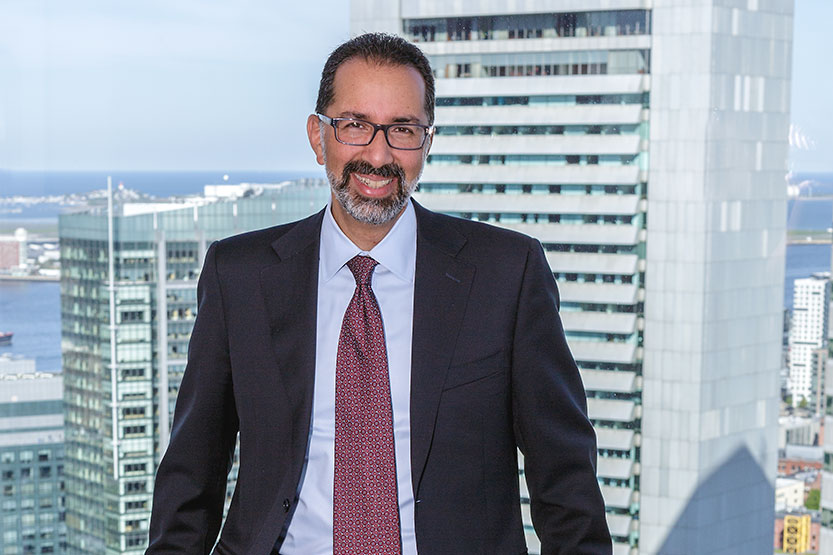 Taraporevala became head of SSGA in November 2017 — remarkably, just one and a half years after he joined the firm as executive vice president and global head of product and marketing. "We knew from a succession-planning standpoint Cyrus could potentially replace [then-CEO] Ron O'Hanley," says Kem Danner, senior vice president of human resources at SSGA. "He had all of the traits we were looking for in a leader and brought a lot of experience to the table."
An industry expert in asset management with more than 27 years of experience, Taraporevala held prior leadership roles in asset management at Fidelity, BNY Mellon, Legg Mason, and Citigroup. Prior to that, over a period of 14 years, he was a partner in the financial institutions practice of McKinsey & Company, based in New York and Copenhagen.
Now, at State Street, Taraporevala says he is "blessed to be leading a company with a wonderfully inspiring mission: investing responsibly to enable economic prosperity and social progress.
"We've been entrusted with an enormous sum of clients' assets," continues Taraporevala. "Whether it's helping people retire with dignity, helping sovereign wealth funds power their nations' progress or endowments and foundations fund their research and advance social causes, I try to remind myself and my team all the time: Investing responsibly while keeping our clients' goals in sight, understanding their issues and how they think about the world, and ensuring we deliver against our mission — that is our noble focus and our raison d'être."
As president and CEO, Taraporevala identifies three areas as his key responsibilities:
ensuring that we are delivering the investment performance as expected by our clients
continuing to deepen our relationship with clients and prospects and growing our business by serving their needs
nurturing an environment that attracts, motivates, and retains the best diverse talent in the industry.
A servant leader
"I like to think I'm a servant leader," Taraporevala says, referring to a concept introduced by Robert Greenleaf in Servant Leadership: A Journey into the Nature of Legitimate Power and Greatness, a book a colleague gave him early in his career. "It's a listener style. It's very much wanting to get all the input and reach consensus."
At the same time, "part of being a leader is being decisive, closing ranks, and moving forward," Taraporevala says. "It's important to me to make sure the business is headed in the right direction."
Danner describes Taraporevala's basic approach to leading as "transparent and inclusive, while fostering an environment that is very learning focused and team oriented."
"For Cyrus, opinions matter," says Steven Lipiner, senior vice president and chief financial officer at SSGA. "He's a listener. He's very receptive to diversity of thought. He's not interested in group think, and he's willing to get consensus. But he's not afraid to make a decision."
Michel Rbeiz, COO of the Global Institutional Group at SSGA, agrees: "Cyrus is a great listener, very inclusive, but decisive," he says. "He is nonhierarchical in problem solving, and he listens to the junior people in meetings and in town halls. At the same time, "almost all of the challenges that make it in front of him for a decision are tough to discern; clear and easy-to-deal-with issues don't bubble up to the top," Rbeiz adds. "What I have noticed is that there is always a logical thought process behind decisions, which gives us conviction behind our actions."
"When I think about Cyrus's strongest leadership skills, it's about asking thoughtful, unbiased questions to further the thinking of his team," says Rich Compson, who heads the retail managed accounts at Fidelity Investments.
By making it clear that he considers and respects his direct reports' judgement and authority, Taraporevala does more than inspire confidence; he also cultivates leadership in them and challenges them not to get lost in the weeds but to think about the bigger picture. "He leaves it to the advisers to deal with more minor issues," says Lipiner. "It's a reminder to all of us to get out of the trenches. In the corporate setting, there's a tendency to fall back on what we have experience in. When you elevate to a position of higher responsibility, that's where the focus has to be redirected. Because how else will you grow?"
Changing landscape of asset management
"The markets never stand still," says Taraporevala. "There are always new opportunities and new challenges."
He speaks of the many changes asset management has seen in recent years, citing a massive rise of index investing and exchange-traded funds (ETFs); the rise of technology that is "quite pervasive through our industry," including trading algorithmically via robo-advisers; a massive change in demographics; and the "retirement income challenge," including the shift from defined benefit pension plans to defined contribution plans where individuals shoulder the responsibility.
Meanwhile, the number of publicly traded companies has dropped by half, and IPOs aren't picking up the slack. Market uncertainty due to geopolitical friction is on the rise, and investors must grapple with a complex and ever-evolving regulatory environment.
"'How do we reinvent investing?' 'What do we need to think about as markets evolve?' 'How do we serve our clients even better than we do today?' These questions are intellectually quite appealing to me; I think about them constantly." — Cyrus Taraporevala
"We are pioneers in active management, indexing, and ETFs," says Taraporevala. "But we can never be satisfied with the status quo. 'How do we reinvent investing?' 'What do we need to think about as markets evolve?' 'How do we serve our clients even better than we do today?' These questions are intellectually quite appealing to me; I think about them constantly."
At a time when the asset management industry is facing challenges on multiple fronts, Taraporevala's direct reports see him as an even-keeled and thoughtful leader who "faces challenges by first gathering all the facts," as Lipiner says. At the same time, "He's not afraid to factor in the intangibles," Lipiner adds. "It's not all about the numbers all the time."
"What we appreciate a lot about him is that he likes to be knowledgeable and prepared in any situation," says Danner. "He is a very curious person, an avid reader and learner as well. He never assumes he has all the answers. He brings a point of view to the table; he states what he knows and what he doesn't know and needs to learn. When he asks questions, he actively listens."
"Despite the industry going through a tough time, you feel like you have the right captain to steer the ship," says Rbeiz. "Cyrus projects an air of certainty, a quiet confidence. He consistently takes the time to understand the issue, solicit different viewpoints, and ultimately, he will ask a question or make a comment that cuts to the core of the issue. Even when he disagrees with you, he will take you on the journey and explain why a certain decision has been made. It's one of his strengths."
He can also be funny, says Danner. "I think a lot of people know that."
His well-timed sense of humor has deep roots. "In my misbegotten youth," Taraporevala says, "I used to be an actor. Mostly on stage, but at one point I did 26 episodes of a college-life television serial in India — something along the lines of 'Beverly Hills 90210.' Drama, comedy — it had it all."
Rbeiz recounts an instance of Taraporevala using humor effectively at work: "At a recent senior leadership meeting, Cyrus wanted us to think carefully about positioning ourselves for any future dislocation in the financial markets — and he wanted to do this without causing too much angst. To effectively convey this message and help the organization prepare, he used a 'Game of Thrones' analogy to illustrate his point. This got a laugh out of the leadership team, but it was also incredibly effective at mobilizing the troops."
Noting Taraporevala's skill as an engaging and effective storyteller, Compson says: "I think this is where his acting background comes in, and it's very engaging. He thinks about his speech or the information he wants to convey and how to put it in a story so that it will be interesting and people will remember it."
"Cyrus brings a very human touch to running a global business," says Danner.
Shortly after he was named CEO, Taraporevala elected to participate in a session called a New Leader Assimilation with 25 members of his senior leadership team, says Danner. "The session allows the leadership team to get to know the new leader as an individual, his style and approach to leading. But most importantly, it allows the team to provide early feedback to the leader."
At a certain point during the session, Cyrus was asked to leave the room while the executive participants discussed what was working well and what could be done better. Then he was invited back into the room, and they candidly shared their feedback "He took it so well, in such a positive, constructive manner," recalls Lipiner, also noting how receptive Taraporevala was in advance. "He wanted to go through this process."
Environmental, social, and governance issues: a focus on value vs. values
Taraporevala wrote and spoke eloquently about climate risk in his address to 450 investor, business, and capital market leaders at the Investor Summit on Climate Risk at the United Nations headquarters in New York on Jan. 31, 2018. His address, Climate Risk: From Measuring to Mitigating Greenhouse Gas Emissions, was published the same day on State Street's blog. An excerpt follows:
We at State Street are concerned about climate risk because we believe it poses a material financial risk to our investments. We've all seen the headlines that 2017 was again one of the hottest years on record. It was also the costliest for the US due to weather-related disasters: hurricanes, wildfires, tornadoes and flooding. More than $300 billion dollars in damages and losses. $300 billion dollars — that's 50 percent more than the nominal GDP of a European Union country like Portugal. Apart from the horrible human toll, just think of what that means in value destruction when it comes to supply chains and production losses. And that doesn't begin to capture the cost of other climate-change-related disasters in other parts of the world.
So why do we care? Globally, in our index business, we are invested in over 10,000 listed companies. That makes us the quintessential long-term investor, providing quasi-permanent capital to these companies. As long as a company is in the index, we own it — we can't make the S&P 500 the S&P 499. So as stewards of our clients' assets, we have developed an active engagement program with our portfolio companies across a full range of environmental, social and governance issues that might impact long-term returns.
Taraporevala also stood up for index managers' voting rights and made a cogent argument about the value of the perspective they bring as long-term shareholders in an April 16, 2018, blog post, "Vibrant Capital Markets Require Diverse Shareholder Base." There, he also points to the impact of SSGA's voice and vote, noting in particular that, as a result of the message inherent in the Fearless Girl statue and State Street's call on companies to increase gender diversity on boards, "more than 150 companies that previously had no female board members have appointed women."
Environmental, social, and governance (ESG)issues such as these are important shareholder issues, Taraporevala says. And, as such, he believes it's very important to clearly convey his views about them.
"But it's equally important, if not more important, to understand why we talk about these issues, because it gets to the heart of our mission and why we exist," Taraporevala says. "Our engagement activities are driven exclusively by our goal to maximize and protect the long-term value of our clients' assets. We're not imposing values; this isn't about morals or ethics. We're focused on addressing the risks and returns of all of our portfolio companies.
"Environmental, social, and governance issues are a vital part of our engagement program and we think about them a lot. We firmly believe they should form part of an integrated approach to investment analysis, and we're seeing more and more investors accepting that material ESG factors impact companies' long-term financial performance."
---
The power of mindfulness
One of the most challenging aspects of his job as president and CEO of State Street Global Advisors, Taraporevala says, is "balancing all the different, and sometimes conflicting, priorities and finding the time to think strategically, in the face of a thousand tactical issues that come at me every day.
"One of the dilemmas is there's no typical day," he explains. And yet, he says, "one thing I love about my role is that everything is extraordinarily different. I'm in and out of the office, working with different teams. A third of the business is outside of the U.S., so I probably spend about a third of my time on the road. That's part of the joy of being a global company."
Taraporevala has developed practices that help him to cut through the chatter and enhance mindfulness. "For quite a while I was test driving an app called Headspace," he says, referring to an app that coaches users to learn to meditate and live mindfully. "I still try to use some of the principles, like breathing and mindfulness and letting one's mind get emptied of some of the thoughts that preoccupy one's mind most of the day."