Advice for new Dyson students from those who came before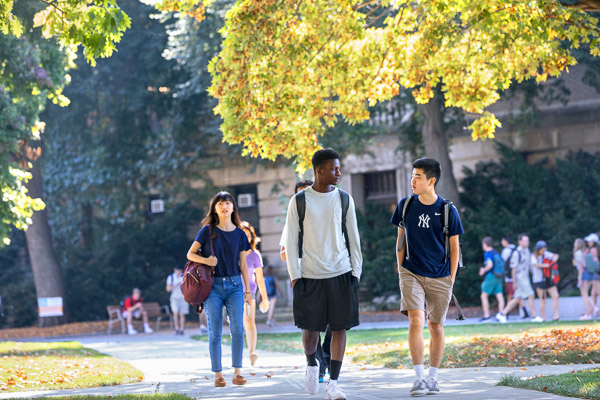 The Dyson community is one of a kind and truly embodies the mantra of "our business is a better world." Dyson offers plenty of opportunities to get involved, great support networks, and incredible faculty. Being a new student can be overwhelming—but there are so many good things to come.
Current Dyson students and alumni offer their best advice for the incoming class.
Get involved and try new things
"Don't be afraid to try new things! Whether it's a new club or activity, branch out—that's what college is for. That being said, don't feel like you need to be involved with a bunch of things. Go to Club Fest, join some listservs, and then narrow it down to the things you are most passionate about. Also, don't feel like you have to have it all figured out first semester. Give yourself time to get adjusted and enjoy being a freshman!"
—Julia Gleason '20
"Don't be discouraged if you get rejected by essentially all business clubs in your first semester. Use it as a learning experience, prepare for next semester, and expand your interests with other clubs, too!"
—Nick Sepulveda '20
"Get involved in anything and everything!"
—Claire Stewart '20
"Be open to new experiences and rewarding challenges!"
—Audrey Rapoport-Martiak '19
Read more:
Reach out to alumni and focus on your career
"Start reaching out to alumni as soon as possible. They are eager to guide you through your Cornell experience and help you launch your professional career!"
—William Pascocello '20
"Take classes to improve yourself and your future, not to boost your GPA."
—Ari Jain '18, MPS '19
Read more:
Get to know your professors and TAs
"My best advice for incoming students is to take advantage of TA and professor office hours. They are there to help you, and most of the time they can offer invaluable insights beyond academics."
—Kwame Hammond '21
"Befriend your TAs and other upperclassmen!"
—Aditi Mehrotra '19
"I'd highly encourage new students to go to professors' office hours in the beginning of the semester—when there is low traffic—to introduce themselves and get to know them. This has been so helpful for me in forming relationships and getting help in difficult subjects. Professors are like friends in Dyson!"
—Kamakhya Misra '20
"Get to know your professors because they are really awesome people! Getting to know them is a great way to take the learning beyond the confines of the classroom. In my experience, professors like Pedro Perez and Byoung-Hyoun Hwang were both captivating lecturers, but speaking to them after class allowed each one of them to share experiences from their time in industry which helps make the material more relevant and real."
—Ariel Altaras '20
"Go to office hours and don't be overwhelmed with the work."
—Chris Walker '19
"Always take advantage of office hours, collaborate with other students, have fun!"
—Bahynah Hughes '16 (CALS, Dyson Business Minor)
Read more:
Embrace the Dyson community and develop relationships
"Build and grow your relationships with people and the community."
—David Qui '20
"Meet everyone. Say 'hi' to fellow students, to professors…say 'hi' to everyone. A life-long relationship starts with a simple hello."
—Casey Angello '18
"Do your best to get to know as many of your classmates both in Dyson and in other colleges. This will not only grow your network, but most importantly will make your college experience on and off campus that much more enjoyable. These new relationships will also help you learn and perform better in the classroom due to the collaborative nature of Dyson coursework. Additionally, really make an effort to get involved on campus. This is the best way to learn, meet new people, and give back."
—Andrew Dykeman '18
"Get to know your Dyson classmates—learn all of their names. All of them."
—Kate Leming '01
Read more:
And remember:
"Everything will work out!"
—Annemaayke Ammerlaan '18