Johnson represents: MBA students win Consortium T.E.A.M. Award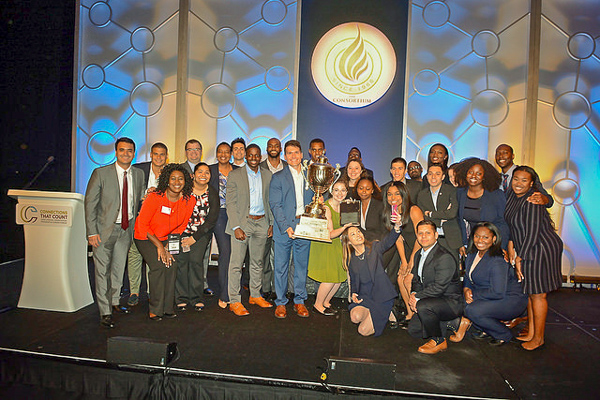 "I had an alum tell me once that big things happen in a little place called Ithaca," remarked Christian Duncan, MBA '10, during his keynote at the 2017 Johnson Diversity Symposium. Duncan is a senior manager at Accenture  and a corporate sponsor of The Consortium for Graduate Study in Management—where Johnson MBA students indeed made big things happen this year.
The Johnson MBA classes of 2018 and 2019 out-engaged, out-fundraised, and out-represented 18 other Consortium member schools to win the coveted 2018 T.E.A.M. Award—no small feat for a class that, with 51 students in total, would be considered medium-sized in comparison to most other member schools.
T.E.A.M. stands for Together Everyone Achieves More, and the annual award was created to encourage engagement and collaboration among the Consortium community. The Johnson Consortium class claimed the honor at the Consortium's annual conference, held in June in Orlando, Florida, by showing impressive commitment to the organization and its goals.
Here's why Johnson Consortium members took home the award
High participation in Consortium Class Gift Campaign
The Johnson MBA classes achieved 100 percent participation in the Consortium Class Gift Campaign. On top of enhancing diversity and inclusion in global business education and leadership, the Consortium awards merit-based, full-tuition fellowships to promising MBA candidates who demonstrate a commitment to inclusion. Member schools like Johnson help make these fellowships possible.
Leadership
Johnson Consortium members were engaged in their campuses. Beyond joining in and representing, many took on leadership positions in campus organizations like co-chair of the Johnson Student Council, co-president of Old Ezra (Investment Banking Club), co-president of the Consulting Club, Career Work Group leaders, and Johnson Leadership Fellows. A team of Johnson Consortium members were semi-finalists at the 2017 National Black MBA Graduate Case Competition.
Consortium Awareness Day
Student liaisons planned and executed a Consortium Awareness Day to do the work of the Consortium on the ground. They spoke about the organization's mission, explained what membership means at Johnson, and advocated for increased diversity and inclusion in business. Student liaisons also helped new members and prospective students learn more and make the most of their experience.
Contributing to their local and national communities
Consortium members at Johnson submitted blog posts about what it means to be part of the organization and how members contribute to their local and national communities. They spoke out in support of the Black Lives Matter movement. They stood in solidarity with Consortium peers at the University of Virginia's Darden School of Business after the August 2017 Charlottesville, VA protests and counter-protests. They blogged about their involvement with the Southside Community Center, which is committed to empowering African American citizens in their local area.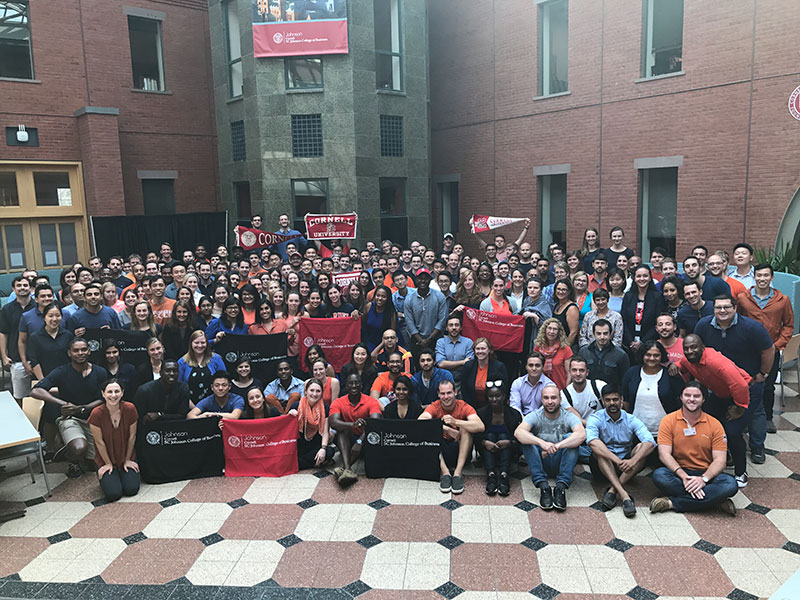 Being part of something greater
Although the T.E.A.M. Award is undoubtedly an incredible honor—it's not the reason why Consortium members at Johnson work so hard to empower one another and share their successes. Rather, it's the powerful connections they create with one another that fuel their commitment.
Growing bonds
In his blog post entitled The Consortium: You can choose your family, second-year Consortium liaison Earl Roach III, MBA '19, shared what being a Consortium member means to him:
"I met 24 amazing classmates as part of The Consortium's Orientation Program, known to us students simply as "The OP." Over the six days at OP, my classmates and I established deep connections with one another, fostering a tight bond between us," Roach said. "At OP, we learned a powerful chant: 'Be Proud…I Am Proud, Be Humble…I Am Humble, Be Gracious…I Am Gracious, Be Ready…I Am Ready!'"
Supporting peers
At Johnson, students are encouraged to expand, grow, and be their authentic selves. Consortium members take that commitment to growth and authenticity seriously, and help each new class gain confidence and feel supported. It begins during their very first moments together at "The OP."
"Being a part of the Johnson Consortium family has been extremely important to my personal growth and development in business school," said Jessie Anderson, MBA '19. "We entered school as a tight-knit contingent and supported each other through some of the most challenging parts of the first year (core, recruiting, etc.). Now as a second year and Consortium liaison, I look forward to helping to continue to foster the sense of community that makes Consortium so special."
Building bridges
That sense of community also extends beyond the Cornell campus, as students partner with peers from other Consortium schools—19 of the top MBA programs in the country.
"As a 2nd-year liaison, the summer OP conference was an amazing experience that allowed me to not only connect with the incoming first-year Consortium Johnson family, but also to help serve as a bridge to bring other Consortium classes together by partnering with colleagues from other great schools," said Donnie Hampton MBA '19. "Needless to say, I'm thrilled to see what sort of impact this new incoming Consortium class will make."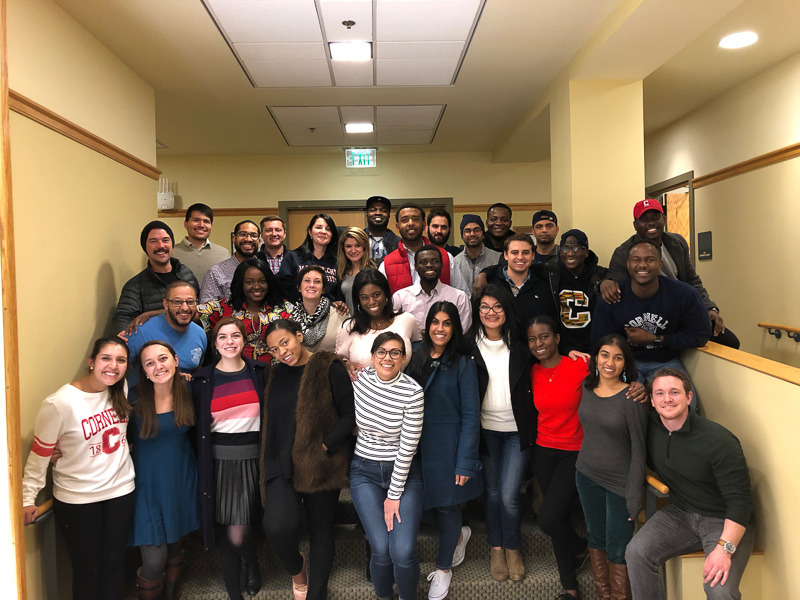 Discovering opportunities
Students often join The Consortium as part of their graduate school admission process. As members, they learn more about the MBA process, meet other aspiring business students, and gain insights and career advice from leadership at  the most engaged companies from engaged companies. Often, those meetings inspire career possibilities.
"I learned a lot about what business school actually entails, along with the chance to network with companies that I was interested in, said Sydney Starke, MBA '18. "I started school knowing over 20 people in my class already, which made me feel more at ease, and when it came time for summer internships and full-time recruiting, I already knew a handful of people at my respective companies."
Feeling the love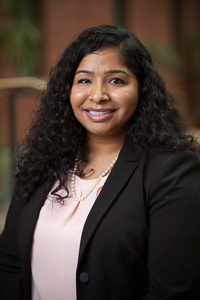 Though the Consortium community at Johnson is tight-knit, they work to educate, empower and inspire their MBA peers, Johnson faculty and staff, and the broader Cornell community. From the big win to their everyday achievements, Consortium members at Johnson are making their institution proud.
"We are so proud that the work of our Consortium students and the Johnson community has been recognized by the Consortium as they have been an invaluable partner since we joined in 2009," said Jamie Joshua Esq., Director of Diversity and Inclusion at Johnson. "'Any Person Any Study' is the cornerstone of our institution and we continue to see this in action within our community."
Looking forward
As they celebrate this exciting win and the commitment that made it possible, Johnson students, faculty, and staff are continually working together to create a more inclusive and empowering community.
"At Johnson, we have launched many new initiatives to promote leadership in business and nurture a positive culture for diversity in our community," said Vishal Gaur, Associate Dean for Johnson MBA programs and Emerson Professor of Manufacturing Management. "Allyship training, Fiery Topics discussions, and courses on Women in the Workplace and Leading Across Differences are a part of our curriculum. It is exciting to work together with our students, faculty, and staff on these goals and ideals."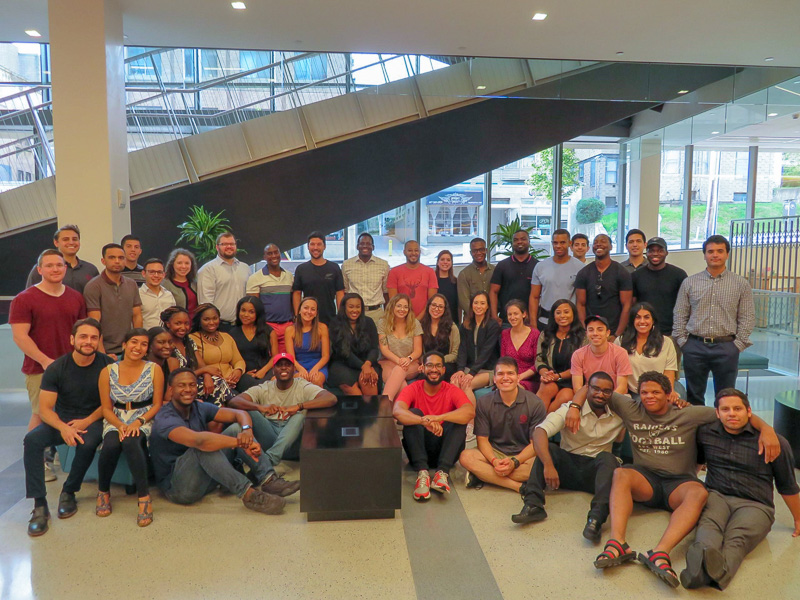 Class of 2018 Consortium liaisons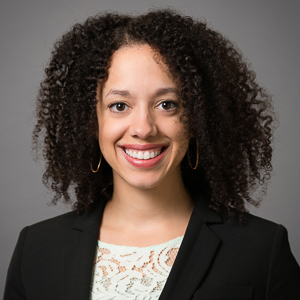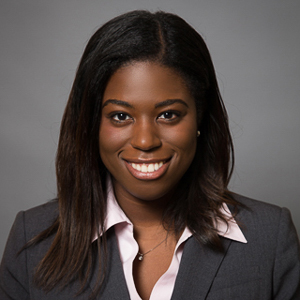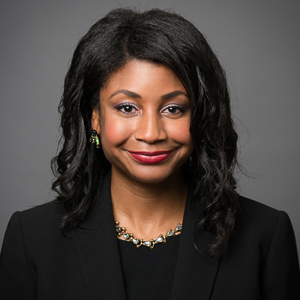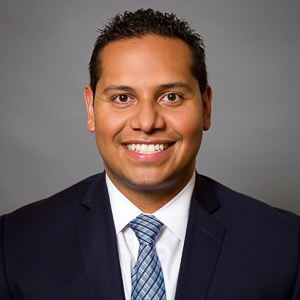 Class of 2019 Consortium liaisons