MIINT program offers hands-on impact investing insights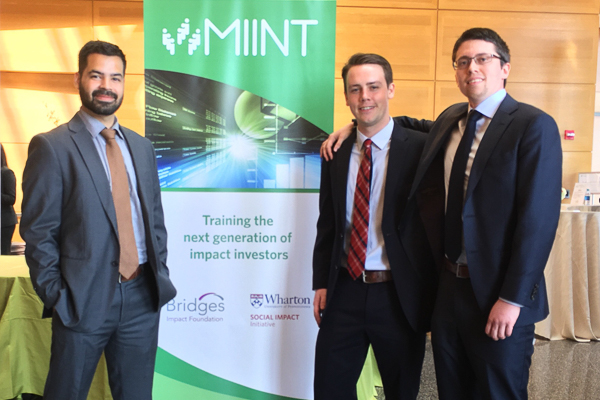 By Jay Roberts, MBA '19, Environmental Finance
and Impact Investing Fellow
As an Environmental Finance and Impact Investing (EFII) Fellow, I was pleased to be given the opportunity to participate in the MBA Impact Investing Network and Training (MIINT) program. This initiative, led by the Bridges Impact Foundation and provided by the Center for Sustainable Global Enterprise, runs in partnership with the Social Impact Initiative at The Wharton School at the University of Pennsylvania. It is designed to provide experience in impact investing by sourcing, conducting due diligence, and presenting a seed-stage startup to an investment committee for the chance to win a $50,000 investment in that company. Universities from across the globe participate in the MIINT program, with each MBA program sending a team to Wharton for the final pitch. This past year, approximately 25 schools participated.
The MIINT program is organized into eight online training modules that guide students through the sourcing and evaluation process, including themes such as impact analysis, best practices for conducting due diligence, and structuring investments. Deliverables are interspersed throughout the duration of the program to help keep groups on track.
The best sourcing is personal
The biggest challenge our team faced was sourcing a company that met all criteria. We had to find an early stage startup that met the following criteria:
fit our investment thesis of energy
was financially viable while currently raising angel-round finance at a level where a $25,000 to $50,000 investment would be material
had positive environmental or social impact potential.
The best leads came from personal connections we made through venture capitalists, involvement in Cornell University's community activities, and startup pitch competitions.
Ultimately, we narrowed it down to Capro-X, a biotech firm that specializes in the dairy industry. One team member worked with Juan Guzman, PhD '18 (CALS), CEO and co-founder of Capro-X, on a tech commercialization project through Big Red Tech Strategy. While he was at Cornell, Juan worked with co-founder Lars Angenent, adjunct professor in the College of Agriculture and Life Sciences, to develop a proprietary bioprocessing system for acid whey treatment in the dairy industry and is currently working on scaling the product. The system converts acid whey, an environmentally hazardous by-product of Greek yogurt production, into marketable bio oils.
The potential for dual impact
Given the pitch was for an impact focused investment, we looked at the financial viability of the system and growth potential of the company, as well as the environmental, social, and governance (ESG) impact potential. Our conclusion was that not only is the dual revenue stream marketable, but also that the company has potential to create significant impact in the following ways:
diverting its waste from wastewater treatment facilities
reducing trucking emissions generated daily from the movement of waste from producer to treatment site, and
creating bio oils, a sustainable alternative to palm oils – the production of which is environmentally degrading.
Although our recommendation of a convertible debt investment of $50,000 in Capro-X was not selected, the experience was invaluable.
MIINT curriculum offers hands-on experience in impact investing
The impact investment path is still narrow yet promises much potential. The MIINT curriculum not only provides the ability to learn and practice an element of impact investing, but the opportunity to meet likeminded folks from other MBA programs, as well as investors who are willing to gamble on making this a better world. There's an element of competition, and real money on the line to be won, that could have a tangible impact on a budding start-up.

---
About Jay Roberts, MBA '19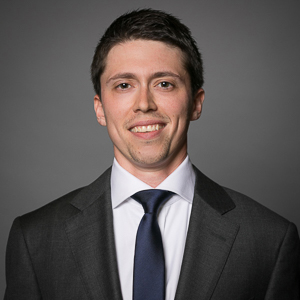 Jay Roberts is an Environmental Finance and Impact Investing Fellow and VP of finance for the eClub at Johnson. Prior to Johnson he worked as business operations manager for a non-profit in the sustainable transportation sector, and spent his summer working as an MBA financial planning and analysis intern at United Airlines. Jay has a BS in biological anthropology from the University of Toronto.