Leading in a VUCA world takes courage, conviction, character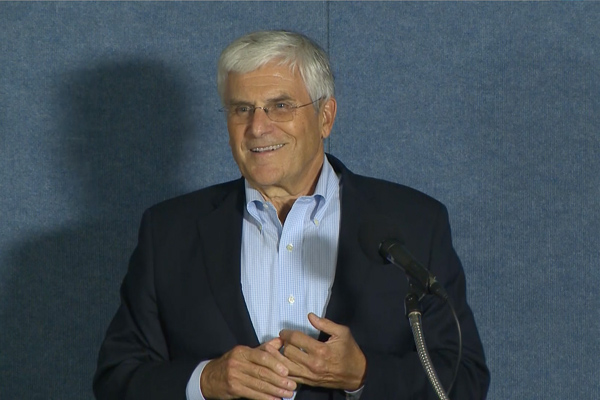 United States Army General George W. Casey Jr. called the three tumultuous years he spent in Iraq as commander of the coalition forces "a leadership laboratory."
"The United States military was thrust into a fundamentally different environment than we had been preparing for since the end of the Cold War," said the retired four-star general, who is a distinguished senior lecturer of leadership at the Samuel Curtis Johnson Graduate School of Management. "It took a different set of skills than we had been teaching our leaders … particularly at the higher levels of the Army."
Casey shared lessons learned on the battlefield — all of which can be applied in the boardroom — during a Predictions event hosted by the Johnson Club of Washington, D.C., together with Johnson Alumni Affairs and Development, on Oct. 9 in Washington, D.C. The event was held just blocks from the White House, on the 13th floor of the National Press Club, which offers sweeping views of the Washington Monument and the nearby Treasury Department.
About 50 Johnson alumni and current and prospective students turned out for the event. Casey chatted with nearly all of them before delivering his remarks, which focused on the ideas he discusses in the one-credit course he teaches every year in Ithaca: Leading in Our VUCA (volatile, uncertain, complex, and ambiguous) World.
Casey, who served as the 36th Chief of Staff of the US Army 2007-2011, after returning from Iraq, said he first heard the term "VUCA" after he retired in 2011, when the dean of a business school asked him to lecture on the topic.
"I said, 'absolutely, dean, no problem.' And I hung up and Googled VUCA," he chuckled.
As he researched the term — coined in the late '80s by the Army War College to describe what the world would look like after the fall of the Soviet Union — he realized that it perfectly described his tours of duty in Bosnia, Iraq, Kosovo, and even the Pentagon.
"In our world, stability is the passing phase and instability is the norm. It resonated with me," Casey said, before launching into a discussion of VUCA.
Volatility
When Casey arrived in Iraq in June 2004, he and Ambassador John Negroponte were given 30 days to "make an assessment of the situation, build a relationship with the new Iraqi government we had just met as we walked in the door, and put together a plan for our ultimate success — and oh, by the way, we had to keep a difficult insurgency at bay," Casey said.
Those challenges became even more acute when a young US Marine, just one week into his deployment, made a wrong turn and drove too close to a militia leader's house. The gunfight that broke out quickly spread across the city of Najaf — home to the Imam Ali Mosque, the third-holiest site in Shia Islam — then to all corners of the country.
"Something well outside our control impacted us at a very inopportune time — that's volatility," Casey said.
The general had to adapt. "Never waste a crisis," he deadpanned, as the audience laughed.
Casey realized that if the Iraqi government — still in its infancy — could restore control to Najaf, it would be a big win for them. "A month later they did, and the Iraqi government had their first victory. We had taken advantage of a bad situation and turned it into a good one."
Uncertainty
Casey's 32 months in the Middle East were marred with uncertainty. Troops were unfamiliar with the culture and customs and they were using a form of combat — counter-insurgency — not employed since Vietnam.
They also had a daunting mission: hold Iraq's first election in 50 years within a time frame of less than five months following Casey's arrival.
"We worked hard at it," Casey said. "Remember the election with the purple fingers? They had to put their fingers in indelible ink so they couldn't vote [more than once]. We created our own success and guess what happened? We all started to stand a little bit taller the next day."
Effective leaders can't predict the future, Casey said, but they can hone their ability to see around corners. "The primary responsibility of a leader is to point the way ahead" and to act with confidence and conviction.
Complexity
Casey said Iraq's is the most complex environment he's ever seen. With every decision he made, he had to consider the wants and needs of a variety of stakeholders, including the governments of the United States, Iraq, and the 33 countries in the coalition.
"And that was just the good guys," Casey said. "There were criminals, insurgents, terrorists, militias, and the only way we knew which one they were was if they were shooting at us."
No matter his decision, some people — and sometimes entire governments — were inevitably mad. "Yet I had to cut through all that. I had to zoom into [the problem] to understand the complexity, then I had to zoom out to be able to express it clearly and succinctly to an organization of 150,000 or 1 million people."
A good leader, Casey said, never loses his focus.
"In the military, we say there are two kinds of plans: those that might work and those that won't work. If I got deep enough in the problems, I could build the conviction that the plan might work — and that's as good as it's going to get." 
Ambiguity
Casey likened ambiguity to sand in the gears — everything slows down.
"I [had] good folks that would look at the same bit of data and disagree violently about what it meant," he recalled. Casey would hear his staff out. But ultimately, the decision was his.
"They might have their noses out of joint for a little bit … but they'd at least know they were considered," he said. "I didn't realize until later that … colonels don't mind at all coming up to a general, smiling, and saying, 'Hey general, I was right.'
"Everybody has doubts," Casey continued. "What you have to do is figure out what's more important than your doubts. In those early days in Iraq, the ambassador and I didn't think of ourselves as particularly courageous, but … we had to give [troops] a clear shot at what we wanted them to accomplish. That was more important than being wrong."
—Written by Adrienne Frank, a freelance writer in Washington, D.C., and editor of American University magazine.