Park Fellows alumni spotlight: Alex Ivanov, MBA '00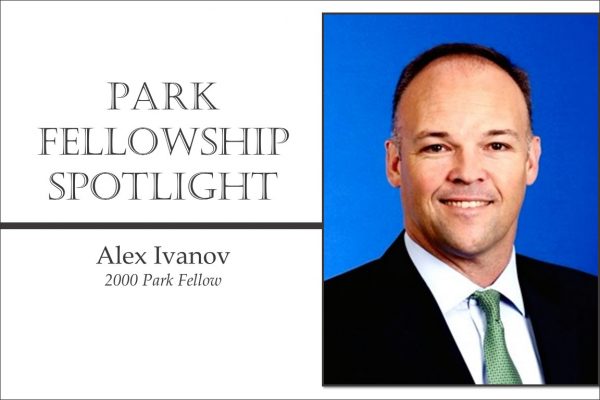 One of Alex Ivanov's fondest Johnson memories is staying in a hotel on campus during winter break of his second year to work on his Park service leadership project. He and Park Fellow John Kyles '00 were hammering out a presentation for what would become a cornerstone Johnson program: the Big Red Venture Fund.
Backtrack to the start of their MBA experience, when Ivanov and Kyles (who remains one of Ivanov's closest friends) met at orientation. "I'd had this idea that there might be an opportunity for a student-run venture capital fund," says Ivanov, now a managing director with Citigroup. Kyles teamed up with him immediately.
Besides providing a tech-transfer locus for Cornell research and innovation, the fund would give students a chance to invest in a portfolio of startups. "A longstanding benefit would be attracting students that otherwise might not have considered Cornell, and create a path for those that might want a job in that industry," Ivanov explains.
Ivanov and Kyles reached out to Cornell's Office of Development, which owned much of the technology, and to Law School professor Zach Shulman (later a BRV adviser), who helped with the structuring of the fund. The biggest challenge was selling the idea to entrepreneurship chair David BenDaniel, initially a skeptic about a student-run program with so many constituents, but who now champions the program as a faculty adviser.
"We approached it as a student-run fund with faculty oversight, in conjunction with on-campus contests in student idea generation," says Ivanov. "The fun part was putting it together with a description of what we thought the enduring impact would be, and how it would play out over time, and making that presentation to the Dean and Professor BenDaniel."
They succeeded. "The last piece was that the Class of 2000 made our class gift to be founding investors in the fund," says Ivanov. "It was a great endorsement from our classmates."
A tireless contributor, Ivanov visits Johnson to judge case competitions or present in Drew Pascarella's investment banking practicum, hosts Week on Wall Street students, recruits at Cornell, and mentors Citigroup hires from Johnson and Cornell. He's recently redirected his Annual Fund giving directly to the Park program. "It's nice to be in a position to make a positive contribution to the goal of Parks funding future Parks," he adds. "Showing the Park family and the Triad Foundation that we are able to use our network of about 500 Park alumni to contribute back has been fun for me."