Breaking gender barriers across generations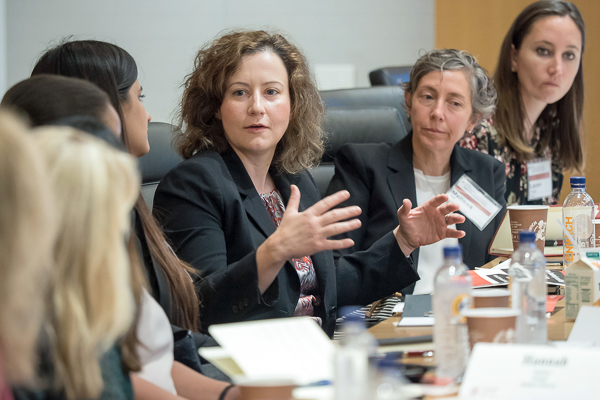 At the Women, Leadership, and their Family's Business Roundtable event held in New York City on September 28, professional women from within the Johnson community and beyond gathered to discuss their family's businesses, particularly the unique and often trying experience of working alongside family. Family business owners, Johnson students and professors, and professors and research fellows from Northeastern and MIT participated in the Smith Family Business Initiative-hosted event, exploring a slew of topics ranging from the continued pressure of the glass ceiling to mixing professional and personal mentorship.
The glass ceiling in family business
The day's discussion began with a session called The Glass Ceiling of Family Businesses: The Roots of Gender Stereotypes and Discrimination From Within the Family, and Daniella Scur, research fellow at MIT's Sloan School of Management kicked it off by sharing a story about her family farm, which was passed down to her aunt after her grandfather decided he was ready to retire. Her aunt encountered many challenges, Scur recalled, especially when dealing with suppliers and banks. "Why isn't your father signing the checks?" a bank clerk once asked her.
Other participants shared stories of stereotyping of their own, but many agreed that the level of discrimination varies by country and type of work. "The perception of the glass ceiling is heavily shaped by your industry," Christina Chen, MBA '19, said. In a factory or manufacturing business, she pointed out, women are sometimes kept out because of poor conditions and health hazards. In the hospitality industry, on the other hand, women are welcomed more readily.
From a geographic perspective, countries have different rules and values when it comes to women being business owners or leaders. In India, Surabhi Chaturvedi, MBA '19, explained, "inheritance property laws changed only recently to be more inclusive of women. However, women are still forced to go out of their way to prove their merit." In China, however, the one child policy has led to a different view of female businesswomen. "Families can't keep having children until they finally produce a son, so women are encouraged to grow in families businesses. China has very well educated women, ready to take on the business world," Jade Neo, MMH 18, said.
Though gender stereotypes undoubtedly still exist, the roundtable participants agreed that critical improvements have been made. "Gender bias is all around us, but things are becoming different. Increasingly, you're seeing brothers feeling more free to pursue other careers because sisters are encouraged to step up and run businesses. Shifts are happening," Stefanie Kasselakis Kyles, former CEO of Vassilaros & Sons Coffee, said.
When work is family and family is work
Beyond stereotypes, one of the biggest challenges that arise in family businesses is tension in work life balance. When your colleagues are your family, it can be difficult to keep the two separate, Kasselakis Kyles, who led the second session, When Work Is Family and Family is Work: Realities, Myths and Blurred Lines, pointed out. But keeping the two entirely separate isn't necessarily the right approach.
"Instead of trying to achieve balance, we try to create a healthy integration so that victories of the company are victories of the family as well," Chelsea Kingsley, who owns a furniture business Kingsley Quality Woodworking, with her husband, said. "Unless it's sharing a business victory, we talk about family at the dinner table. But we think it's important to acknowledge the profound impact our business has on our family and on their community."
Talking about the family business at home can be beneficial, Hannah Muthoot, of Muthoot Fincorp, agreed, as long as there are opportunities to talk about other things as well. "Hearing my parents talk about the work gave me a better understanding of whether or not I wanted to get into the company myself," she explained. "Plus, children should know where their family's money comes from," Kaleen Allyn, a client associate at Rockefeller Capital Management, said.
Parents as mentors?
Mentorship was also a central discussion topic for the roundtable participants, with Alvina Lo, chief wealth strategist at Wilmington Trust, leading a session called Can Mom or Dad Be an Effective Mentor? How Best to Support Women for Leadership. For parents, the challenge is unique in that they have to be both professional mentors and fulfill traditional parenting roles. Though parents can typically strike the right balance and be nurturing while teaching their children valuable lessons about business, tensions rise when parents start to feel a lack of reverence for their company.
"Parents sometimes feel that the child doesn't appreciate what they've built. There's often conflict over the idea that 'I built this from the ground up' and you think you're going to come in here and bring in your fancy theories," Kimberly Eddleston, a Cornell Family Business Scholar and professor at the Northeastern University D'Amore-McKim School of Business said. "A lack of communication is to blame, because when it seems like the younger generation is rebelling against the older, they're typically trying to help and make the business better."
Rather than viewing disagreement as a sign of disrespect, older generations should embrace input from younger ones and create a relationship of mutual mentorship. Technological innovation, for example, is a critical area where older generations may be somewhat out of the loop. "Technology is emerging and changing much faster than before," Chen said, "but parents may be reluctant to adopt and implement new things because it's costly. It's on their children to demonstrate the benefits and explain that not adapting can be costly in the long run."
There are also specific patterns that work best when it comes to mentorship, the roundtable participants agreed. Father-daughter relationships, for example, tend to be the most effective from a mentorship standpoint, because fathers and sons are typically competitive with each other. Skipping a generation (i.e. having a grandfather mentor a grandson) can be beneficial as well, because the age gap creates a greater sense of respect from both sides.
Still, the best way to avoid mentorship obstacles is for both sides to understand—and accept—that everyone has a different working style and there are sometimes multiple "right" ways to get the job done. "Some people are more analytical, while others trust their gut all the way. There's value in both approaches," Melissa Zell, president of Pioneer Companies, said. "Parents and other mentors can help serve as guides, but it's important for individuals to have the opportunity to develop their own learning and working style," Chaturvedi agreed.
Realizing the impact of female CEOs and executives
The day's discussion concluded with a presentation from Eddleston on the state of women in the workforce, particularly in family-owned businesses, titled Leading the Family Business: Realizing the Impact of Female CEOs and Executives. Women are the fastest growing segment of entrepreneurship and business ownership worldwide, she pointed out, and at family firms, 22 percent of management positions are held by women, versus just 13 percent in non-family firms, she added, citing a Credit Suisse study.
Still, although companies are increasingly starting to recognize women's contributions, many problems persist. For example, despite tremendous progress, there's the reality that two-thirds of family business successors are first-born males, Eddleston said. So what can be done to shake up the status quo?
Changing the perception of leadership is one small way to keep progressing. When employees describe leaders, they tend to use masculine terms such as aggressive, dominant, and hierarchical, according to Eddleston. But when they're asked to describe kind of leader that they'd want to work for, they tend to use more feminine traits such as nurturing and inclusive. As new-age leaders—male or female— step up to the plate and exhibit healthy combinations of these traditionally "masculine" and "feminine" traits, the perception can begin to evolve.
Continuing the conversation is key
Even changing the language around leadership from "masculine" and "feminine" in favor of something less gendered such as "communal" and "agentic" can make a difference. "Children hear these words from a young age and stereotypes start to take shape," Zell said. "Words are very important for children. We have to start saying 'firefighter' and 'police officer' instead of 'fireman' or 'police man.' Even that makes a difference."
Schools have a role to play in breaking stereotypes as well. "We used to have home economics classes and shop classes and everyone had to take them—boys and girls. We need to bring that back so that there isn't this idea that the kitchen is for women. We also need classes—for everyone—on how to balance a checkbook or how to avoid debt," Kimberly WIlliams, senior vice president at Williams Lumber and Home Centers, said.
As with any massive transformation, change happens slowly. Though women have come incredibly far in the business world, there's more work to be done, even in family-owned businesses. "Strides have been made, but even today, women around the world are left out of ownership and off of boards," Eddleston said. "We need to do more, and it starts with having conversations like this."
—Written by freelancer Maria Minsker