Admissions tips from first-year MBAs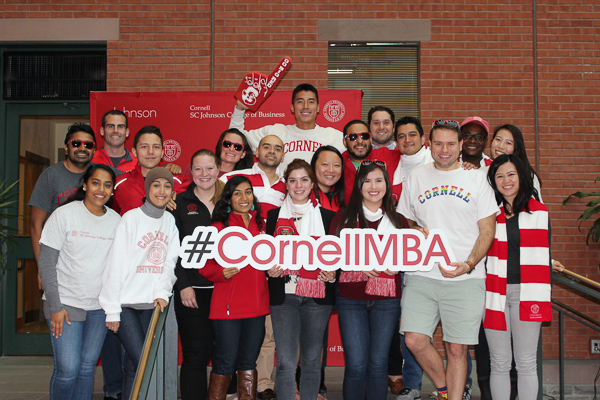 Getting to know our MBA applicants is one of our top admissions priorities—so much so that the 2018 AIGAC applicant survey ranked Johnson as #1 for getting to know its applicants well. Our admissions team is interested in learning about your individual story, unique accomplishments, passions, and career goals. In fact, our application is designed with the intent to learn all about you and how you see yourself succeeding at Johnson.
As a collaborative, supportive community, a few of our first-year MBA students offers their best application tips.
Avery Adams, MBA '20
"Johnson wants to get to know candidates holistically. You're more than just your resume, so use the essays to show your personality and where you fit in the Johnson community. No two applicants have the same exact story, so find out what makes you different and how that difference will make a positive impact at Johnson."
---
Genna Hartung, MBA '20
"Talk to as many people in the community as you can, and do your research! Students, faculty, and staff are talking to a large number of prospective students, so you want to stand out and make sure you learn relevant information. Don't send anyone generic questions or emails because it's very obvious when you've copied and pasted them."
---
Abhishek Banerjee, MBA '20
"There's often a strong urge to position oneself as the prototypical candidate. However, I would strongly urge applicants not to follow that route. What really stands out is how different/unique you are in your own way and not how well you can conform with someone else."
---
Conner Yeon, MBA '20
"Start studying early for the GMAT. For many people, the first score is not their best. Studying and taking the test early allows applicants to focus on rounding out other integral parts of the application. Also, since many applicants will be balancing work and study, putting in few hours each day to study for the test will not only lead to better scores, but also prepare applicants to build a habit critical for success in business school.

After coming to Johnson, I realized that GMAT preparation is a good reflection of life in business school—we are consistently challenged with multiple responsibilities, and we need to dedicate a few hours each day for class materials to do well academically."
---
Melody Lam '20
"Talk to your family and friends as you're writing your essays. Mine knew me well, and were cheering me on throughout the application process. They offered me feedback that helped me bring out the best version of myself in my essays."
If you're a prospective MBA student and have questions or want to connect with current students, reach out to one of Johnson's many ambassadors. For additional information, be sure to attend upcoming admissions events and online webinars.