Park Fellows alumni spotlight: Kenyattah Robinson, MBA '06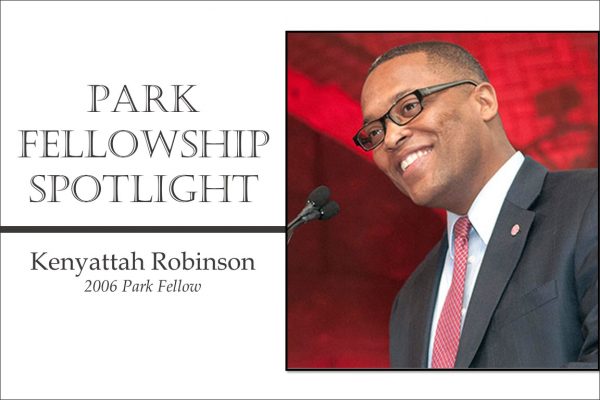 Kenyattah Robinson recalls a quiet moment during his Park Program cohort's initial retreat in the fall of 2006. "We were asked to walk silently into the woods for 30 minutes to reflect, quell all the mental "noise," and to just be in the moment," he recalled. "Leadership starts from within."
Knowing yourself and how to "flex" across stylistic differences is instrumental toward seeing situations from multiple perspectives and making effective decisions. "Understanding your interpersonal leadership style and its impact on others is critical to responding appropriately to whatever situation you're in and building more collaborative relationships" he says.
In April 2016, Robinson brought his own style of adaptive leadership to the Mount Vernon Triangle Community Improvement District in Washington, D.C., as its president and CEO. "Being a leader within the context of the District of Columbia—said to be the world's most powerful city—was a great opportunity for me to apply skills from my previous life toward this position," says Robinson, who took his current role after a decade rising through the ranks at the global real estate firm Jones Lang LaSalle.
The multidisciplinary toolbox he amassed at Johnson provided Robinson with solid foundation for the daily challenges he faces in this new management role. "You have to be adept at not only the financial and strategic components—the hard skills—but also the softer, more qualitative skills that often go overlooked but are arguably more critical to the success of any effort: being able to influence people within and external to your organization, and even your board of directors."
This role also allows Robinson to give back to the Mount Vernon Triangle community in which he resides. "Whether it's working with a council-member or the mayor on a policy matter, or developing activation and financing plans for a green-space, or advocating for pedestrian-safety enhancement for a major street: if those activities help move the needle in terms of improving someone's quality of life, I feel like I've done my job," says Robinson.
Beyond contributing on the job, Robinson actively helps young people, mentoring them and helping them make useful connections. "I have been the beneficiary of the kindness and goodness of many throughout my life," he says. "What good have I done if I haven't done my best to help others achieve their goals?"