Park Perspectives: Starting the Sports Analytics Club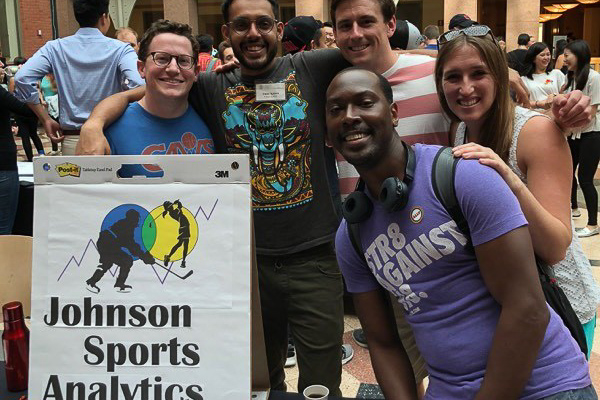 By Katie Colton, Two-Year MBA '20
Park Perspectives are authored by Johnson's Park Leadership Fellows.
I have been at Johnson for just under three months but have learned more both inside and outside of the classroom than I imagined I would have learned in a year. Between the classes, group work, Park Leadership sessions, and club activities, I have grown immensely and can't wait to see where I am two years from now. The most noticeable self-discovery moments for me have come from joining some of my classmates to start the all-new Sports Analytics Club here at Johnson.
Staying true to yourself
Coming to Johnson was a huge change for me. There are so many things to get involved with and so many classmates with expertise in their fields that can teach you pretty much anything you want to know outside of class. It's a great time of discovery, but also a time that you can easily lose yourself. About a month into school, I was still trying to find my "thing" when two of my classmates approached me. "You used to work in sports. Will you help us start and be President of the Sports Analytics Club?" I couldn't say yes fast enough. This was my thing. I finally felt like I belonged here and that I could contribute to our community. I came to B-School because I wanted to learn how I could better use data to solve problems and now I could use something I am passionate about to do so. From there Johnson Sports Analytics Club was born.
Time management means delegation
Time management was a strength in my role prior to business school at New England Sports Network, but business school time management is unlike anything I have ever experienced. Starting a club on top of the first-year Core requires you to be on your A-game constantly. There are touch-points with board members, general members, Student Services, the Alumni Office, and outside partners weekly. There are 1-3 meetings per week and there is work that needs to be done behind the scenes. It is impossible to have enough time in the day if you cannot delegate. This was the biggest lesson for me – Johnson students are all incredibly conscientious and on top of their game, but there are simply not enough hours in the day to do it alone.
Knowing your audience
When you lead something you're passionate about, it is easy to put your own wants and needs ahead of others. But when you have over 65 members in a club who may have different needs than your own, you learn very quickly to put the needs of the group ahead of your own. My initial vision for the club was to read articles and watch sporting events, discussing how analytics are used within the sports world. However, in working with my fellow board members and surveying our general members, I learned that it would be much more valuable to provide an opportunity for my classmates to learn new technical skill sets through something they're interested in such as sports. As a result, we are spending the fall semester teaching our classmates Tableau and SQL and then applying them to real projects with the MLS and NBA in the spring. In doing so, I am expanding my own skill set and learning a software that I have never used before.
Applying these lessons
Starting a club has been a lot of work but is 110% worth it. One of the great things about Johnson is the value placed on following your own path to an MBA. And if that means starting a club that you see a need for, you can do it. Starting a club has helped me grow immensely in just a few months and I am already seeing myself carry over the lessons I have learned through Sports Analytics Club to other aspects of my life.
My advice is as follows. First, stay true to your goals and passions despite outside noise and distractions that do not align. Prioritize those activities and opportunities that align with what matters most to you. Second, delegation is key to time management in leadership positions. Create a list of all to-do items and then write who on your team can best succeed at each next to them. This will help to delegate efficiently. Finally, learn about your audience and ask what their needs are. For me, it was sending out a survey to my classmates to see what sports they cared about and what data analytics skills they wanted to learn, followed by consistently asking for feedback to ensure goals are being met. Johnson is a great place to grow as a leader and pursue your passion—and if your interests do not align with a club here at Cornell, create your own!

---
About Katie Colton, Two-Year MBA '20
Previous Academic Institution(s): Bryant University
Previous Employer: New England Sports Network (NESN)
Interests: Consulting, Sports Analytics, Hiking, Wine Tasting