An action-packed fall semester for Cornell Real Estate Club with treks to NYC and Chicago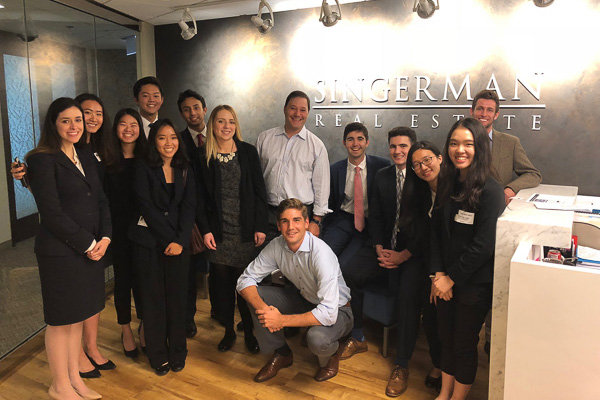 By Jenna Rediker '20 and Jessica Rome '19
Each semester, the Cornell Real Estate Club hosts a couple treks, allowing members to travel to different cities and see real estate deals take place from various company's perspectives. These treks offer incredible networking opportunities for students looking for internships and full-time positions. They also give students a deeper understanding of what real estate is beyond the academic application taught in the classroom.
Although the treks have been dominantly in the tri-state area, the Cornell Real Estate Club has expanded its horizons drastically. The recent trek to Chicago gives students the opportunity to branch out and network with professionals around the country, or even more broadly around the globe. Last semester, the club traveled to Tokyo for a trek over spring break, and its members hope to continue these international trips in upcoming years.
The two co-presidents of the club, Amanda Cheng and Jonathon Lee, shared their thoughts on the club's treks.
We are truly grateful for the support of our alumni to be able to organize the New York City and Chicago treks and for taking the time to share their experiences in the real estate industry. We are constantly seeking opportunities to expose all students to the real estate industry and we look forward to continuing our tradition of hosting real estate treks to various U.S. and international cities next semester. – Amanda Cheng and Jonathon Lee
NYC Trek Overview
On Friday, September 21st, members of the Cornell Real Estate Club traveled to New York City for the club's annual Recruitment Trek to visit with reputable investment banking and real estate investment companies. The purpose of the trek is to provide networking and recruitment opportunities for undergraduate students interested in real estate. The club had an action-packed day with visits to Prudential, Eastdil Secured, PJT Partners, and Goldman Sachs.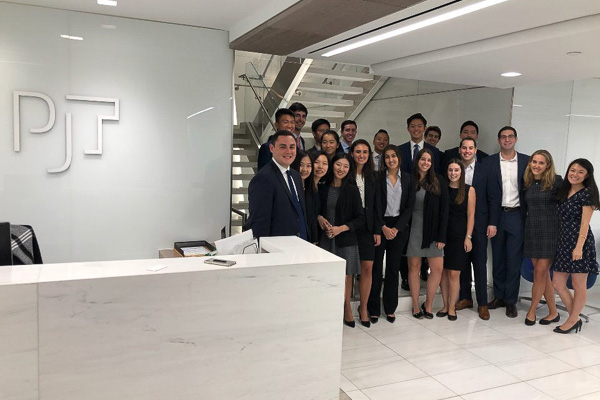 Each visit began with a presentation by a few representatives of the firm, some of whom were Cornell alumni. The presentations gave students insight into what the company does, the type of work that they do in their respective roles, as well as example transactions that they have worked on. Afterwards, students had the opportunity to ask questions. Students asked about a variety of topics such as trends in the market as well as the company's deal flow at this point in the cycle. The sessions then broke out into networking where students got a chance to form connections with seasoned professionals in the industry.
Overall, the Recruitment Trek was a huge success, and the Cornell Real Estate Club is looking forward to continuing to host this trek for many years to come.
Chicago Trek Overview
The Cornell Real Estate Club recently returned from their trek to Chicago over Fall Break where they visited 8 real estate companies and attended a Cornell Hotel Society reception. During the trek, students had the chance to visit Cornell alumni from Hyatt Development, HFF, Walton Street Capital, Singerman Real Estate, AJ Capital Partners, Harrison Street Capital, CBRE Hotels, and LaSalle Investment Management. The two days of touring various companies included walking through real estate case studies, and networking with prominent real estate industry professionals in several receptions.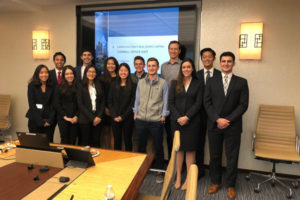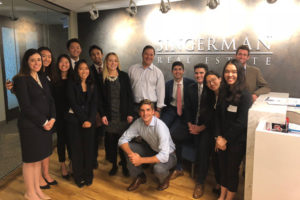 ---
About Jenna Rediker '20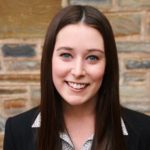 Jenna is a junior in the School of Hotel Administration in the SC Johnson College of Business at Cornell University. Jenna is from Westfield, New Jersey and is the youngest sibling of three. She developed an interest for real estate at a young age, as her father has always worked in the industry. She is a huge foodie and loves to travel. Jenna joined the Cornell Real Estate Club freshman year and now serves as the vice president of alumni affairs on the Executive Board. Jenna will be studying abroad next semester in Barcelona, Spain. In her free time, she enjoys reading and listening to music on the beach, hanging out with her friends, and trying new restaurants.
About Jessica Rome '19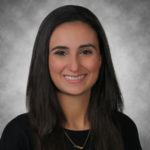 Jessica is a senior in the School of Hotel Administration and is from New York City. She was initially attracted to the real estate industry because of the relationship aspect of the business as she has always considered herself to be a people-person. She joined the Cornell Real Estate Club sophomore year and has served on the Executive Board for two years. Jessica spent this past summer working as a commercial banking intern at Capital One within the Community Finance group, which lends and invests in affordable housing. In her free time, she enjoys exploring new restaurants, cooking, being active, and watching TED talks and stand-up comedy.