An office with a view: Marmeline Petion-Midy '95, MBA '00, shares secrets to success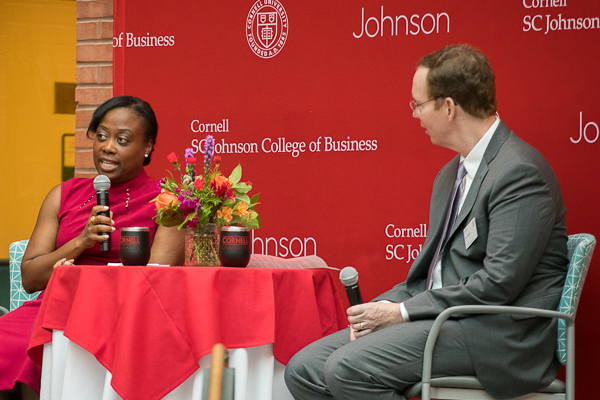 Stepping on stage at this year's Diversity Symposium, Marmeline Petion-Midy '95, MBA '00, was overcome with déjà vu. Indeed, she had been here before. For one, she was back under the roof of Sage Hall, the same place she spent two years of her life as an MBA student. Then there was the familiar face sitting directly across from her: Dean Mark Nelson, who was, at one time, her accounting professor, still delivering his classic one-liners as if no time had ever transpired. And then there was BGBA—her keynote address had just been introduced by Quincy Bedeau, MBA '19, the current president of the Black Graduate Business Association (BGBA), a title she had once held herself during her time at Johnson.
In other words, it's like she had never left.
All this came as no coincidence to Mark Nelson, the Anne and Elmer Lindseth Dean of Johnson, who remarked: "It has been, I won't say how many years, since Marmeline sat in the front row of Intermediate Accounting, and I promised her I wouldn't give any pop quizzes today."
The wisdom of knowing your weaknesses
Nelson started the sit-down interview with the question on everyone's mind: "Marmeline, what's the secret to your success?" Without a moment's hesitation, she credited much of her success to her willingness to out-hustle the competition, "It's my work ethic. It's something I've always been driven by, this desire to always want to be the best. It's something my dad always instilled in me, to always perform to the best of your abilities." Striving to be the best is about more just hard work, she underscored. "Part of that, too, was also being aware of my limitations, knowing what I was good at, and figuring out what I needed to improve."
Petion-Midy made sure to acknowledge just how uncomfortable such self-examination can often be: "A lot of times that can be the scariest thing, to admit to yourself that you have weaknesses in some area. When you're someone that always wants to be the best, that can be a hard to swallow." Nonetheless, she explained, the most difficult things are often the most necessary.
Another skill she's relied upon over the course of her career has been the ability to read a room and its situations and people. Petion-Midy explained, "There are times when you're making a pitch or trying to sell something, but if you take a step back and you read a room, it can completely change the trajectory of what you're trying to do, as well as the end goal."
Finding her voice at Johnson
Upon entering business school, it didn't take long for Petion-Midy to look around and realize she was the youngest among her MBA peers. "I was one of the youngest in that class when I graduated. I needed to find my voice. I needed to develop my leadership capabilities," she said.  Part of the process of discovering herself involved finding ways to better connect with the Johnson community. She joined some student groups including the BGBA and Women's Management Council.
Petion-Midy was familiar with the broader Cornell campus community in a way that most of her MBA classmates were not. A Double Red herself, she had previously earned an AB in economics from Cornell's College of Arts and Sciences before enrolling in business school. Tapping into those previous relationships proved crucial in helping her find her footing as a graduate student.
"Being an undergraduate at Cornell, I was still very much connected to my undergraduate professors and also the career office. They brought me in and I was able to be a mentor for undergraduate students." It was through these mentor-mentee relationships that Petion-Midy found her own voice: "Once you realize that your advice can actually change someone's life, it's definitely a great confidence booster. Those things essentially allowed me to find my voice and know that I had something to say and something to contribute."
Nelson shared his own impression of Petion-Midy during her time as a student, admitting that, "when people come back after years, sometimes decades, I struggle on names, but I know where they sat. I can see them." Sure enough, he knew exactly where Petion-Midy sat during his class: "Marmeline was a front-row type." He went on to say that, even though she was the youngest in the class, she chose to sit front-and-center and was prepared and involved every day. Nelson underscored what he remembered most about Petion-Midy as a student, explaining, "You were very, very willing to speak out and be involved and not only find your voice, but use your voice. And that was so important."
"What are people saying when I'm not in the room?"
When asked what drove her early on in her career, Petion-Midy called herself a visual learner who saw success as "having that office with the window view. If I had that I had arrived." And she takes pride in that dream having been realized: "And now I do. I have an office with a great view of the Hudson River." The road to getting there, Petion-Midy says, is something she understood long ago. "I knew I had to work hard to get there," she says. "Everything that came with not only the work ethic, but also being credible and building your brand, were important to getting there. That's what drove me then, to get to that office with a window view."
Then life happened, and Petion-Midy was suddenly expecting her first child. Becoming a mother led to a profound shift in the things that drive her now versus early on in her career. "Now, being a little older, being a mom, and meeting different people at different stages of their lives," she says, "I think what drives me now is my personal brand."
To Petion-Midy, her personal brand can be boiled down to one all-important question: "What are people saying about me when I'm not in the room?" By "people," Petion-Midy says it can be anyone from her boss, her sister, or her friends, to her mentors, or even her own daughters. "I think taking this approach really drives my decision, and helps me answer questions like, am I staying true to my convictions? Am I helping people? Am I being a good human being?"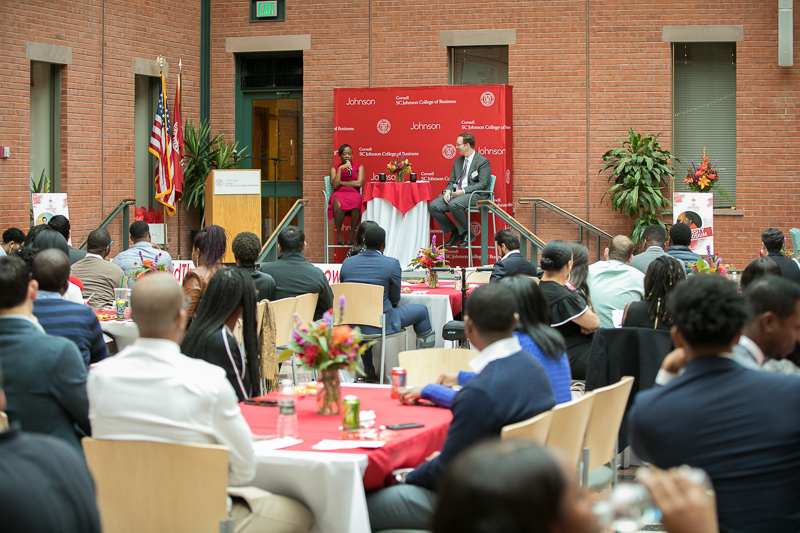 The power of helping hands
Highlighting the role of other people in one's own success, Nelson asked about the helping hands that contributed to Petion-Midy's own success.
"It's really been about mentors and allies for me," she explained. "Sometimes you're building allies when you don't even realize. Allies can start with the person sitting next to you, because you never know who's going to guide you or point you in the right direction."
Petion-Midy then made a stunning confession that elicited audible gasps from the audience: "The only job I ever officially applied for was my first one after undergrad. All my other jobs have been through mentors." How did she manage to make such inroads wherever she worked at each stage in her career? "It's having the ability to speak to people and letting them know what it is that drives you and what your needs are," Petion-Midy said. "That's how I eventually got to everything I needed to be."
She illustrated this point with the perfect example from her own experience. "I graduated in 2000, at the height of the market, and I already had seven job offers. I was not looking for a position." In the middle of her senior year, Petion-Midy was sent to a national Black media conference in California, where she was tasked with manning the table for Cornell's BGBA. Little did she know just how much her career path would change after one fateful encounter.
"At the time," she explains, "General Motors was looking to increase its diversity profile in the treasurer's office, and so they hit up our career office and Johnson, and asked if there was anyone they would recommend for GM. The head of the career office said, 'You need to go find Marmeline.'" She believes the reason she was recommended was because of the conversations she'd had with the director of the career office, who knew of her abilities and saw firsthand how she represented Cornell in all the right ways. She admitted that GM was not on her radar at all. But when they came knocking, approaching her at her table during the conference in California, she learned that someone had referred them to her. GM turned out to be the perfect place for her first job out of college, where she was able to rotate roles and even work and live abroad in Brazil at one point. She's since transitioned into her current employer, Oppenheimer Funds, where she's worked for more than 15 years.
Learning by listening
As her keynote came to a close, Petion-Midy offered students her best piece of advice for future success: "Take the time to observe. You learn a lot by just sitting back and looking around. That's how you learn the things that are not spoken." There's a lot that can be learned by taking the time to observe, Petion-Midy went on to say. "Take the time, whether it's here as you're considering your next move or down the road at some point in your career. That's how you learn a lot, including who the influencers are and what the expectations are. You learn the unspoken rules of the game. And that's so critical to success, wherever you're working."
—
If one thing's clear about Marmeline Petion-Midy, it's the pride she takes in calling herself a Cornellian, twice over. She counts herself among other distinguished alumni  as a member of the Johnson Advisory Council. While you will inevitably find yourself at different places throughout your life, Petion-Midy makes clear that it's the connections you forge and maintain that ultimately create meaning in your life, whether it be "friends, professors, classmates, or just anyone that knows your interests and has your best interest in mind."
For anyone in the audience at this year's Diversity Symposium, there's one thing they surely learned by observation: Marmeline Petion-Midy is someone who knows where she's been, where she's headed next, and most importantly, who she is.